If you're a Medicare beneficiary looking for supplemental health insurance, a Kaiser Permanente Medicare Advantage health plan might be one of your better options. They offer many different types and levels of their plans, so there's something perfect no matter what benefits you need.
Kaiser Permanente-affiliated brand names
Kaiser Permanente
Kaiser Permanente Insurance Company
Kaiser Permanente Insurance Co.
Company highlights
Founded in 1945
Nonprofit entity
Located in Oakland, CA
Kaiser Permanente Medicare plans
As a nonprofit company, Kaiser Permanente helps Medicare beneficiaries meet their healthcare needs once they turn 65. They specialize in Medicare enrollment, eligibility, and Medicare Advantage plans. Unfortunately, their operation scope is limited.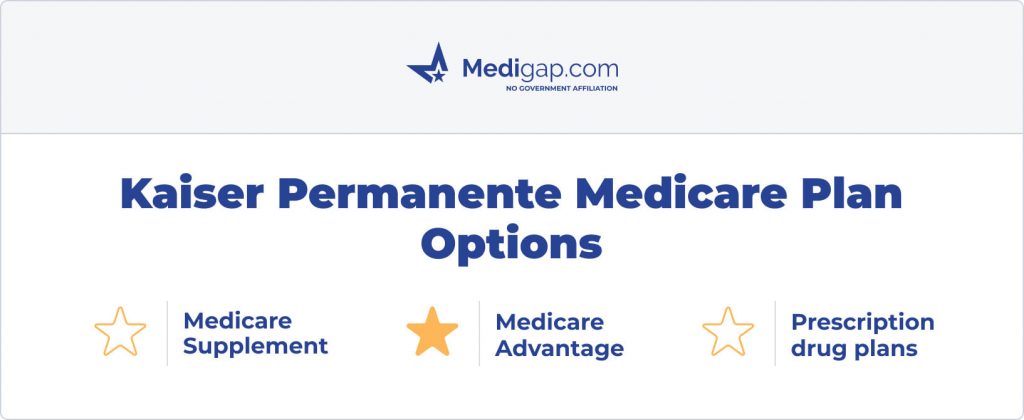 Their service area includes:
A policy in mind, before you start shopping for companies can help narrow your search. Remember, though, that the availability of Kaiser's health plans will vary by state, region, and county. Kaiser Permanente only offers Medicare Advantage plans. They do not currently offer Medigap or Part D plans.
Kaiser Permanente Medicare pros and cons
Pros
Great customer service
Most services provided in one location
Kaiser has several 5-star rated plans
Cons
Only available in 8 states
Very restrictive networks
Only offer Medicare Advantage plans
Financial strength rating
Don't trust your savings to some fly-by-night insurance company. Do your research, and make sure they have a strong financial rating before you invest. You can best judge that by the company's financial strength rating:
| | |
| --- | --- |
| A.M. Best Rating | Not Rated |
| Standard & Poor's Rating | A+ |
| Moody's Rating | Not Rated |
Kaiser Permanente review
Unlike most insurance companies, Kaiser Permanente isn't necessarily profit-driven. They're a nonprofit company with the sole purpose of helping Medicare beneficiaries.
They specialize in assisting those 65 and over with enrolling in Original Medicare, and they offer a variety of supplemental health plans once the enrollment process is complete. They're currently only operational in 8 states and Washington, DC.
Market Experience
Fast Claims Processing
Strong Financial Reserves
Competitive Rates
Customer Satisfaction
FAQs
Is Kaiser a good choice for Medicare?
Kaiser Permanente is an excellent choice for those who need comprehensive Medicare coverage. They offer consistently high-quality Medicare Advantage plans at low costs, making it possible to find the right fit regardless of your budget or needs. They're also highly rated for plan member services.
What is Kaiser Permanente Senior Advantage?
Senior Advantage is a plan that combines your coverage with Original Medicare into one affordable monthly premium. You get additional benefits from both plans without paying more for either!
What is the monthly premium for Kaiser Permanente?
There are a lot of factors to take into consideration to answer this. Each state, city, and plan you choose will have a different premium under the same carrier.
How is Kaiser Permanente different from other carriers?
Kaiser Permanente is a major provider of Medicare Advantage plans. Kaiser Permanente Medicare Advantage plans have been ranked as the fifth-best by far. This insurer scores higher than all other MA providers in member satisfaction. This is because they provide excellent care at affordable prices for their clients.
What is Kaiser Permanente HMO?
With Kaiser Permanente Health Maintenance Organization (HMO) Plan, you can enjoy preventive care covered services at little or no cost to yourself. This includes urgent care and office visits. They have online features that let us manage most of your health needs around the clock. You can track out-of-pocket costs, including copays, deductibles, and coinsurance.
What is the difference between Kaiser Permanente and Kaiser Permanente Senior Advantage?
The Senior Advantage plan from Kaiser Permanente offers you the convenience of combining your Medicare coverage with a comprehensive dental, hearing, and vision or eyewear benefits package. Now they're adding extra benefits to ensure there is no issue regarding an annual check-up or surgery.
How to get a quote for Kaiser Permanente Medicare plans
Kaiser Permanente supplemental Medicare Advantage plans can be an excellent option for those seeking additional coverage. Our rate comparison form can help you find the best plan for your needs and budget. Call us today to learn more about our plans, or fill out our form to get started.