Spokane, Washington can be a great place to live. Between the city's close proximity to great natural beauties and the high-quality schools in the area, it's a wonder anybody leaves. That is, it's a wonder until you begin to look at the quality of healthcare in the area. For just barely more than half of the seniors in the Spokane area, healthcare isn't a concern. They have coverage, they have healthcare, and they don't have to pay out of pocket. But that's not true for all seniors in Spokane. If you're like 49% of other seniors in the area, then you might not have the luxury of seeing a doctor whenever your symptoms flare up. Even if you do, you might find that you're caught in a Medicare coverage gap which requires you to pay for your medical expenses out-of-pocket. If this does describe you, then you should know that you're not alone. Let's take a quick look at the facts at hand.
Facts and Figures
At this very moment, there are 31,782 seniors in Spokane, Washington.
There are 10 hospitals in the Spokane area where seniors can receive emergency and/or in-patient care.
30% of Washington seniors have a Medicare Advantage plan.
21% of Washington seniors have a Medicare Supplement (Medigap) plan.
That leaves 49% of seniors potentially uninsured or underinsured against costly Medicare coverage gaps!
It's hard to think in terms of statistics and percentages, so let's see what that 49% look like in real numbers. That 49% of uninsured or underinsured seniors in the Spokane area comes out to 15,573 people or just about one in every two seniors in the city. To put it another way, that's like flipping a coin to see if you'll go to the doctor or if you'll stay home and get sicker. On the other hand, you might have won the coin toss. You might be in the best shape you've ever been in! But are you familiar with the concept of age-related illnesses? Age-related illnesses are the diseases and disorders that become more common and more severe as you age. This means that you could be feeling fine today and then tomorrow you could see your joints begin to swell or your memory go a little fuzzy. The chart below lists a few of the most common age-related illnesses in the city of Spokane.
| | |
| --- | --- |
| Disease | Prevalence in Spokane, WA |
| Arthritis | 25% |
| High Blood Pressure | 30% |
| Coronary Heart Disease | 7% |
| Diabetes | 10% |
| Kidney Disease | 3% |
Healthcare Costs in Spokane, WA
As your likelihood of developing an age-related illness increases, so too do the costs associated with the preventative medicine necessary to stave off the onset of those conditions. Once they've arrived – and they quite likely will, thanks to the fact that seniors are living longer lives now than ever before – they can only get worse. That's the thing about age-related illnesses. Not only does the likelihood of being diagnosed with one (or more) increase as you age, but the frequency and severity of the symptoms also increases hand-in-hand with your age. This leads to even more expenses with each passing year. The chart below details standard estimates for the annual cost of treatment for healthier patients suffering from only one of the five aforementioned age-related illnesses.
| | | |
| --- | --- | --- |
| Disease | Prevalence in Spokane, WA | Annual Cost of Treatment |
| Arthritis | 25% | $294 |
| High Blood Pressure | 30% | $356 |
| Coronary Heart Disease | 7% | $9,712 |
| Diabetes | 10% | $2,173 |
| Kidney Disease | 3% | $8,904 |
Medicare Advantage Savings in Spokane, WA
By now, you're well aware of the medical costs and expenses that could crush your standard of living if left unchecked. That's where Medicare Advantage comes in. The fact that almost 10,000 seniors in Spokane have turned to Medicare Advantage shows that it has something of value to offer. Unlike the state-sponsored coverage of Original Medicare, which can be cut off at any time (see: Medicare coverage gap), Medicare Advantage is privately owned and operated. This means that your benefits are protected by law against wrongful termination. Furthermore, despite the fact that Medicare Advantage plans replace your Original Medicare plans, these plans are required by law to provide all of the same benefits as your Original Medicare plan. Of course, they frequently offer even more, but it's nice to know that the parts that you enjoyed about Original Medicare aren't going anywhere!
One of the most notable benefits of Medicare Advantage plans is that providers of such plans frequently offer the ability to add prescription drug coverage to your array of healthcare options, meaning that you no longer have to weigh your good health against your financial security. With this coverage option, you can have both, eating your proverbial cake while having it too. These plans can oftentimes be expanded even further to cover medical equipment such as glucose monitors and testing strips, making Medicare Advantage plans among the best options for seniors suffering from chronic health conditions. The chart below highlights the savings that Medicare Advantage plans can bring to you over the five- and ten- year periods.
Medicare Advantage plans stand to save you even more money in the long run by providing additional benefits on top of what we have already mentioned. For instance, providers of these plans (listed in the chart below) often provide both dental and vision care as additional options for your healthcare needs. This is a benefit that is wholly unique to Medicare Advantage, which is to say that neither Original Medicare nor Medicare Supplement insurance can provide you with the same benefits. However, in the case of Medicare Supplement insurance plans, there are ways around this. We'll get to that in a bit.
Medicare Supplement (Medigap) Savings in Spokane, WA
Whereas Medicare Advantage plans serve to completely replace your Original Medicare plan, Medicare Supplement (also known as Medigap) plans do not. Rather, Medigap plans function as a supplemental source of insurance for you to use when the government cuts off your access to benefits via the Medicare coverage gap. These plans are generally less comprehensive than Medicare Advantage plans but provide you with far more control over both your premiums and your benefits. All in all, there are ten Medigap plan types from which to choose, each of which brings its own suite of pros and cons to the table.
The first category of Medigap plans includes Medicare Supplement insurance Plans A, D, K, and L. These four plans function primarily to alleviate the burden of expenses related to Medicare Part A, which can be exceptionally high in seniors who suffer from chronic health conditions such as kidney disease and diabetes. If you find that you're spending large sums of money on Medicare Part A coverage gaps but very little if any on Medicare Part B coverage gaps, one of these plans might be the best for you. However, if your Medicare Part B coverage gap expenses are high enough, you may want to consider enrolling in a plan in the second category of Medigap options.
The second Medigap category covers Medicare Supplement insurance plans type B, C, F, G, M, and N. The plans in this category specialize in bridging the coverage gaps of both Medicare Part A and Medicare Part B, making them great options for seniors suffering from multiple healthcare conditions or who otherwise find that they spend large amounts of their wealth on financing Medicare Part B and its related treatment options.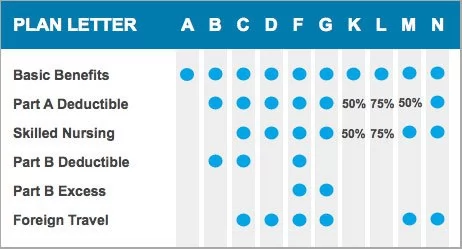 Unfortunately, neither the first nor the second category of Medigap options enable you to select prescription drug, vision, or dental coverage; but does this mean that you're going to be left with no pills, no glasses, or no teeth? Of course not! There are plenty of private insurance plans on the market for you to choose from and they tend to be quite cheap, running only a fraction of what ordinary healthcare insurance plans can cost. In fact, it is not unheard of to find prescription drug, vision, and dental coverage all in one plan for under $100 per month. All you have to do is look for them, or hire a professional to do it for you.
When it all comes down to it, your health is your responsibility. Nobody knows you better than you do, and the last thing that you're going to want to do is fall back on your children for financial support just to receive the healthcare that you both need and deserve. Unfortunately, by waiting and going without proper health insurance, that's the risk that you're taking. So don't wait! Go to Medigap.com today and start shopping for your healthcare options or speak to an expert who can help guide you through the process.
| | | | |
| --- | --- | --- | --- |
| Medigap Plan | Minimum Monthly Premium | Maximum Monthly Premium | Average Estimated Monthly Premium (Part B Premium Included) |
| Plan A | $96 | $221 | $294 |
| Plan B | $156 | $267 | $347 |
| Plan C | $180 | $313 | $382 |
| Plan D | $178 | $237 | $343 |
| Plan F | $182 | $314 | $384 |
| Plan F (high deductible) | $44 | $88 | $202 |
| Plan G | $171 | $273 | $358 |
| Plan K | $57 | $115 | $222 |
| Plan L | $124 | $177 | $286 |
| Plan M | $162 | $238 | $336 |
| Plan N | $134 | $198 | $302 |