Everyone thinks life gets easier after you retire. But this isn't always the case – especially when it comes to your Medicare. Medicare Parts A and B are fairly comprehensive, but there are some expenses they simply won't cover. And if you don't protect yourself with a Medicare supplement insurance policy, you could be paying for those expenses 100% out-of-pocket. But this doesn't have to happen to you. Keep reading if you want to learn more about what your options are and what you can do to protect yourself from these expensive Medicare coverage gaps.
Facts and Figures
There are 25,050 senior citizens living in Springfield right now
There are 11 hospitals in the Springfield area where seniors can get emergency and/or in-patient care
31% of Missouri seniors have a Medicare Advantage plan
27% of seniors have a Medicare Supplement (Medigap) plan
Which leaves 42% of seniors potentially uninsured or underinsured against costly Medicare coverage gaps!
What are you most worried about, healthcare-wise? Is it cancer? Maybe you're worried about falling, and suffering a traumatic injury? Well, according to the statistical data for seniors in Springfield, you might want to worry more about chronic disease. Just look at the percentages of seniors who are suffering from these diseases as outlined in the chart below. Things like cancer or traumatic injuries are serious and usually expensive, but still relatively rare. Chronic disease, on the other hand, is more of an eventuality for most people.
| | |
| --- | --- |
| Disease | Prevalence in Springfield |
| Arthritis | 29% |
| High Blood Pressure | 31% |
| Coronary Heart Disease | 7% |
| Diabetes | 10% |
| Kidney Disease | 3% |
Healthcare Costs in Springfield, MO
Most seniors aren't healthcare professionals, so they can be forgiven for not knowing how chronic disease works. "Chronic" means that it will be with you for the rest of your life – there's no cure, and there's no way to reverse it. Let's use diabetes as an example. You may start out on a diabetes prevention drug like metformin, which cost pennies on the dollar. Eventually, you may need a more powerful drug that helps manage your blood sugar on a daily basis. Many diabetics end up injecting insulin on a daily basis, or multiple times a day depending on what type of diabetes they have as they get older. Extreme cases of diabetes can find some seniors with amputated limbs, blindness, or renal failure in their final years. Treatment for all of these things gets incredibly expensive over time – and might be 100% your responsibility if you aren't properly insured.
| | | |
| --- | --- | --- |
| Disease | Prevalence in Springfield | Annual Cost of Treatment |
| Arthritis | 29% | $291 |
| High Blood Pressure | 31% | $354 |
| Coronary Heart Disease | 7% | $9,158 |
| Diabetes | 10% | $2,163 |
| Kidney Disease | 3% | $8,230 |
Medicare Advantage Savings in Springfield, MO
Medicare Advantage is a popular choice among seniors who are worried about Medicare coverage gaps. When you purchase a Medicare Advantage policy, you essentially say "I don't want the government giving me my Medicare benefits" and instead purchase those benefits from a private health insurance company. Legally, that company must offer you the same benefits you would get if you had stayed in the federal Medicare program. But many companies offer more in order to entice you to make the switch. The federal government partners with these companies to make sure they're offering you a fair policy, and to help pay for your monthly premiums with the money you spent in taxes during your working years. For some seniors, this means that they get their Medicare Advantage plan for $0 per month.
When you sign up for Medicare Advantage, you will likely sit down with an insurance agent who works for the medicare advantage company and who will try to help you customize your policy to your specific needs. You can add coverages like dental, vision, prescription drugs, and extra incidentals that cover the gaps in Original Medicare. And you get to manage all of your medical needs under one single policy.
Once you decide on a Medicare Advantage plan, you won't be married to it for the rest of your life. During the annual Open Enrollment Period, you can choose to discontinue your Medicare Advantage policy and opt back into Original Medicare instead. Likewise, if you've been on Original Medicare for many years and aren't happy with it any longer, you can switch to a Medicare Advantage Policy during this Open Enrollment Period. This gives you flexibility and choice at any age, and may be necessary depending on how your medical needs change over time.
Medicare Supplement (Medigap) Savings in Springfield, MO
Medicare supplement insurance – Medigap – is good protection for anyone who wants to keep their federal Medicare benefits. There are 10 total Medigap plans to choose from, but you can only choose one. These policies do exactly what they say they do on the label: they supplement the gaps in Original Medicare coverage. Medicare pays first, Medigap pays second if you run into a coverage gap, and only after those two entities sort things out do you ever see a bill.
The most affordable plans are Plans A, D, K, and L. These are the most affordable because they exclusively focus on the gaps in Medicare Part A coverage. These gaps include things like extended hospital stays, extra blood transfusions, and hospice care, among other things. Seniors tend to hit these gaps less frequently, but when they do, they can be exceptionally expensive.
The other plans are Plans B, C, F, G, M, and N. These include all of the benefits you'll find for Medicare Part A coverage gaps, and varying levels of coverage for Medicare Part B coverage gaps. The most expensive of these are coinsurance, co-pays, excess charges, and medical expenses associated with foreign travel. The most comprehensive (and therefore most expensive) Medigap plan available is Plan F. But it will no longer be available for purchase after December 2020. However, if you want this comprehensive level of coverage, you can act fast and grandfather yourself into the program by purchasing it now. Otherwise, you'll have to look to Plan G or C for similar levels of comprehensiveness.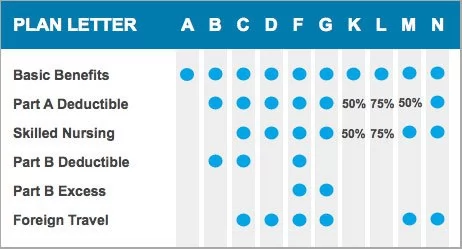 If you need vision, dental, or prescription drug coverage – which almost all seniors do – you unfortunately won't have help from your Medigap insurance provider. But you can get help from other sources. There are likely to be plenty of private insurance companies who will sell you dental and vision coverage at a relatively affordable price. You can also apply for the Medicare Part D prescription drug coverage program, but you may want to be careful with that because of the dreaded "donut hole" which stops paying for your prescription drugs if they get too expensive but fall short of "catastrophic" levels of expense.
You have many different important factors to consider when you're trying to decide on the right insurance policy for supplementing your Medicare. Cost is a factor, ease-of-use is another, and your overall medical needs will be the biggest driving factors in your decision. If you're still unsure as to what exactly you need, please call us. We have knowledgeable experts standing by who are waiting to hear from you. With our help, you can find an affordable and effective Medicare Supplement Plan in no time!
| | | | |
| --- | --- | --- | --- |
| Medigap Plan | Minimum Monthly Premium | Maximum Monthly Premium | Average Estimated Monthly Premium (Part B Premium Included) |
| Plan A | $99 | $260 | $315 |
| Plan B | $136 | $296 | $352 |
| Plan C | $163 | $357 | $396 |
| Plan D | $142 | $228 | $321 |
| Plan F | $137 | $270 | $339 |
| Plan F (high deductible) | $30 | $93 | $197 |
| Plan G | $123 | $248 | $321 |
| Plan K | $64 | $126 | $231 |
| Plan L | $106 | $185 | $281 |
| Plan M | $137 | $225 | $317 |
| Plan N | $104 | $196 | $286 |