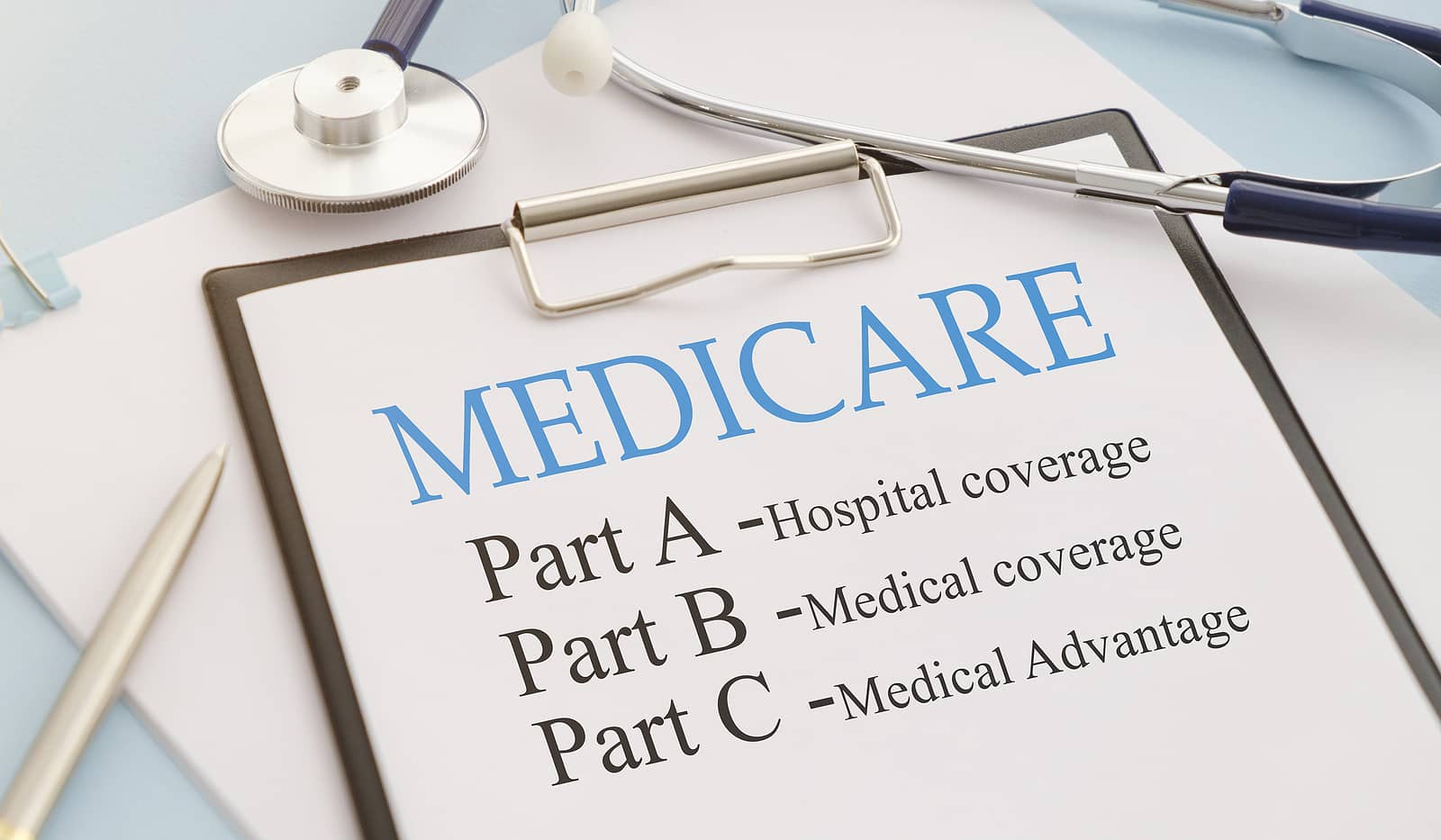 When you have creditable coverage, delaying your enrollment in Medicare Part B or D is an option without accruing a late penalty. For an insurance plan to be considered creditable, it must provide at least the same level of benefits as offered by Medicare – safeguarding against potential out-of-pocket costs for essential healthcare needs and medications during retirement years.
Creditable coverage for Medicare: Explanation and examples
Creditable coverage for Medicare is coverage that's as good or better than Original Medicare. If you have creditable coverage, you can opt to delay your enrollment into parts of Medicare without incurring a penalty. The benefits and costs of Medicare should be weighed when deciding which way to go.
The most common use of creditable coverage is to delay Medicare Parts B and/or D.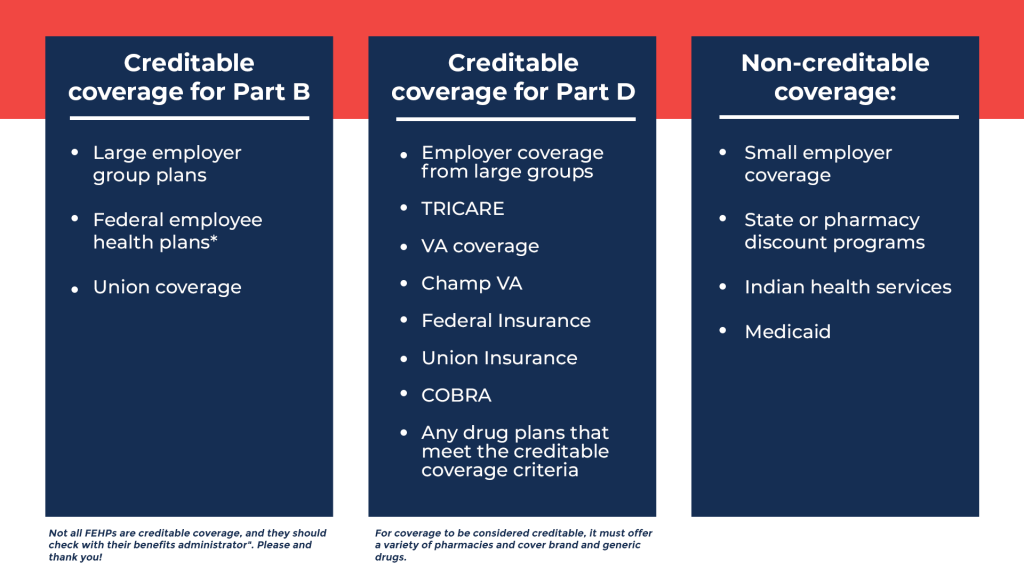 Creditable coverage for Part B
Unlike Medicare Part A, Part B requires a monthly premium for most beneficiaries. If you have creditable coverage for Medicare Part B, you can delay starting your Part B and paying for it. You'll incur penalties for delaying Part B coverage if you don't have creditable coverage.
Coverage that qualifies as creditable for Medicare Part B includes large employer group plans, federal employee health plans, and union coverage plans. You should check with your benefits coordinator for your plan to find out for sure if your plan qualifies.
Creditable coverage for Part D
Medicare Part D covers your prescriptions — if you don't take it when you're first eligible, you'll see penalties. However, you can delay Part D without a penalty with creditable coverage.
Coverage considered creditable for Part D must offer a variety of pharmacies and cover both brand and generic drugs. In addition, the insurance must pay at least 60% of the drug costs, have a low deductible, and cannot have a benefit cap.
Examples of creditable coverage for Part D would include the following:
Employer coverage from large groups
VA coverage
Federal Insurance
Union Insurance
Any drug plans that meet the creditable coverage criteria
Before delaying Medicare Part D coverage, you should check with your plan's benefits administrator to confirm if your coverage is creditable.
Creditable coverage notice
Some insurers are required by law to send a notice of creditable coverage. This was part of the Medicare Modernization Act. Companies that may or may not have creditable drug coverage must notify Medicare-eligible beneficiaries annually.
These usually come out around September. If you plan on delaying coverage for Medicare, you must save this notice. Medicare can require a copy of this letter to prove creditable coverage status. Failure to provide proof of creditable coverage could result in a permanent monthly penalty.
If you lose your notice, you can request another from your benefits administrator.
What if your coverage isn't considered creditable coverage?
Remember your coverage type to avoid paying Medicare late enrollment penalties. If left unpaid, the 1% Part D premium times the number of months without creditable coverage. The Part B penalty is 10% for every 12-month period and will stay with you for life – so avoid costly fines and secure appropriate insurance promptly.
Not all health plans through employers will count towards Medicare eligibility when you reach retirement age. Unfortunately, if your employer is a small business with fewer than 20 people on staff, you cannot use their group insurance to delay enrolling in Medicare; make sure to plan ahead for future health coverage needs!
Coverages not considered creditable for Medicare
When delaying your Medicare Part B coverage, ensuring that the underlying health care plan you have in place meets creditable standards is essential. Unfortunately, plans such as TRICARE, Veterans Benefits, COBRA, and CHAMPVA do not qualify or retiree plans, so check carefully before making any decisions!
Watch for programs that may not meet requirements to ensure your Medicare Part D plan is creditable and avoid the late enrollment penalty. These include a prescription discount or coupon plans and drug coverage that does not offer equal value to a regular Medicare Part D plan.
Can COBRA be considered creditable coverage?
While COBRA coverage may be accepted for Medicare Part D, you won't have the same luck with Medicare Part B! Fortunately, if your group or employer-based insurance is lost and you receive COBRA benefits instead, there's some good news.
An eight-month Special Enrollment Period opens up when no penalties apply should you opt into Original Medicare. It's important to remember that this period ends after 8 months – so don't delay in taking action; otherwise, enrollment at a later date could come with hefty fees attached.
Can Veteran Benefits be considered creditable coverage?
Veterans utilizing VA benefits should be aware that, while these benefits can work in conjunction with Medicare Part D, they cannot delay enrollment in Original Medicare.
Remember that your current coverage is only accepted at a VA facility. Supplementing your existing protection with additional insurance from Medicare will ensure you have access to the healthcare services you need wherever life may take you!
FAQs
Is Tricare considered creditable coverage?
Tricare isn't considered creditable coverage for Medicare Part B but it is for Medicare Part D.
Is my retirement plan considered creditable coverage for Medicare?
Typically retiree plans aren't considered creditable coverage for Medicare Part B. However, they can be creditable for Medicare Part D.
How can I determine if my current coverage is considered creditable for Medicare?
You should reach out to your plan's benefits administrator. They'll let you know if your insurance is creditable coverage.
Why do I need creditable coverage?
The only time this applies is if you intend to delay your Medicare. Without credible coverage, delaying your Medicare coverage will result in a penalty.
Can the Notice of Creditable Coverage be emailed instead of mailed?
Yes, if the company has a valid email address and has prior consent.
Will I get a notice of creditable coverage if my employer plan does not have drug coverage?
No. Suppose your plan doesn't include drug coverage. In that case, there's no requirement for companies to provide the annual Notice of Creditable Coverage. Since you don't have drug coverage, you must take a Part D prescription drug plan when first eligible for Medicare. Failure to do so will result in a penalty.
Why would I want to delay Medicare coverage?
In most cases, this would be a situation where you plan to work past the age of 65. A couple of reasons you may want to delay would be if group coverage is:
The employer is paying 100% of the premiums.
You have a younger spouse or a child reliant on your group coverage. Your retirement plan has better coverage than you can get from Medicare.
Even if you're healthy, it's wise to seek the advice of a licensed agent specializing in Medicare coverage.
Need help looking for Medicare Supplemental plans?
Because of the potential penalties, the choice to delay Medicare coverage is not one to take lightly. Luckily, we have licensed insurance agents that can arm you with the facts you need to confidently come to the right conclusion for your personal situation.
Agents specializing in Medicare are standing by to assist you with your Medicare questions and needs. Give us a call or fill out our online request form to get access to the best rates for your area.