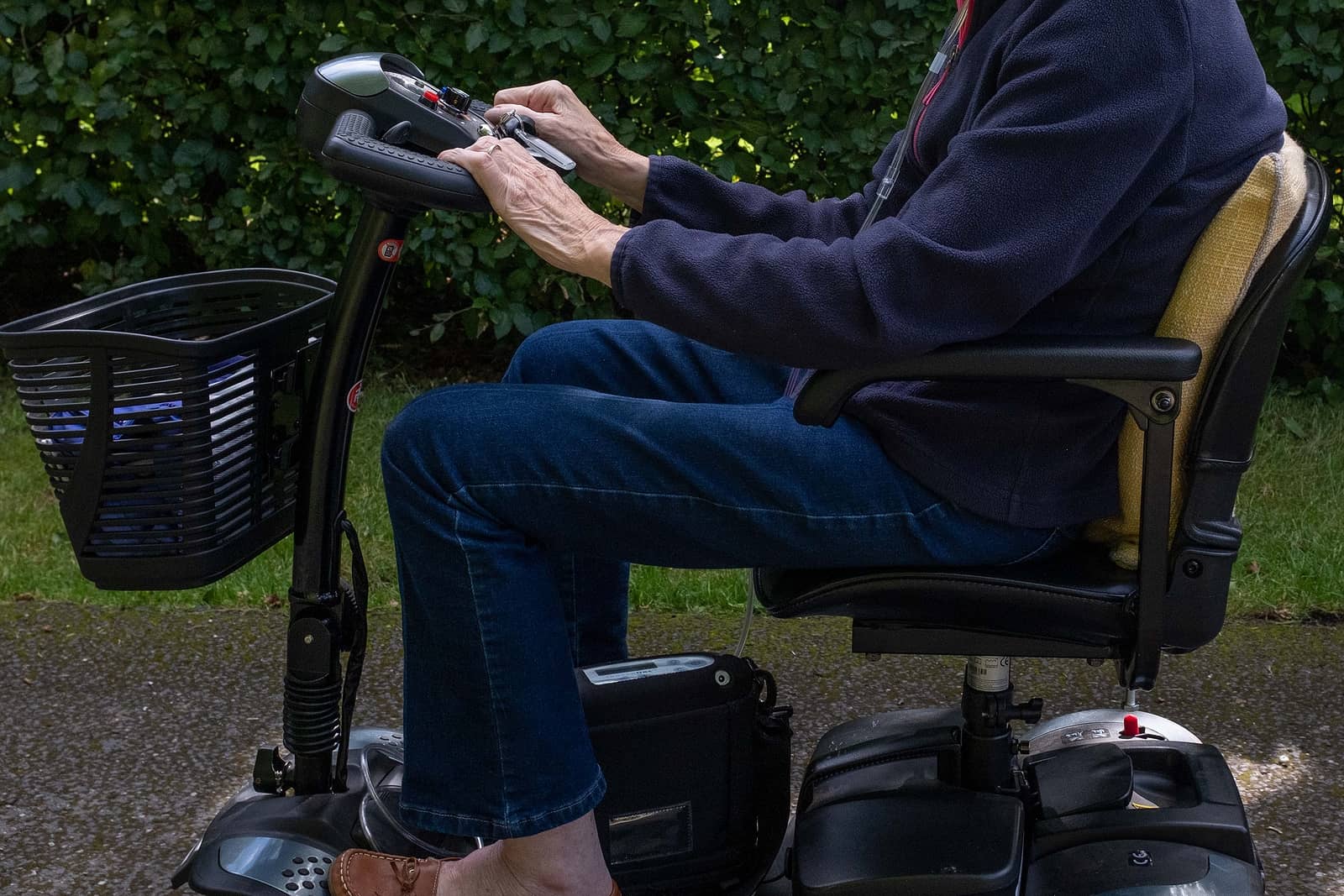 As Medicare beneficiaries get older, they may need help getting around. A mobility scooter can be a great way to make moving around easier, but you may be wondering how Medicare covers the cost of one. Keep reading to learn more about how Medicare can help pay for your scooter.
Does Medicare cover mobility scooters?
Medicare Part B covers mobility scooters, power-operated vehicles, wheelchairs, and walkers under a subheading called durable medical equipment (DME). These can help with daily living activities for those who've undergone enrollment in Medicare.
Requirements for Medicare to cover a mobility scooter
To qualify for a power mobility scooter, the beneficiary must be unable to perform basic activities like getting out of bed or going to the restroom.
The beneficiary must obtain a written doctor's order stating the scooter is medically necessary. The doctor must specify that the patient has limited mobility and a serious health condition that limits movement in the home.
Medicare typically does not pay for mobility scooters outside the patient's home for travel or leisure purposes. It must be a device that is necessary for daily living.
Unfortunately, there is a high rate of attempted Medicare fraud involving scooters and powered wheelchairs. To help ensure an accepted claim, avoid purchasing your scooter from a dealer that is not authorized by Medicare.
How much will Medicare pay for a mobility scooter?
Part B will pay 80 % of the Medicare-approved amount after the Part B deductible has been met. The Part B deductible is $226.
If you don't have supplemental coverage, such as a Medigap or Medicare Advantage plan, you'll be responsible for the remaining 20%.
Depending on the model, a mobility scooter can cost anywhere between $600-$3,000. Having to pay 20% coinsurance can dent your monthly budget.
Will a Medicare Supplement plan pay for a mobility scooter?
Yes, a Medicare Supplement plan will always cover the 20% coinsurance that Original Medicare doesn't cover. Depending on the letter plan you enroll in, you may have zero out-of-pocket costs for a mobility scooter.
Will a Medicare Advantage plan pay for a mobility scooter?
Yes, but your cost-sharing is a little more complicated. Since the federal government does not standardize Medicare Advantage plans, the carrier can choose how much they will cover.
While Original Medicare will cover 80% always, your Medicare Advantage plan may only cover 50%. The plan may also leave you with a higher deductible than Original Medicare. While there are many good things about Medicare Advantage plans, this is one of the not-so-good things.
How do I find a Medicare-approved mobility scooter supplier near me?
You can use the DME search tool on the Medicare website to find a durable medical equipment supplier approved by Medicare.
FAQs
What mobility scooters are approved by Medicare?
If your doctor approves its usage as medically necessary and Medicare approves the supplier, then the mobility scooter in question should receive approval.
How much does Medicare pay on mobility scooters?
As with standard Part B benefits, Medicare will cover 80% of the cost of the scooter after you've paid your Part B deductible of $226. After that, you will be on the hook for the remaining 20% in copays.
Will Medicare pay for a mobility scooter carrier?
Medicare does not pay for a carrier or lift for your scooter, only the equipment.
Can you use a mobility scooter if you're not disabled?
Yes, you can. This is because plenty of ailments necessitate using a scooter that doesn't leave a person fully disabled. However, getting Medicare to pay for one still has to fall under the medically necessary category.
What are the qualifications for using a mobility scooter?
There are a few steps before receiving approval for a mobility scooter:
Meet with a doctor to see if another piece of DME — such as a cane, walker, or wheelchair — would work first.
If not, then the doctor issue a written order that it's necessary because of your medical condition
From there, it's up to you to find a supplier that Medicare eligibility approves for the kind of scooter you want
What is the difference between a mobility scooter and a wheelchair?
A mobility scooter is battery-powered. A wheelchair operates either manually or by battery. The other difference will be price: mobility scooters are generally more expensive than their wheelchair counterparts.
Furthermore, a powered wheelchair has less complicated controls and a tighter turning radius than a mobility scooter. A manual wheelchair is harder for people with upper-body limitations than the other two.
What is the difference between a power wheelchair and a mobility scooter?
As far as power mobility devices go, a power wheelchair is more maneuverable than a mobility scooter and works better for indoor usage, although it's able for outdoor use. On the other hand, the scooter is likely more heavy-duty and used outside of your home, plus it has more involved controls than an electric wheelchair.
Does Medicare pay more for a mobility scooter in the winter?
No matter the time of year, Medicare pays the same 80% toward the cost of a scooter. That's as long as a doctor considers it necessary.
Who can use a mobility scooter?
Anyone can use a mobility scooter, regardless of the reason. However, Medicare will only help with the price of one if a healthcare professional deems a medical need.
What is the average cost of a mobility scooter?
It's hard to pinpoint an exact average cost since various features dictate the price. However, expect to pay a minimum of $800 for an entry-level scooter and $3,000 or more for one with full features.
How do you know if Medicare approves a mobility scooter?
Medicare has a durable medical equipment tool on its website. Searching by the scooter's DME supplier will quickly let you know if the scooter you want will receive Medicare coverage.
How to get Medicare coverage for your mobility scooter
If you're a Medicare beneficiary looking for supplemental coverage, we can help. The process of getting supplemental Medicare coverage can be a little complicated. But our team is ready to make the process easier.
We want to make sure that every Medicare recipient who needs a mobility scooter has the opportunity to get one without having high out-of-pocket costs. To get started, give us a call or complete our online form.