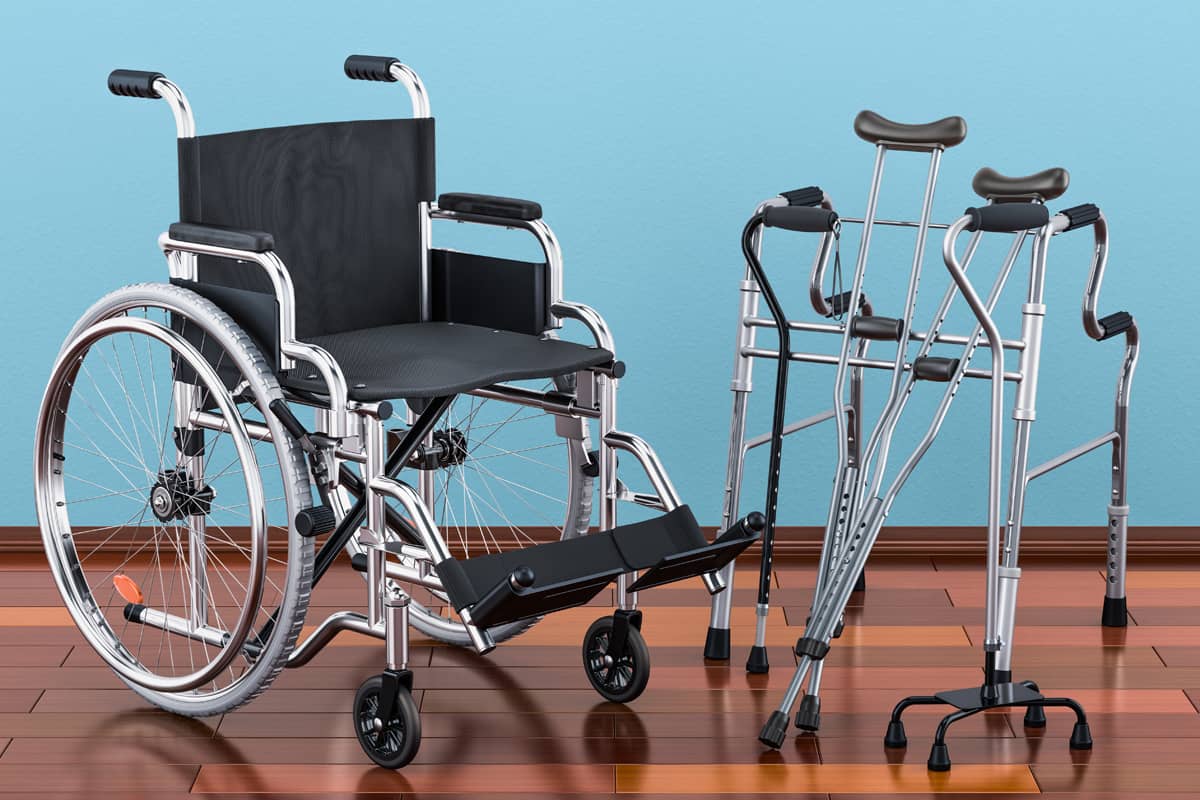 Many Medicare beneficiaries use equipment to treat or maintain their health. This equipment comes in many shapes and sizes. Medicare Part B covers medical equipment as Durable Medical Equipment, sometimes called DME.
Durable medical equipment
To be classified as Durable Medical Equipment, the device must meet specific criteria. The equipment must withstand repeated use, be used for a medical reason, and have a lifetime use of at least three years. It's also not generally valuable for someone who isn't sick or injured for use in your home.
Since the equipment is intended for repeated use, single-use items are generally not covered under Durable Medical Equipment. There are a few exceptions, such as blood sugar test strips.
Medicare covers items under durable medical equipment
There is a variety of equipment covered by Medicare. Most medical equipment covered by Medicare can be described as Safety Devices, Therapy Equipment, or Mobility Devices.
Safety devices
Household safety equipment can be covered under Durable Medical Equipment. Items include lift bars, shower chairs, bumpers for sharp edges, commode chairs, and guard rails. These items are necessary for the beneficiary to avoid further injury.
Therapy equipment
Therapy equipment helps beneficiaries recover after injury or illness or improve medical conditions. Orthopedic shoes, hospital beds, CPAP, and oxygen machines are examples of therapy equipment. Therapeutic equipment can also include monitoring devices such as blood sugar test strips and meters.
Mobility devices
Mobility devices help beneficiaries around their home generally. It may not be covered if the device's primary use is outside the patient's house. Canes, crutches, walkers, wheelchairs, and motorized scooters are all examples of mobility devices. Sometimes leg and back braces are covered as mobility devices.
Oxygen equipment and accessories
If you are enrolled in Medicare and require the use of oxygen, you must rent the necessary equipment and supplies from an approved supplier for a period of 36 months. This rental agreement may be extended to a total of five years if you continue to have a medical need for oxygen.
In addition to the oxygen equipment, your monthly rental payment will cover any accompanying accessories, such as tubing or a mouthpiece, as well as the oxygen contents, maintenance, servicing, and repairs of the oxygen machine.
If you possess your own oxygen delivery equipment, Medicare may help cover costs for systems, containers, and associated supplies when you meet the following criteria:
Your doctor has diagnosed you with a serious respiratory illness or other condition causing oxygen deprivation
Your physician believes oxygen therapy may improve your health
Your arterial blood gas concentration falls within the appropriate range
Other treatments have been unsuccessful.
If the conditions are met, Medicare may assist in paying for oxygen delivery systems, containers, and requisite materials.
Humidifiers
Even though Medicare generally does not provide coverage for items such as humidifiers, room heaters, dehumidifiers, or electric air cleaners, there are certain exceptions.
Medicare will cover oxygen humidifiers when they are medically necessary and in conjunction with approved durable medical equipment, including CPAP machines, respiratory aid devices, and oxygen equipment.
Suction pumps
This vacuum device connects to a sterile tube, it requires a maximum pressure of 60 KPa. It effectively removes excess fluid or material that may block the field of view or needs to be extracted from the body while operating within acceptable thresholds.
Medicare Part B will reimburse the cost of suction pumps your physician prescribes for home use, as they are classified as Durable Medical Equipment (DME).
Home infusion therapy services and supplies
Home infusion therapy necessitates using pumps, IV poles, tubing, catheters, and associated drugs. Professional services associated with home infusion therapy include nursing services, training, education, and patient monitoring to ensure the safe administration of IV infusion drugs in the home environment.
Pressure-reducing support surfaces
Pressure-reducing supportive surfaces represent a form of durable medical equipment (DME) that addresses pressure-induced lesions, also known as pressure ulcers. These lesions are form from extended periods of pressure that can damage the underlying tissue.
Continuous passive motion (CPM) machines
Medicare Part B may provide coverage for knee CPM machines with a prescription from a doctor for home use. You must meet certain conditions for approval. For example, following knee replacement surgery, Medicare may cover CPM devices for up to 21 days of at-home use.
How does Medicare coverage work for DME?
Durable Medical Equipment is covered under Medicare's doctor and medical services side, Medicare Part B. You must get your medical device, and both the authorizing doctor and medical supply company must participate in Medicare.
If you buy the equipment alone, Medicare will not cover it. Ensure that you consult with your doctor and follow Medicare's process if you need medical equipment.
If the doctors or suppliers do not participate in Medicare, Medicare won't pay the claim. Part B covers Durable Medical Equipment if the doctor prescribes it for use in your home.
You are subject to Part B costs for the equipment. Once you meet the Part B deductible, Medicare pays 80%, and you'll generally pay 20% of the cost. If the cost is $100, you'd be responsible for $20 in most cases.
Depending on the type of equipment, it may be a rental or purchase. At times you may have the option to choose. Sometimes the devices have a rental period before you can purchase them, which can vary depending on the equipment. If it's a long-term condition, purchasing is usually the best option.
Medicare Advantage coverage for durable medical equipment
Medicare Advantage plans are required to cover everything that Original Medicare does, including Durable Medical Equipment.
Most Medicare Advantage plans pay 80% of the cost of Durable Medical Equipment for most items. Depending on the plan, some Items could be less or have a fixed copay.
Remember, on Medicare Advantage plans, you're usually subject to networks. Make sure you verify your healthcare provider and medical supply company are in-network. If they're out of network, the plan won't play.
Any cost you pay towards your medical and hospital expenses go towards your Maximum-Out-Of-Pocket. You may reach the maximum if you have a year of expensive equipment or procedures. The good news is that when you get that threshold, you will pay no more out of pocket for the remainder of the year for hospital or medical services.
Medicare Supplement coverage for durable medical equipment
Medicare Supplement plans supplement Medicare. If Medicare pays, the Medigap will kick in and pay part or all your portion of the Medicare costs. This can vary depending on your plan letter; some plans will leave you with no cost on your approved medical equipment.
With a Medigap plan, there is no need to check with the plan for networks. As long as the healthcare and equipment providers accept Medicare, your Medicare supplement will help cover the costs.
Find a Medicare plan to cover your DME needs
We understand that figuring out which plan best fits your needs with many options. Choosing the right Medicare plan for your needs is crucial, and we're here to ensure you don't have to do it alone.
For more information on how Medicare plans cover medical equipment, give us a call or fill out our online request form. Our licensed and knowledgeable insurance agents are standing by to help you. We're here to make Medicare as easy as possible for you.