Hillsboro, Oregon is a beautiful place to spend your retirement years. But that beauty can turn ugly really quick if you aren't protecting yourself from expensive Medicare coverage gaps. One of the little-known dirty secrets about Medicare is that it doesn't pay for everything – and the things it doesn't pay for can cost you thousands in out-of-pocket expenses as you age. Thankfully, you can protect yourself easily and affordably with either a Medicare Advantage or Medicare Supplement Insurance plan. If you're ready to learn more about those options, just keep reading!
Facts and Figures
There are 10,838 senior citizens living in Hillsboro right now
There are only 6 hospitals in the Hillsboro area where seniors can get emergency and/or in-patient care
44% of Oregon seniors have a Medicare Advantage plan
16% of seniors have a Medicare Supplement (Medigap) plan
Which leaves 40% of seniors potentially uninsured or underinsured against costly Medicare coverage gaps!
Once you take a closer look at the coverage gaps in the Medicare system, you'll start to realize why they can become so problematic. This is especially true for anyone who has been diagnosed with a chronic disease. Chronic diseases are ailments which require close supervision and ongoing care. Once you are diagnosed with one, you're pretty much stuck with it for life. The less medical care you have access to, the more quickly you will develop serious symptoms which will significantly debilitate your quality of life. And if you can't afford your medical care because of Medicare coverage gaps, it can have devastating consequences.
| | |
| --- | --- |
| Disease | Prevalence in Hillsboro |
| Arthritis | 19% |
| High Blood Pressure | 22% |
| Coronary Heart Disease | 4% |
| Diabetes | 7% |
| Kidney Disease | 2% |
Healthcare Costs in Hillsboro, OR
Most americans age 65 and older may seem fairly healthy on the outside, but could be walking around with undiagnosed symptoms of serious chronic illness below the surface. Take metabolic syndrome, for example. When left untreated, most people with metabolic syndrome eventually develop diabetes. Diabetes is an insidious disease which causes all sorts of complications such as neuropathy, eye disease, kidney disease, and may even lead to limb amputations. Getting medical treatment for any of these complications will leave you vulnerable to ridiculously expensive Medicare coverage gaps – and even a single serious procedure could deplete whatever life savings you have left.
| | | |
| --- | --- | --- |
| Disease | Prevalence in Hillsboro | Annual Cost of Treatment |
| Arthritis | 19% | $291 |
| High Blood Pressure | 22% | $354 |
| Coronary Heart Disease | 4% | $8,246 |
| Diabetes | 7% | $2,163 |
| Kidney Disease | 2% | $7,969 |
Medicare Advantage Savings in Hillsboro, OR
Let's start by talking about Medicare Advantage, because it is an incredibly popular choice in Hillsboro. One little known fact about Medicare Advantage that most seniors don't know is that it is actually a private insurance policy from a private company. When you agree to sign up for Medicare Advantage, you basically forgo your federal benefits in favor of a private policy that legally promises to offer you the exact same coverage or better. The plans are regulated by the government so that you are guaranteed to get the coverage you have earned for working hard and paying into the Medicare system your whole life. And the government subsidizes your monthly premium so that your monthly bill for your insurance premiums can be as little as $0 each month.
How much extra coverage can you add to your Medicare Advantage plan? Some of the coverage you can add include things like dental, vision, and comprehensive prescription drug benefits. When you add all of the coverage you need to your Medicare Advantage plan, it provides an extra added level of convenience since other Medicare supplements won't give you that option. Dealing with only one entity when trying to sort out your medical needs can add a level of ease that is worth its weight in gold for many seniors.
But that convenience comes at a literal price. Not every senior can afford one of the all-encompassing "Cadillac plan" that Medicare Advantage companies want to sell them. But Medicare Advantage isn't your only option if you live in Hillsboro, Oregon. If you're worried that a Medicare Advantage plan might be too confusing, too expensive, or too difficult to deal with, then you have at least one other option to consider: Medicare Supplement Insurance.
Medicare Supplement (Medigap) Savings in Hillsboro, OR
There are nearly three times as many Medicare Advantage plans sold to seniors in Hillsborough than there are Medicare Supplement Insurance plans; but that doesn't mean they aren't worth mentioning. Medigap plans are smaller, less expensive supplement insurance policies which exclusively cover the gaps in Medicare Parts A and B. You can choose one out of the 10 plans available to protect yourself from Medicare coverage gaps. But the plan you choose will depend on whether you want to protect yourself from hospital coverage gaps, Part B coverage gaps, or both.
Medigap plans A, D, K, and L are the plans you want to look at if you are more cavalier about Medicare Part B gaps, but seriously concerned about things like extended hospital stays, blood transfusions, or end-of-life care. The good thing about these four plans is that they typically have lower monthly premiums compared to the other six Medigap plans available. But the downside is that they won't protect you from coverage gaps associated with Medicare Part B.
If you are worried about Medicare Part B coverage gaps, then you need to take a closer look at plans B, C, G, F, M, and N. In addition to protecting you from the large majority of Part A coverage gaps, these plans will protect you from Part B coverage gaps to varying degrees of coverage. The more coverage you purchase, the more expensive your monthly premiums will be, but the less you will have to pay in out-of-pocket costs in the long run. For the most comprehensive coverage, look no further than Plan F. But if you want comprehensiveness, you'll have to enroll soon – Plan F is being retired at the end of 2020 and new enrollees won't be able to purchase it after January of 2021.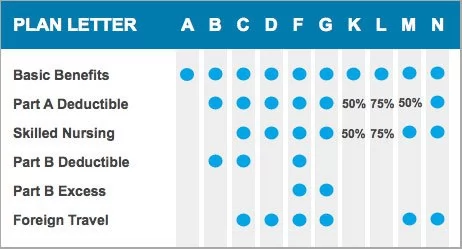 Unfortunately, Medigap policies are not as customizable as Medicare Advantage is. But that doesn't mean you can't get the coverage you need; you'll just have to get it piecemeal from outside sources. The government encourages seniors who want to stick with Original Medicare to enroll in Medicare Part D prescription-drug coverage. There is a "donut hole" coverage gap in the program which could cost you up to 25% of your total prescription drug costs if you exceed your annual maximum but don't spend enough to qualify for catastrophic coverage. Thankfully, most seniors never hit this threshold. There are also dental and vision insurance providers near you who sell these policies all year round with no need to wait for a special enrollment period. You might even be able to save money by finding a provider who offers senior discounts!
If you've made it this far, then it probably means you're close to making a decision about your future. And it's an important decision, so it shouldn't be taken lightly. If you still have any type of question or concern about your Medicare supplement options, please call or email us today. Our knowledgeable experts are standing by waiting to help you make the best and most affordable decision.
| | | | |
| --- | --- | --- | --- |
| Medigap Plan | Minimum Monthly Premium | Maximum Monthly Premium | Average Estimated Monthly Premium (Part B Premium Included) |
| Plan A | $70 | $214 | $278 |
| Plan B | $86 | $230 | $294 |
| Plan C | $104 | $261 | $318 |
| Plan D | $99 | $195 | $283 |
| Plan F | $101 | $218 | $295 |
| Plan F (high deductible) | $23 | $80 | $187 |
| Plan G | $72 | $192 | $268 |
| Plan K | $45 | $86 | $201 |
| Plan L | $66 | $121 | $229 |
| Plan M | $80 | $168 | $260 |
| Plan N | $71 | $153 | $248 |