By now, you're probably somewhat aware of the costly gaps in coverage currently plaguing Medicare Parts A and B. The next step is to figure out what you're going to do about it. As a senior citizen, your health is literally on the line. And as a resident of Oklahoma City, you face some uniquely specific challenges when it comes to finding the most affordable health care you can get.
Senior Medicare in OKC: Facts and Figures
There are 77,233 senior citizens living in Oklahoma City right now
There 10 hospitals in the OKC area where seniors can get emergency and/or in-patient care
18% of Oklahoma seniors have a Medicare Advantage plan
24% of seniors have a Medicare Supplement (Medigap) plan
Which leaves 58% of seniors potentially uninsured or underinsured against costly Medicare coverage gaps!
As you age, you'll become more vulnerable to certain types of disease. Most of these are chronic, pervasive, and will require treatment for the rest of your life. Some of them may get progressively worse, increasing your medical expenses as time goes on. And there's a very real possibility that you may end up suffering from more than one at the same time. The chart below outlines the prevalence of the most common chronic diseases among Oklahoma City seniors:
| | |
| --- | --- |
| Disease | Prevalence (in Oklahoma City) |
| Arthritis | 25% |
| High Blood Pressure | 33% |
| Coronary Heart Disease | 7% |
| Diabetes | 11% |
| Kidney Disease | 3% |
Healthcare Costs in Oklahoma City, OK
It's important to talk about the prevalence of chronic disease in the context of costs. Medications, equipment, in-patient care, outpatient care, and doctor visits all add up over time. And when you take into account the fact that seniors are living longer in an environment where medical costs are going up every single year, things can get frighteningly expensive very quickly. It's more important than ever to make sure you have adequate healthcare coverage going into your golden years if you want to protect yourself against these costs.
| | | |
| --- | --- | --- |
| Disease | Prevalence (in Oklahoma City) | Annual Cost of Treatment |
| Arthritis | 25% | $2,117 |
| High Blood Pressure | 33% | $2,400 |
| Coronary Heart Disease | 7% | $3,470 |
| Diabetes | 11% | $7,900 |
| Kidney Disease | 3% | $15,614 |
Medicare Advantage Savings in Oklahoma City, OK
Medicare Advantage in Oklahoma is a private health insurance plan approved by the federal government for sale to senior citizens who are enrolled in Medicare. Your insurance costs are not handled directly by the federal government; rather, the government pays their share of your monthly premium to your insurance company, and you pay the rest of your medical costs on your own. By law, your health plan must cover the exact same benefits you would get if you had stayed enrolled in Medicare Parts A and B. Many private insurers sweeten the deal by offering extra benefits like vision or dental coverage.
Many seniors feel that they receive better coverage for chronic ailments with a Medicare Advantage plan. Chronic diseases like arthritis, diabetes, and high blood pressure require a lot of effort to manage. These requirements can include prescription drugs, testing equipment, and more frequent doctor visits (among other things). Over time, as these conditions worsen, the cost to manage them will become increasingly more expensive. Some Medicare Advantage plans can be more comprehensive than what you would get from Medicare alone, even with a Part D prescription drug plan. But even with Medicare Advantage, it's a good idea to start budgeting now so that you can be prepared when the time comes.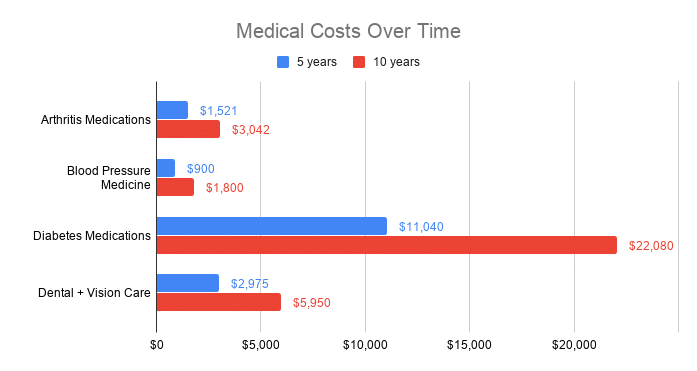 Medicare Advantage plans have the potential to cover as much or more than traditional Medicare Parts A & B. This includes doctor visits, medical equipment, and (for most MA policies) a cost-effective prescription drug plan. Many plans give you the option to add dental or vision coverage to your policy. Since the government subsidizes your monthly premium, you can get a comprehensive Medicare Advantage plan at a severely discounted or potentially $0 premium. Just remember that things like copays and coinsurance will still be a responsibility, and there may still be out-of-pocket expenses for things that your insurance policy doesn't cover.
Medicare Supplement (Medigap) Savings in Oklahoma City, OK
Medicare supplement Insurance in Oklahoma ("Medigap" for short) policies work a little bit differently – but they can still save you a good deal of money, especially when it comes to gaps in Medicare part A. Serious chronic conditions like coronary heart disease and kidney disease can end up costing you tens of thousands of dollars or more in hospital stays and inpatient treatments. But up to a certain point, long hospital stays and even blood transfusions aren't covered by Original Medicare. So you'll have to have some sort of supplemental coverage to pull up the slack or face paying staggering medical costs out-of-pocket.
There are currently four plans which are designed to cover the costs associated with gaps in Part A of Original Medicare: plans A, D, K, and L. The other plans cover gaps in Part A as well as some or most of the gaps in Part B (but more on that in a minute). If you don't anticipate extensive Medicare Part B costs and you are more worried about hospital expenses from Medicare part A, you should know that a Medigap plan which only covers Part A expenses will come with a lower monthly premium. This could save you some money over the long run.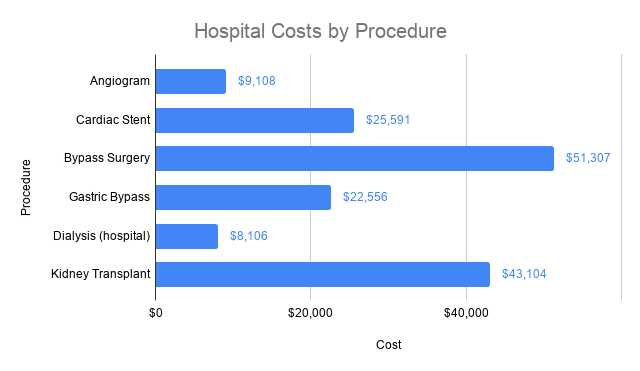 The other available Medigap plans ( B, C, D, F, G, M, and N) cover the gaps in Medicare part A hospital expenses as well as certain aspects of the gaps in Part B expenses. The more comprehensive your plan, obviously, the more your monthly premium will be. But that means you will have fewer out-of-pocket costs associated with Medicare Part B long-term. Also, it should be noted that Plan F will be retired soon and you may not be able to enroll in it after the year 2020.
Then there are the gaps in original Medicare Part B to consider. While Part A takes care of hospital stays and other inpatient care, Part B takes care of almost everything else – including outpatient procedures, doctor visits, and some medical equipment. But the co-pays, coinsurance, and annual premiums for Part B can get challengingly expensive over time. There are several different Medigap plans which take this reality into account and are specifically tailored to help you reduce Medicare Part B costs so that you don't get overwhelmed.
Unlike Medicare Advantage, Medicare supplement insurance doesn't have any provisions for prescription drugs, dental care, or vision coverage. But Original Medicare does offer seniors a Part D prescription drug plan, regardless of whether or not you purchase a Medicare supplement. And if you do a little digging, you may be able to find an affordable dental and/or vision plan in your area (discounts for seniors are particularly easy to find).
For seniors like you living in Oklahoma City, getting affordable supplemental Medicare insurance is essential for protecting your retirement savings. Unfortunately, your medical costs are only going to go up over time, and most of those are due to factors which are beyond your control. But the one thing you do have 100% control over is finding a Medicare supplement insurance policy that is within your means and comprehensive enough to protect you from expensive Medicare coverage gaps. We want to help you find that policy today.
| | | | |
| --- | --- | --- | --- |
| Medigap Plan | Minimum Monthly Premium | Maximum Monthly Premium | Average Estimated Monthly Premium (Part B Premium Included) |
| Plan A | $70 | $214 | $278 |
| Plan B | $86 | $230 | $294 |
| Plan C | $104 | $261 | $318 |
| Plan D | $99 | $195 | $283 |
| Plan F | $101 | $218 | $295 |
| Plan F (high deductible) | $23 | $80 | $187 |
| Plan G | $72 | $192 | $268 |
| Plan K | $45 | $86 | $201 |
| Plan L | $66 | $121 | $229 |
| Plan M | $80 | $168 | $260 |
| Plan N | $71 | $153 | $248 |