Are you ready to retire in Lawton, Oklahoma? Well, there's a few things you need to take care of before you can truly sit back and enjoy your golden years in style. One of the most important things that should be at the top of your list is protecting yourself from Medicare coverage gaps. If you don't know what those are, or if you're unsure about the specifics, then you've come to the right place. We have a ton of information about these coverage gaps for you – and we will talk about two of the most popular means of protecting yourself from them right here on this page.
Facts and Figures
There are 9,564 senior citizens living in Lawton right now
There are 8 hospitals in the Lawton area where seniors can get emergency and/or in-patient care
18% of Oklahoma seniors have a Medicare Advantage plan
24% of seniors have a Medicare Supplement (Medigap) plan
Which leaves 58% of seniors potentially uninsured or underinsured against costly Medicare coverage gaps!
When you take a look at the list of coverage gaps inherent in Medicare Parts A and B, you might assume that it's not something you have to worry about yet – if at all. But more and more seniors these days are being surprised by out-of-pocket medical expenses they weren't anticipating due to these coverage gaps. Surprisingly enough, a lot of these coverage gaps have to do with medical treatment related to longevity diseases like arthritis, coronary heart disease, and more. The chart below outlines what percentage of seniors in Lawton are at risk for these ailments (and their corresponding medical expenses). Are you one of them?
| | |
| --- | --- |
| Disease | Prevalence in Lawton |
| Arthritis | 25% |
| High Blood Pressure | 34% |
| Coronary Heart Disease | 6% |
| Diabetes | 11% |
| Kidney Disease | 3% |
Healthcare Costs in Lawton, OK
Let's say you're one of the 25% of seniors in Lawton, Oklahoma Who currently suffer from arthritis. If you're in your early retirement years, your pain might not be that bad. You might be able to get by on over-the-counter anti-inflammatory drugs, or a mild prescription. But over time, that can change. You could rack up hundreds of dollars or even thousands in copays and coinsurance costs for arthritis-related outpatient procedures like steroid injections or minor surgery. You could eventually end up with extended hospital stay expenses as a result of major joint replacement surgery, and then even more expenses related to physical rehabilitation as you regain mobility after the procedure. To some extent, every single thing we just mentioned will leave you vulnerable to a Medicare coverage gap. And that can cost you tens of thousands of dollars towards the end of your life, when your savings are at their lowest.
| | | |
| --- | --- | --- |
| Disease | Prevalence in Lawton | Annual Cost of Treatment |
| Arthritis | 25% | $294 |
| High Blood Pressure | 34% | $356 |
| Coronary Heart Disease | 6% | $9,108 |
| Diabetes | 11% | $2,173 |
| Kidney Disease | 3% | $8,106 |
Medicare Advantage Savings in Lawton, OK
If you don't want to financially burden yourself or your loved ones because of Medicare coverage gaps, you can look into a Medicare Advantage insurance policy. Believe it or not, Medicare Advantage doesn't actually come from the government. The federal government does regulate these plans closely to protect seniors like you from insurance fraud and to make sure you get the coverage you need after many years of hard work and paying into the system. With Medicare Advantage, you will at least get the exact same coverage you would get with Original Medicare, and you will likely be given the option to purchase even more coverage than that for a nominal fee. And at the end of the day, when the federal government pitches in to help you pay your monthly premium, this plan could cost you as little as $0 per month.
Most basic Medicare Advantage plans will start by offering you identical benefits to Medicare Parts A and B, and then extend you the option to add riders such as vision, dental, and prescription drug coverage to your policy. If a company approaches you trying to sell you a Medicare Advantage plan and starts out offering you less than what you would get from Medicare, they could be committing fraud and should be reported. But most Medicare Advantage providers are scrupulous and reputable, and many of the coverages they offer in addition to the basic plan are comprehensive and cost-effective for the seniors who need them.
One of the things seniors find so convenient about Medicare Advantage is that you get to manage all of your medical needs through a single plan and a single provider. This isn't true for other forms of supplement insurance, which we will discuss in a moment. Keep in mind that as with all Insurance products, the more coverage you buy, the more you could end up paying in monthly premiums. It's also important to read the fine print and make sure you're getting a good deal on your cost-sharing obligations like co-pays, coinsurance, and deductibles. As impressive as Medicare Advantage plans can be, some of these fully comprehensive "Cadillac" plans can still be financially out of reach for seniors in Lawton. But for those people, there's another option: Medicare Supplement Insurance (Medigap).
Medicare Supplement (Medigap) Savings in Lawton, OK
Nearly one-quarter of seniors in Oklahoma have forgone Medicare Advantage and instead have chosen a Medicare Supplement Insurance policy. These policies are also offered by private companies, but unlike Medicare Advantage, they do not take over for your federal Medicare benefits; they merely add coverage which protects you from some or most of your Medicare coverage gap expenses. When you get medical treatment, Medicare will receive your bill first; then they will pass it on to your Medigap provider, if there is anything left to pay; then, and only then will you ever see a bill if there are still charges which have not been resolved.
There are 10 different Medigap plans to choose from, and your specific medical needs will determine which plan is right for you. Some of these plans only cover the Medicare coverage gap expenses associated with the hospital costs of Medicare Part A: plans A, D, K, and L. So if you're worried about paying for hospice care, extended hospital stays, or even extra blood transfusions, purchasing one of these four plans is a cost effective way of protecting yourself from these coverage gaps without breaking the bank.
But there are other coverage gaps you might need to think about beyond what those four plans cover. These are the coverage gaps associated with doctor visits and outpatient care in Medicare Part B. Things like co-pays, coinsurance, deductibles, and medical care while traveling abroad could end up being 100% your responsibility if you don't purchase a Medigap plan which affords you coverage for these things. Those Medigap plans are plans B, C, G, F, M, and N. Medigap Plan F is the most popular because it protects you from the greatest amount of coverage gaps from Medicare Parts A and B. Unfortunately, there's only a limited amount of time available left to enroll in Plan F before it is gone forever (for new enrollees, that is). If you can't sign up for Plan F before the end of the year 2020, you'll end up having to settle for a slightly less comprehensive plan, like Plan G or plan C.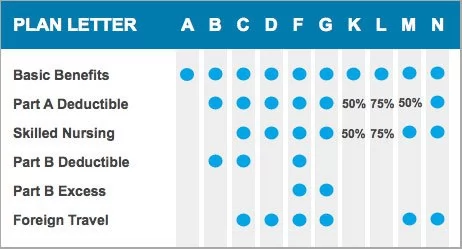 Because Medigap plans are smaller and specifically target the coverage gaps in the Medicare system, they typically cost less in monthly premiums. But the downside is that you cannot add other coverages like vision, dental, or prescription drugs to your policy. You buy it as is, and that's it. However, you are free to strike out on your own and get low-cost vision and dental supplements from other, private providers. You may even find convenient discounts based on your age. You should also consider enrolling in Medicare Part D prescription-drug coverage so that you can substantially lower the cost of your prescriptions. There is a "donut hole" coverage gap associated with Part D which could leave you paying 25% of your total prescription costs out-of-pocket, but this will only happen if you exceed your annual maximum – and it will go away once you spend enough money to qualify for catastrophic coverage.
You worked hard all your life – getting your ducks in a row and having all of your medical needs met shouldn't be so complicated. We here at Medigap.com want to make things as simple for you as possible. We have knowledgeable experts standing by ready to help you at the drop of a hat. So reach out and contact us today! The sooner you get your health care needs sorted out, the sooner you can enjoy retirement in The Sooner State.
| | | | |
| --- | --- | --- | --- |
| Medigap Plan | Minimum Monthly Premium | Maximum Monthly Premium | Average Estimated Monthly Premium (Part B Premium Included) |
| Plan A | $70 | $214 | $278 |
| Plan B | $86 | $230 | $294 |
| Plan C | $104 | $261 | $318 |
| Plan D | $99 | $195 | $283 |
| Plan F | $101 | $218 | $295 |
| Plan F (high deductible) | $23 | $80 | $187 |
| Plan G | $72 | $192 | $268 |
| Plan K | $45 | $86 | $201 |
| Plan L | $66 | $121 | $229 |
| Plan M | $80 | $168 | $260 |
| Plan N | $71 | $153 | $248 |