If you're new to Medicare, you may not yet be familiar with all of its ins and outs. For example, did you know that Medicare won't pay for extended hospital stays? That's just one of many Medicare coverage gaps that most seniors aren't aware of. And if you aren't aware of it when it sneaks up on you, it could cost you tens of thousands of dollars or more in out-of-pocket medical bills. But don't worry – there's a way to avoid these expenses and protect your life savings from devastating medical bills. We're going to talk about them today.
Facts and Figures
There are 33,746 senior citizens living in Winston-Salem right now
There 3 hospitals in the Winston-Salem area where seniors can get emergency and/or in-patient care
32% of North Carolina seniors have a Medicare Advantage plan
25% of seniors have a Medicare Supplement (Medigap) plan
Which leaves 43% of seniors potentially uninsured or underinsured against costly Medicare coverage gaps!
As it stands, living in Winston-Salem doesn't give you many options as far as emergency, inpatient, or hospital care is concerned. And if you have a chronic health condition, it's not much better. The problem with chronic disease is that it only gets worse over time, and you have to spend time, money, and energy treating the symptoms as best you can in the interim. The more chronic conditions you develop over time – and the more severe they are – the more it will cost you to get proper medical care for them. Just take a look at how many seniors in Winston-Salem are suffering from chronic health conditions according to the chart below.
| | |
| --- | --- |
| Disease | Prevalence (in Winston-Salem) |
| Arthritis | 24% |
| High Blood Pressure | 37% |
| Coronary Heart Disease | 7% |
| Diabetes | 12% |
| Kidney Disease | 3% |
Healthcare Costs in Winston-Salem, NC
There's a lot that goes into managing a chronic health ailment. Most of them require extra doctor visits, extra medical testing, prescription drugs, or a very expensive combination of some/all of the above. But how much of your total costs will be covered by your Medicare benefits? That depends on a lot of different factors. In the chart below, you'll see a snapshot of average annual costs to manage conditions like arthritis, kidney disease, or heart disease. Depressingly, we have to admit it most of these numbers are conservative estimates – your costs could be considerably higher if you don't do something to protect yourself against Medicare coverage gaps.
| | | |
| --- | --- | --- |
| Disease | Prevalence (in Winston-Salem) | Annual Cost of Treatment |
| Arthritis | 24% | $280 |
| High Blood Pressure | 37% | $288 |
| Coronary Heart Disease | 7% | $7,399 |
| Diabetes | 12% | $2,158 |
| Kidney Disease | 3% | $6,606 |
Medicare Advantage Savings in Winston-Salem, NC
You have a couple of different options when it comes to protecting yourself from Medicare coverage gap expenses. One very popular choice is called Medicare Advantage. Some people also refer to it as Medicare Part C. Medicare Advantage is actually private health insurance that has very little to do with the federal government. A private insurance company acts as a middleman, taking money from the government in exchange for administering your medical care. For certain qualifying seniors, these government funds can mean that your monthly premiums equal $0. Also, you should know that your Medicare Advantage plan must legally cover the exact same benefits that Original Medicare promises you – it is against the law for your Medicare Advantage company to offer less than that, and many Medicare Advantage companies offer more benefits (at a cost, usually) in order to drum up more business.
Whether you're one of the lucky ones who can get a comprehensive Medicare Advantage plan for $0 per month, or whether you have to pay a little extra for your monthly premiums, it could be worth it in the long run. It just depends on your needs and what plans are available to you. The more care you need, the more beneficial it can be to consider a Medicare Advantage plan. This is especially true as your medical costs sneak up on you and start to mount over time.
One extra convenience seniors get from a Medicare Advantage plan that they can't get anywhere else is the addition of dental and/or vision benefits to your comprehensive insurance plan. If you want either or both of these benefits with, for example, a Medicare Supplement Insurance plan, you have to purchase it separately from a different provider. But purchasing these benefits with a Medicare Advantage plan gives you the ease of dealing with only one insurance company for all of your medical needs, including vision and dental. But this isn't always the most affordable option, so you may have to decide whether the convenience is worth the price tag or not depending on what is available near here.
Medicare Supplement (Medigap) Savings in Winston-Salem, NC
Medicare supplement insurance, AKA Medigap, works very differently from Medicare Advantage. Whereas Medicare Advantage takes over and absolves the government of any responsibility for your medical care, Medigap works right alongside your federal Medicare benefits in order to keep your costs affordable. Your Medicare benefits take care of your costs first, then your Medigap Insurance steps in to pay for any coverage gaps which Medicare won't. You are 3rd in line when it comes to paying for your medical costs.
Medicare coverage gaps fall into one of two categories: hospital (or inpatient) costs, and outpatient care. Medicare Part A typically deals with the former, while Medicare Part B handles the latter. The most expensive Medicare coverage gaps generally fall under those which are not covered by Medicare Part A. And there are specific Medigap insurance policies which are designed to cover those expenses: Plans A, D, K, and L. If you think your Medicare Part B costs and coverage gaps are largely under control, you could end up saving money by picking one of these four plans. That way you'll get a lower monthly premium for your Medigap insurance, and you'll have substantially fewer worries with regard to your Medicare coverage gaps.
If you are worried about Part B coverage gaps, on the other hand, then you'll want to take a closer look at Medigap Plans B, C, F, G, M, and N. These plans will cover the gaps in Medicare Part A coverage as well as help you with uncovered Medicare Part B costs. The most comprehensive of these plans is Plan F; consequently, it is also the most expensive as far as your monthly premiums are concerned. Yet most of seniors see enough benefit from such a plan that the more substantial monthly cost is worth it in the long run to protect them from overwhelming medical bills. But if you want this level of comprehensiveness, you'll have to act fast – because you won't be allowed to enroll in Medicare Plan F after December 31st, 2020.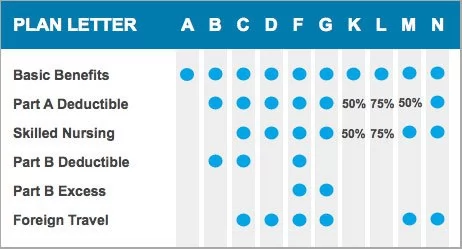 For Better or Worse, even comprehensive plans like Medigap Plan F aren't comprehensive enough to include prescription drug coverage, vision, or dental. If you want to stick with Original Medicare, you'll have to enroll in Medicare Part D to get prescription drug coverage. You'll also have to search for independent, private insurance coverage for vision and/or dental from a local provider. But the good news is that most cities have such agencies at the ready to help you find coverage, and many of them will offer discounts for people in your age range.
You didn't slave your life away putting away savings just to spend all that money on outlandish medical bills. You did it so that you can enjoy your golden years the way they were meant to be enjoyed. The best way to do that and to protect yourself from unexpected medical expenses is to purchase either a Medicare Advantage or Medigap supplement insurance plan. The sooner that you do this after you turn 65, the better. If you're having trouble making a decision, reach out and contact one of our experts so that we can connect you with the plan that is best suited for your medical needs.
| | | | |
| --- | --- | --- | --- |
| Medigap Plan | Minimum Monthly Premium | Maximum Monthly Premium | Average Estimated Monthly Premium (Part B Premium Included) |
| Plan A | $79 | $218 | $284 |
| Plan B | $114 | $249 | $317 |
| Plan C | $135 | $283 | $345 |
| Plan D | $119 | $214 | $302 |
| Plan F | $127 | $283 | $341 |
| Plan F (high deductible) | $26 | $80 | $189 |
| Plan G | $94 | $209 | $287 |
| Plan K | $47 | $97 | $208 |
| Plan L | $77 | $136 | $242 |
| Plan M | $104 | $157 | $266 |
| Plan N | $84 | $218 | $287 |