If you've chosen to spend the majority of your golden years in Dover, New Hampshire, you've made a fairly smart choice. Unfortunately, you will have to deal with a slightly higher cost-of-living when it comes to your medical needs. And if you haven't done anything to protect yourself against the gaps in Original Medicare coverage, your costs will be more expensive still – unless you protect yourself with either a Medicare Advantage or a Medigap policy, that is.
Facts and Figures
There are 4797 senior citizens living in Dover right now

There are 6 hospitals in the Dover area where seniors can get emergency and/or in-patient care

10% of New Hampshire seniors have a Medicare Advantage plan

30% of seniors have a Medicare Supplement (Medigap) plan

Which leaves 60% of seniors potentially uninsured or underinsured against costly Medicare coverage gaps!
If you haven't already, it's a good idea to sit down and try to anticipate what your medical needs will be in the future. Some things are hard to anticipate because unexpected things like cancer or a broken hip from a traumatic fall are difficult to predict. But what about chronic disease? Statistically speaking, it will become a problem for you eventually. And if you don't plan accordingly, it could become a very expensive problem on top of that.
| | |
| --- | --- |
| Disease | Prevalence in Dover |
| Arthritis | 26% |
| High Blood Pressure | 29% |
| Coronary Heart Disease | 6% |
| Diabetes | 9% |
| Kidney Disease | 3% |
Healthcare Costs in Dover, NH
If you don't think chronic disease will be an expensive issue for you, think again. Even something as seemingly simple as arthritis can cost you tens of thousands of dollars in medical bills or more before you know it. It may start with a little joint pain here and there – but for major joints like your knee, shoulder, or hip, the pain can eventually become so bad that it renders you immobile. When that happens, you might have to have joint replacement surgery, which not only requires an invasive and expensive surgical procedure, but weeks and months of physical rehabilitation afterward. If you get diagnosed with arthritis, this is basically inevitable. And you have to make sure you get your medical insurance needs taken care of before things get too expensive.
| | | |
| --- | --- | --- |
| Disease | Prevalence in Dover | Annual Cost of Treatment |
| Arthritis | 26% | $291 |
| High Blood Pressure | 29% | $354 |
| Coronary Heart Disease | 6% | $9,860 |
| Diabetes | 9% | $2,163 |
| Kidney Disease | 3% | $8,687 |
Medicare Advantage Savings in Dover, NH
Medicare Advantage is a popular choice among seniors who are worried about Medicare coverage gaps. When you purchase a Medicare Advantage policy, you essentially say "I don't want the government giving me my Medicare benefits" and instead purchase those benefits from a private health insurance company. Legally, that company must offer you the same benefits you would get if you had stayed in the federal Medicare program. But many companies offer more in order to entice you to make the switch. The federal government partners with these companies to make sure they're offering you a fair policy, and to help pay for your monthly premiums with the money you spent in taxes during your working years. For some seniors, this means that they get their Medicare Advantage plan for $0 per month.
There are some advantages and disadvantages to this. You'll have to do with a private health insurance company instead of a single payer, which could come with its own headaches and complications to deal with. But most Medicare Advantage companies offer you the option to purchase all of the medical coverage you could possibly need and manage it under one single policy. The added convenience, plus the government assistance on your monthly premiums, makes the choice worthwhile for a lot of seniors. But not all New Hampshire retirees feel this way. You'll see why in a minute.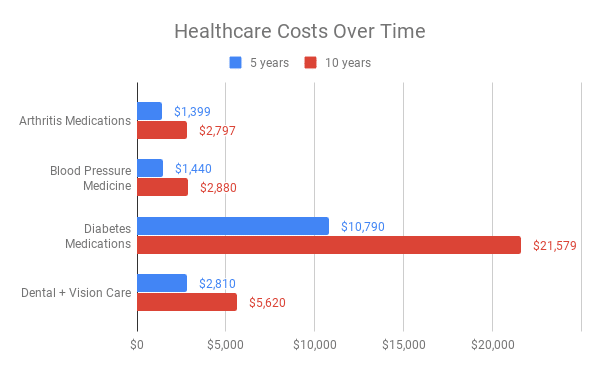 Some of the extra coverage options you can add are vision, dental, and prescription drug coverage, among other things. And it's not uncommon for your base Medicare Advantage plan to come with added benefits that already cover the gaps in Original Medicare coverage so that you don't have to worry about it. On top of everything, you get the added convenience of having all of your medical needs taken care of under a single policy. As long as everything fits within your budget, what more could you ask for?
Medicare Supplement (Medigap) Savings in Dover, NH
Medigap plans, on the other hand, are wildly popular in Dover. This is because these plans are largely less expensive than a Medicare Advantage policy or going without coverage and leaving it up to chance. There are 10 standardized Medigap plans, and they offer you the same coverage no matter where you go or which state you live in. Some of these plans only cover the gaps in Medicare Part A, while other plans cover many of the gaps in Part A as well as Part B. All you have to do is pay a monthly premium on time and in full, and let Medicare and your Medigap insurance provider (in that order) take care of the rest. Only when those first two cannot pay out on a claim will you ever see a bill.
The type of Medigap policy you choose will mostly depend on two factors: how much you can afford to spend, and what your medical needs are. Some seniors believe that they only need coverage for the expensive gaps in Medicare Part A, which is largely related to hospital stays and end-of-life care. Those medical expenses can definitely add up if you aren't careful. Plans A, D, K, and L all offer varying levels of coverage against these costs. The more coverage they offer, the more expensive you can expect them to be. But if you aren't worried about Part B Medicare coverage gaps, one of these policies would be the most economical choice.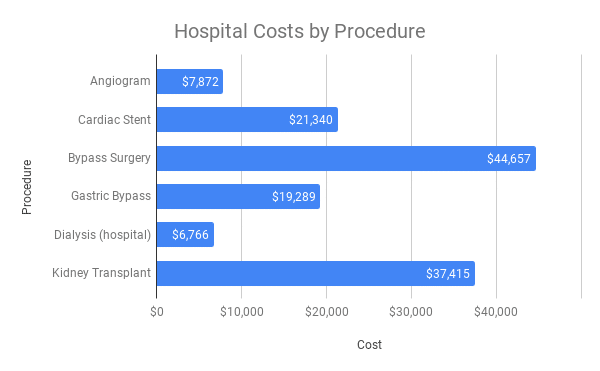 For most seniors, however, there are a lot of uncovered Medicare Part B costs to be worried about. The more non hospital medical care you need, the more you will have to pay in coinsurance, co-payments, and Part B excess charges. There's also things like foreign travel, and your part B deductible to worry about. if you're especially worried about getting help with your part B deductible, then you'll have to act fast – because Medigap Plan F is not only the most popular plan, but only one of two that offers that type of coverage currently. If you are turning 65 and planning on enrolling in Medicare before January of 2021, this may be your last chance to grandfather yourself into this program before it is no longer offered for purchase.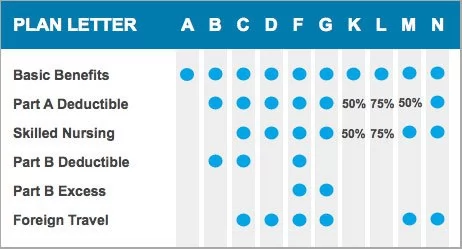 As we touched on earlier, you can't get extra coverages like dental, vision, or prescription drugs tacked directly onto a Medigap plan. Staying enrolled in Medicare means that you will have to also enroll in Medicare Part D in order to get your prescription drugs covered. Furthermore, for dental and vision care, you will have to look elsewhere and get a private insurance policy from a local provider. But these policies are usually relatively inexpensive, and may even come with discounts or other benefits because you are a senior. Yes, it's inconvenient to manage multiple different policies at the same time, but it could also provide you with the coverage you need at a substantially lower cost.
We understand that this is a lot of information to process all at once. If you have to bookmark this page and keep coming back while you are trying to make a decision on which policy to purchase, we understand. But we'd also like to help you make that decision more quickly and effectively. Our representatives are standing by to take your call or answer your emails if you still have lingering questions. We'd be more than happy to point you in the right direction and get you quotes for a Medicare supplement insurance policy that's right for you.
| | | | |
| --- | --- | --- | --- |
| Medigap Plan | Minimum Monthly Premium | Maximum Monthly Premium | Average Estimated Monthly Premium (Part B Premium Included) |
| Plan A | $90 | $224 | $293 |
| Plan B | $142 | $266 | $340 |
| Plan C | $164 | $346 | $391 |
| Plan D | $173 | $288 | $366 |
| Plan F | $166 | $302 | $370 |
| Plan F (high deductible) | $45 | $92 | $204 |
| Plan G | $172 | $295 | $369 |
| Plan K | $69 | $134 | $237 |
| Plan L | $120 | $189 | $290 |
| Plan M | $142 | $239 | $326 |