Medicare beneficiaries have a lot to think about when it comes to their Medicare coverage. In addition to Parts A, B, and D, supplemental plans can provide extra coverage and peace of mind. Each supplemental plan is different, so it's important to do your research and find the one that best meets your needs. Below, we'll give you a brief overview of the different types of supplemental plans available through GPM.
GPM Supplemental Medicare plans
Government Personnel Mutual Life Insurance (GPM) is a company that has been around since 1934, and they still consider themselves "military first."
The original focus of GPM was to provide services for active-duty military personnel, but their list has grown tremendously over time.
Today you can find them providing insurance coverage across all retired ranks and federal civil service workers or civilian families who need it too.
Company Highlights
Specific focus on military personnel and their families
Founded in 1934
Serving federal civil servants since 1977
Offers a wide portfolio of Medicare supplement products
GPM Medicare plans offered
The variety of Medicare supplement policies that some companies choose to offer will differ from agency to agency. Below is the product mix that GPM currently offers.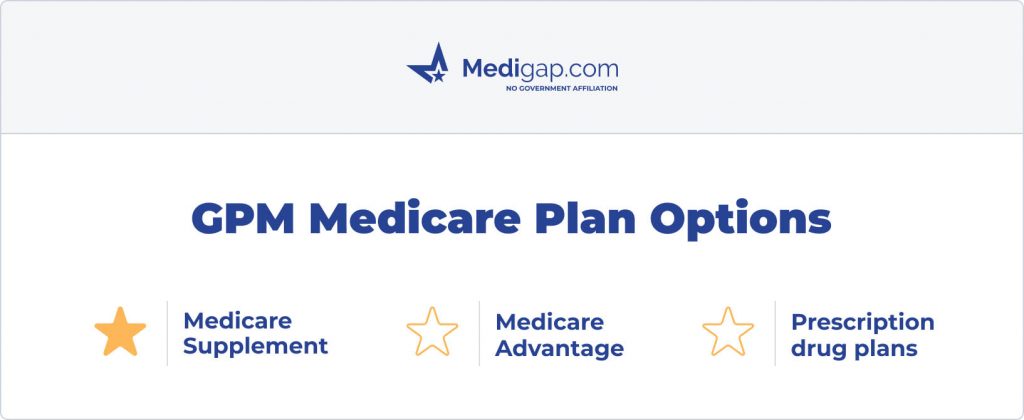 Uninsurable pre-existing health conditions
COPD
Diabetes
Kidney disease requiring dialysis
Systemic Lupus
Multiple Sclerosis
Myasthenia Gravis
Organ Transplant
GPM Medicare pros and cons
Pros
Underwritten by Mutual Of Omaha
Competitive premiums
Household discounts are available in most states
Cons
Tight underwriting
No Medicare Part C or D options
GPM financial strength ratings
A company's financial rating is a good indicator of how well (or poorly) they run its business. The higher the score, the more confident you can feel that your claim will be paid promptly and correctly with minimal hassle on both ends.
| | |
| --- | --- |
| A.M. Best Rating | A- |
| Standard & Poor's Rating | No Rating |
| Moody's Rating | No Rating |
GPM review
GPM is a dedicated insurance provider looking out for members of US society that too often get overlooked: our military personnel, civil servants, and their families. If you have served, have worked a government job, or know someone in your family who has, you may qualify for an affordable insurance product from GPM Life.
| | |
| --- | --- |
| Medicare Supplement Plans | YES |
| Medicare Advantage Plans | NO |
| Medicare Part D Drug Plans | NO |
Medicare plans available
FAQs
What is GPM Medicare?
GPM offers supplemental Medicare plans that help fill in the gaps in coverage. Depending on your plan, you could have zero out-of-pocket costs. GPM Life offers Plans A, C, F, G, and N. The top plans are Plans F, G, and N.
Does GPM offer Medicare Advantage plans?
Yes, GPM does offer Medicare Advantage plans in certain areas. We can compare what plans are in your zip code side by side.
Is GPM supplemental Medicare for federal employees only?
No, while GPM does have a history of serving military personnel and federal employees, anyone eligible for Medicare can apply.
How to enroll in a GPM Supplemental Medicare plan
If you are a Medicare beneficiary and want to explore supplemental insurance options, please call us or complete our form. We would happily help you find the best plan for your needs.