Assured Life Association is a Fraternal Benefit Society that provides products to protect and enrich its members. Founded in 1890 by John Jordan Upchurch, its headquarters is situated in Greenwood Village, Colorado. They offer Medicare Supplement insurance, life insurance, and financial products
Assured Life Supplemental Medicare plans
Supplemental Medicare plans are additional medical insurance that covers leftover costs from your Medicare coverage.
When discussing Medicare plans, you can take a few different paths for your health coverage: Medicare Advantage plans, Medicare Supplement insurance policies, and Prescription Drug plans.
We'll discuss the differences between these options and then review Assured Life's financial strength ratings. Once complete, we'll answer some frequent questions we receive and explain how to get help with an Assured Life Supplemental Medicare Plan.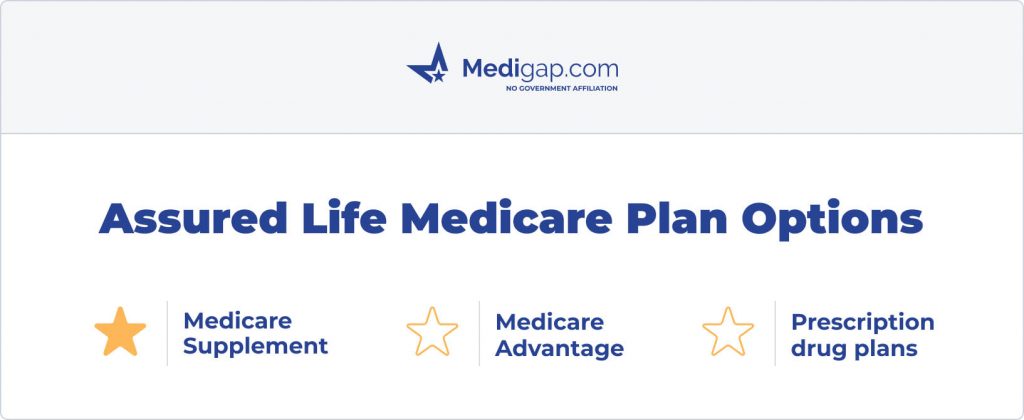 Assured Life Medicare Supplement plans
Medicare Supplements are the most comprehensive health coverage you can buy. Since they are secondary to Medicare, you can choose your healthcare providers. They have also earned the nickname of Medigap plans because they essentially fill in the gaps left by the Original Medicare program.
Medicare Supplement policies cover gaps in what you pay for certain Medicare benefits, including:
Part A deductible
Part B deductible
Copays
Part B Coinsurance
Inpatient hospital costs
Foreign travel emergency
Part B excess charges
Medical equipment
The costs of these plans can vary based on numerous factors and which plan option you choose. For example, a plan with a high deductible like the HDG would have a significantly lower monthly premium than Plan F.
The government standardizes Medigap insurance plans. This means your coverage is the same regardless of which insurer you choose. It's important to understand that these plans don't cover prescriptions from a pharmacy.
Assured Life Medicare Advantage plans
The other path you can take is a Medicare Advantage plan. These Part C plans take over your healthcare from Original Medicare and combine your Medicare Part A and Medicare Part B into one plan.
Medicare Advantage puts a cap on the amount of out-of-pocket costs you're responsible for. Most of these plans will also include your pharmacy prescription coverage and benefits beyond those covered by Medicare.
Assured Life Medicare Part D
The final piece of the puzzle is Medicare Part D. These plans offer stand-alone prescription coverage for drugs picked up from the pharmacy. If you enroll in Medicare Supplement health insurance, you'd need to enroll in a Medicare Part D plan to receive Medicare prescription drug coverage.
Part C and Part D plans aren't available through Assured Life Association.
Assured Life Medicare pros and cons
Pros
Plans offerings include the most popular plans
Not-for-profit fraternal society
Been in business for over 100 years
Financially stable
Cons
Not offered in all areas
Only offer Medicare Supplement Medicare products
Higher rate increases
Assured Life financial strength ratings
Knowing the company's financial strength rating can help you determine how they handle certain aspects of their business. Typically the higher the financial strength, the faster they pay claims and have more competitive rates. The financial strength can also affect the rate increases.
Assured Life Association Medicare is not registered with the typical companies that rate insurance companies. Therefore, we cannot provide you with their financial strength.
Assured Life reviews
Assured Life Association has been helping its members since the 1800s. They are a not-for-profit fraternal society based in Colorado. They have been helping their community and members with affordable, health, financial, and life insurance products for hundreds of years.
FAQs
What is Assured Life Insurance?
Assured Life Association is a non-profit fraternal organization that provides affordable health, life, and financial annuity products.
Is Assured Life part of Mutual of Omaha?
Assured Life Association is not part of Mutual Of Omaha. Mutual of Omaha does underwrite and administers its Medigap policies.
How can I enroll in an Assured Life Supplemental Medicare Plan?
You must speak with a licensed agent representing their plans to enroll in an Assured Life Association Medicare Supplement insurance coverage. You should work with one that specializes in Medicare and represents multiple plans.
Do Assured Life Medicare Supplement plans pay for Hospice Care?
In most cases, Original Medicare covers 100% of hospice care. If an additional cost post for a covered service, the Medicare Supplement would pick up the cost.
Which Assured Life Medigap policy is the best?
It's important to remember that everyone has different needs. The most popular Medicare Supplement plans are Plan F, Plan G, and Plan N. These three plans make up the majority of Medigap enrollments nationwide.
How to enroll in an Assured Life Medicare plan
Medicare can be confusing, but we're here to help. For assistance enrolling in a Medicare Supplement health plan, our licensed insurance agents are experts in Medicare and can guide you through every step.
Our agents' time is free to you, and they'll work directly with you to ensure you have the correct Medigap plan for your needs and budget.
So give us a call today. Or complete our easy and quick online rate form to get connected with the best rates in your area!