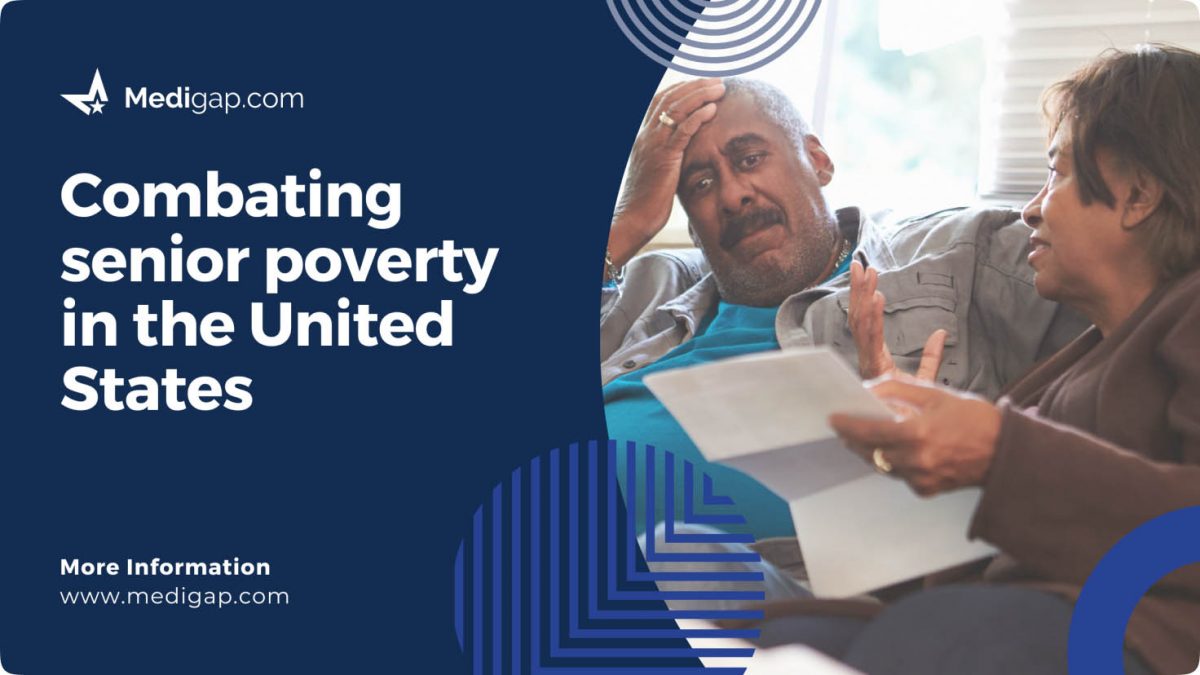 More than 15 million seniors live in poverty in the United States. These Americans are economically insecure and struggle to pay for their necessities. As living costs continue to rise, including housing and medical expenses, these vulnerable seniors are one unfortunate circumstance away from being unable to eat or stay in their homes.
According to the latest findings published by the US Census Bureau, there has been a significant increase in the percentage of senior citizens in poverty in America. The new data reveals that the poverty rate has jumped from 8.9% in 2020 to 10.3% in 2021.
This alarming trend means an additional one million elderly Americans struggle to manage their finances with limited resources. It is a critical development that requires immediate attention and intervention from the relevant authorities.
We'll review their main concerns, what is being done to battle this senior poverty, and provide insight on which Medicare options have benefits to help seniors living in poverty.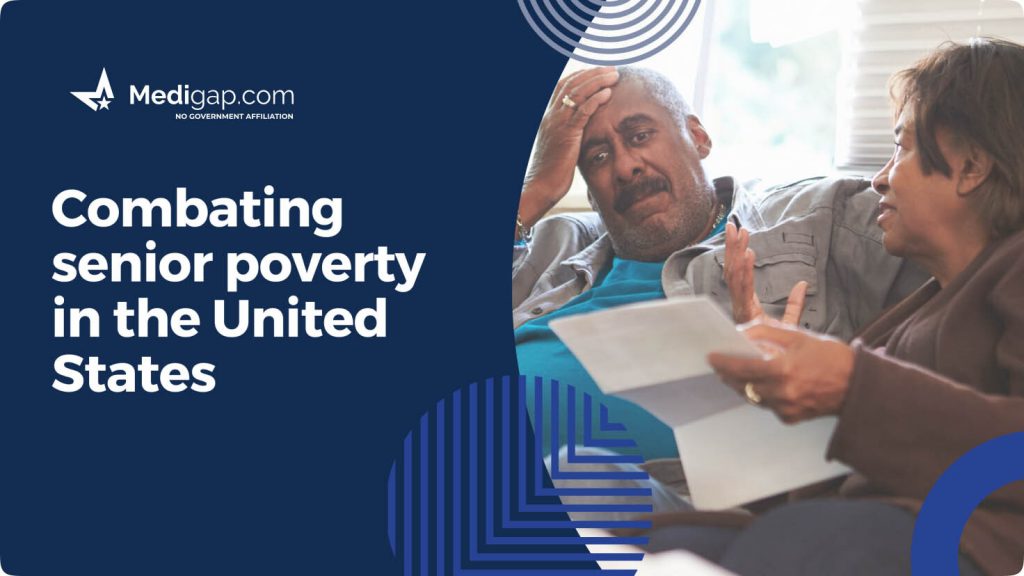 What concerns do American seniors living in poverty have?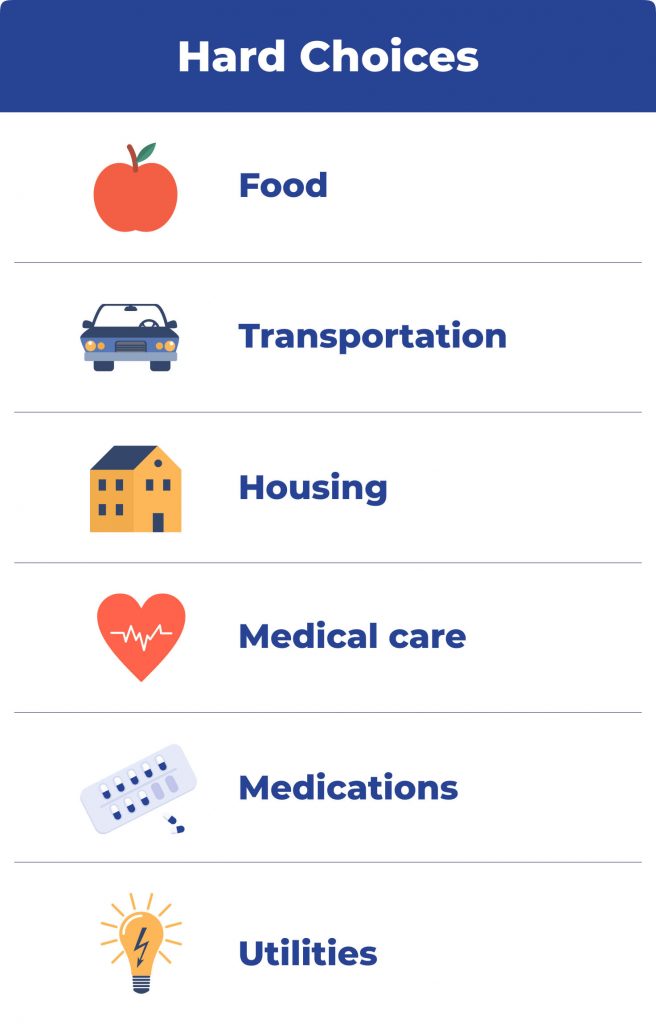 Unfortunately, with many seniors living in poverty, concerns and hard decisions must be faced daily, from deciding between buying food or other essential items such as medicine, utilities, housing, or medical costs.
These necessities are top of mind daily for seniors living in poverty and take a toll on them mentally and physically. Seniors in poverty must choose what to spend their money on to survive. Some of the most common items that must be leveraged are listed below.
Food
Transportation
Housing
Medical care
Medications
Utilities
Causes of the senior poverty problem in the United States
Several reasons can cause someone at any age to fall into poverty. For those over 65, it's even easier to fall below the poverty line. One contributing factor is that most seniors live solely on their Social Security, as they can no longer work.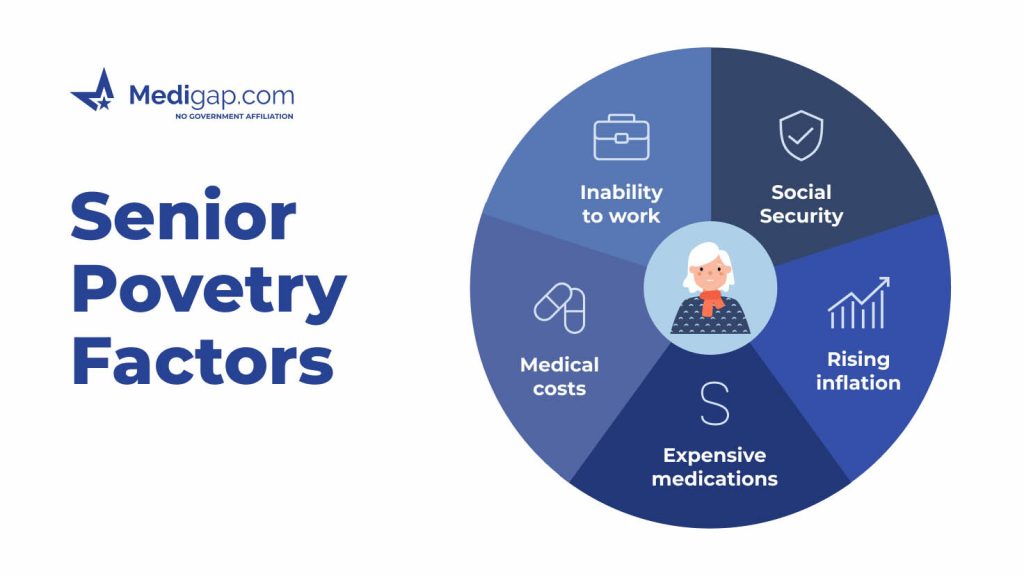 Factors attributed to senior poverty:
Inability to work or get a job
Low Social Security entitlements
Expensive prescription medications
Expensive medical costs
Rising inflation
How to combat senior poverty in the United States
While many advocacy groups assist with the fight against senior poverty, most focus on helping with food insecurity. Some, however, are pushing for legislative change to help end senior poverty. We'll look at some of the suggestions proposed to help combat senior poverty in the United States.
Strengthen current programs designated for low-income Americans
The elderly population relies heavily on Social Security, Supplemental Security Income program, Medicare, and Medicaid to sustain their economic well-being. These programs have been instrumental in reducing the senior poverty rate from 35 percent in 1960 to a mere 9 percent today.
However, the senior community is currently facing unprecedented challenges with the emergence of several propositions aimed at cutting Social Security benefits, increasing Medicare cost-sharing for beneficiaries, or limiting Medicaid coverage.
In addition to some of these proposals, inflation is running rampant, causing the costs of everyday items needed for daily living to skyrocket. The strengthening of these programs could stave off senior poverty and improve the lives of many of our seniors.
The topics below are top of mind for organizations trying to curb poverty in American seniors.
Reauthorize the Older Americans Act (OAA)
The Older Americans Act (OAA) is a crucial funding source for critical social services that help senior citizens maintain independence and well-being. These services include legal assistance, benefits counseling, health promotion, caregiver support, transportation, and nutritious meals. The OAA serves seniors from all backgrounds, but those living in poverty rely heavily on these services to meet their basic needs.
Create a federal program to assist with long-term care
Long-term care is costly, and many US citizens live alone and can't take care of themselves but can't afford to move into assisted living. While some state-level programs can help seniors with lower incomes, many fall into poverty before being able to receive this assistance.
Several seniors don't qualify for assistance programs but still are struggling to afford to live and eat. Creating additional programs and strengthening existing ones will help to keep seniors on the brink of poverty from slipping below the poverty line.
The correlation between living in poverty and poor health for seniors
With so many seniors living around or below the poverty line, we can see its impact on health. While healthcare and medical attention are important, many seniors choose to defer their healthcare so they can eat or pay for other necessities. This leads to more sick seniors and worsening chronic health conditions that can worsen due to lack of treatment.
Untreated chronic health conditions and the impact on seniors in poverty
Chronic illnesses are defined as health conditions that require daily care to keep under control. Some of the most common are diabetes, a chronic obstructive pulmonary disorder, and congestive heart failure.
While these are very common among our seniors, the costs associated with chronic health conditions can force seniors into poverty. The cost of treatment for chronic illnesses can be staggering and, for some, even devastate an individual's life savings and plunge them below the poverty level.
Individuals with these chronic conditions are considerably more likely to live in poverty than someone healthy. Raising medical expenses is one of the most common issues that thrust Americans into poverty.
The most expensive chronic illnesses are listed below:
Senior poverty stats by State
State
Below 100% Poverty Threshold
Below 200% Poverty Threshold
Official
SPM
Difference
Official
SPM
Difference
United States
10%
15%
5%*
33%
45%
12%*
Alabama
8%
11%
3%
38%
4.4%
7%
Alaska
7%
12%
5%
28%
43%
15%*
Arizona
11%
15%
5%*
34%
45%
10%*
Arkansas
11%
14%
3%
43%
48%
5%
California
10%
21%
11%*
33%
54%
21%*
Colorado
8%
13%
5%*
29%
42%
14%*
Connecticut
7%
14%
7%*
25%
47%
22%*
Delaware
7%
12%
5%*
29%
42%
12%*
Washington DC
16%
25%
9%*
37%
57%
20%*
Florida
10%
18%
7%*
36%
52%
16%*
Georgia
8%
14%
6%*
34%
44%
10%*
Hawaii
8%
17%
9%*
27%
54%
27%*
Idaho
7%
12%
5%*
32%
40%
7%*
Illinois
9%
15%
6%*
31%
44%
13%*
Indiana
6%
13%
7%*
34%
44%
10%*
Iowa
6%
9%
2%*
32%
43%
10%*
Kansas
7%
11%
4%*
28%
38%
10%*
Kentucky
10%
13%
4%
42%
48%
6%
Louisiana
12%
18%
6%*
42%
51%
9%*
Maine
7%
9%
2%
31%
40%
9%*
Maryland
8%
16%
8%*
26%
47%
21%*
Massachusetts
8%
16%
9%*
30%
50%
20%*
Michigan
7%
10%
2%
30%
40%
10%*
Minnesota
7%
12%
5%*
29%
42%
13%*
Mississippi
12%
13%
1%
43%
48%
5%
Missouri
6%
9%
3%
32%
39%
7%*
Montana
7%
10%
3%
31%
40%
8%*
Nebraska
8%
11%
3%*
29%
41%
11%*
Nevada
9%
10%
9%*
35%
50%
15%*
New Hampshire
6%
14%
9%*
28%
16%
18%*
New Jersey
7%
15%
8%*
28%
46%
18%*
New Mexico
11%
14%
3%
34%
44%
11%*
New York
11%
16%
5%*
37%
51%
14%*
North Carolina
12%
16%
4%*
42%
52%
11%*
North Dakota
7%
10%
2%
30%
38%
8%*
Ohio
8%
11%
3%*
33%
43%
10%*
Oklahoma
7%
11%
3%
33%
38%
6%
Oregon
8%
13%
6%*
30%
44%
13%*
Pennsylvania
9%
14%
6%*
34%
44%
10%*
Rhode Island
8%
15%
7%*
34%
49%
14%*
South Carolina
14%
18%
4%
39%
46%
7%*
South Dakota
8%
9%
1%
30%
36%
7%*
Tennessee
12%
15%
3%
39%
47%
9%*
Texas
11%
16%
5%*
36%
47%
11%*
Utah
8%
13%
6%*
31%
42%
11%*
Vermont
7%
11%
4%*
30%
44%
14%*
Virginia
9%
15%
6%*
26%
42%
16%*
Washington
6%
11%
5%*
27%
40%
13%*
West Virginia
10%
12%
2%
38%
42%
4%
Wisconsin
5%
10%
4%*
29%
42%
13%*
Wyoming
7%
11%
4%*
29%
36%
7%
NOTE: SPM is Supplemental Poverty Measure. *Indicates statistical significance at the 95% confidence level. Differences shown may not sum to totals due to rounding.
Key notes on senior poverty in the United States
According to estimates from The Center on Poverty and Social Policy at Columbia University, the coronavirus pandemic has resulted in a staggering 8 million Americans falling into poverty.
Poverty changes for seniors aged 65 and older
In 2021, the poverty rate among individuals aged 65 and older at the national level was 10.3%, indicating a relatively lower poverty rate than the general population and children.
Within the southern region of the United States were eight states and the District of Columbia, all of which registered poverty rates of 11.0% or higher. It is worth noting that no other region reported more than three states with comparably elevated poverty rates for citizens aged 65 years and above.
The poverty rates among individuals aged 65 years and above, as categorized by their state of residence, are as follows:
The states with the most modest percentages of unemployment, which include Wyoming at 6.7%, New Hampshire and Delaware at 6.9%, and Utah and Colorado at 7.7%, exhibit no significant variation between them.
Louisiana, Washington DC, Mississippi, and New Mexico have the highest poverty rates in the United States, with populations between 12.8% and 14.1% living below the poverty line.
Substantial fluctuations in the poverty rates among senior demographics were observed across metropolitan regions, ranging from a mere 3.1% to a staggering 31.6%.
A significant proportion of the country's 384 metropolitan regions, precisely 71.9% or 276 areas, exhibit poverty rates that can be classified into two distinct groups. The groups in question are demarcated by poverty rates ranging between 7.0%, 8.9%, 9.0%, and 11.9% for individuals aged 65 or older.
Among the 61 metropolitan areas in the United States where poverty rates for people aged 65 and above were at 12.0% or higher, the majority (53) were located in either the Southern (39) or Western (14) regions of the country.
Notably, the South exhibited a higher concentration of its metropolitan areas within the two highest poverty categories, amounting to 25% of all affected locations, compared to just 5.4% of metropolitan areas in the Midwest.
FAQs
Next, we'll answer some frequently asked questions about senior poverty in the United States.
Why do senior citizens have a high poverty rate?
The increased prevalence of poverty among older adults can be attributed mainly to the amplified costs of healthcare that they are required to pay.
The two primary government-funded initiatives that offer financial aid to low-income senior citizens are the Social Security and Supplemental Security Income (SSI) programs.
What percentage of seniors over 65 live in poverty?
Recent data released by the U.S. Census Bureau highlights a noteworthy development of increased poverty rates among individuals aged 65 and above.
Specifically, the data indicates a surge in poverty levels from 8.9% in 2020 to 10.3% in 2021, an alarming increase in financial hardship among this demographic.
What are the causes of poverty in old age?
The origin of poverty in the elderly population involves various contributing factors, such as lack of motivation, insufficient parental guidance, low educational attainment, materialism, and abandonment of children.
What are the factors of elderly poverty?
Inadequate financial planning concerning income and savings, along with social-demographic factors.
Factors such as employment status and education, insufficient government support in retirement age, Social Security and health, and a lack of social support from family and community are contributing factors to poverty in old age.
These underlying causes are considered significant drivers of poverty among senior citizens.
How many seniors struggle financially?
Economic uncertainty is a significant concern that severely impacts a significant portion of the elderly population in the United States.
According to recent studies, over 15 million individuals aged 65 and above experience economic insecurity, with many facing challenges in achieving financial stability.
As we move forward with more Americans retiring daily to start the Medicare and Social Security programs. It's becoming increasingly important to address the issues associated with senior poverty in the United States.
Much work is needed for legislative solutions, better financial planning education, and the improvement of healthcare costs. In some areas, Medicare plans can help these impoverished seniors by allowing additional benefits such as a food allowance or utility assistance.
---
Sources – Medigap.com extracted and analyzed data from the following to provide data in this article.
---
Related Content
---