West Valley City is one of the most beautiful cities in all of Utah. And, with only just over 10,000 seniors and five major hospitals and medical centers, there is plenty of access to healthcare. But, unfortunately, just because there is ample access to healthcare doesn't mean that people can actually afford it. As long as you rely on Original Medicare to meet your healthcare needs, you risk running into what healthcare professionals refer to as the "Medicare coverage gaps." Medicare coverage gaps are the thresholds between your effective benefits and specific medical treatment that Medicare will not pay for, like extended hospital stays or excess charges. If you fall into any of these coverage gaps, you can end up paying thousands of dollars in out-of-pocket expenses every year. Fortunately, there are two ways out: Medicare Advantage and Medicare Supplement (Medigap) Insurance.
Facts and Figures
There are 10,775 seniors living in West Valley City right now.
There are 5 hospitals and medical centers in the West Valley City area where seniors can get emergency and/or in-patient care.
35% of Utah seniors have a Medicare Advantage plan.
15% of Utah seniors have a Medicare Supplement (Medigap) plan.
Which leaves 50% of seniors potentially uninsured or underinsured against costly Medicare coverage gaps!
One in every two seniors in the West Valley City area lacks proper access to reliable and affordable healthcare. If you are among those 5,388 seniors, your problems are only going to worsen. Over time, the human body becomes more susceptible to disease and illness. Among the worst category of illnesses that seniors have to deal with are age-related illnesses. As you age, your likelihood of developing one of these age-related illnesses increases, but so too do the frequency and severity of the symptoms of any age-related illnesses that you might already have. That means that, as your risk of developing new age-related illnesses increases, so too does the difficulty of living with those that you developed in the past. The chart below showcases just how prevalent a few of the most common age-related illnesses are in West Valley City.
| | |
| --- | --- |
| Disease | Prevalence in West Valley City, UT |
| Arthritis | 20% |
| High Blood Pressure | 25% |
| Coronary Heart Disease | 5% |
| Diabetes | 9% |
| Kidney Disease | 3% |
Healthcare Costs in West Valley City, UT
As the frequency and severity of your existing conditions worsen, so too will the medical costs associated with treating those conditions. And if you happen to develop another age-related illness, you can reliably presume that your total costs of treatment are going to increase yet again. To make matters worse, medical costs are rising anyway, regardless of how frequently or infrequently you use your healthcare benefits. That means that a surgery that might cost you only $2,000 today could potentially cost you more than double that in only a few short years. The fact that seniors are living longer lives now than ever before also poses a risk to your financial well-being. Although it is a great feat of medical science to enable seniors to live longer lives, living longer means experience more time during which medical costs are rising. Over those extended periods of time, costs can become absolutely insurmountable.
| | | |
| --- | --- | --- |
| Disease | Prevalence in West Valley City, UT | Annual Cost of Treatment |
| Arthritis | 20% | $280 |
| High Blood Pressure | 25% | $288 |
| Coronary Heart Disease | 5% | $7,557 |
| Diabetes | 9% | $2,158 |
| Kidney Disease | 3% | $6,974 |
Medicare Advantage Savings in West Valley City, UT
One of the ways that seniors in Valley City and elsewhere in the country are avoiding the out-of-pocket expenses of Medicare coverage gaps is to switch to a Medicare Advantage plan. Unlike Original Medicare, Medicare Advantage plans are provided by private providers and are subject to competition. That means two things: 1) Medicare Advantage plans replace your existing Medicare coverage and 2) providers of Medicare Advantage plan have to compete for your patronage. In an effort to attract enrollees over their competition, all providers of Medicare Advantage plans provide the same minimum level of care as Original Medicare (as required by law) and many also offer additional coverage options in exchange for higher premiums. Since the government tends to pay most or all of your Medicare Advantage premiums, you can typically stack up those benefits while still paying $0 per month in premiums.
One of the main draws of Medicare Advantage plans is the option to add comprehensive prescription drug coverage. Many seniors that rely on large amounts of medications or extremely expensive medications find that Medicare Advantage plans provide a solid level of coverage that simply isn't available elsewhere. For seniors with arthritis, diabetes, and/or high blood pressure, the savings can really add up over time when combined with minor medical equipment coverage. That coverage option enables seniors to enjoy reliable and affordable access to all of the prescription medications that they need as well as all of the minor medical equipment that they need (which includes necessities like glucose monitors and testing strips).
Medicare Advantage can save you even more money on dental and vision care. This is a benefit that is unique to Medicare Advantage. That is to say that neither Medicare Supplement Insurance nor Original Medicare are capable of offering these additional coverage options. In fact, neither Medicare Supplement Insurance nor Original Medicare really provide much of anything when it comes to dental and vision care coverage benefits. For the most part, in order to secure coverage for treatments related to dental or vision care while on Original Medicare, you will have to have your treating physician label those treatments as emergency procedures.
Medicare Supplement (Medigap) Savings in West Valley City, UT
Whereas Medicare Advantage plans replace your Original Medicare plans, Medicare Supplement plans serve simply to supplement them. That means that you will not have to worry about canceling your Original Medicare plan. Because of the fact that there are ten ready-made Medicare Supplement plans, selecting the Medicare Supplement plan that is right for you is a much simpler process than selecting a Medicare Advantage plan. All ten of the existing Medicare Supplement plans provide great coverage options for seniors who have been paying a high amount of hospital costs and other Medicare Part A expenses, which can be exceptionally difficult to afford if you are suffering from age-related heart or kidney disease.
Medigap plans A, D, K, and L are among the least comprehensive and the simplest plans in the Medigap arsenal. Each of these plans provides the aforementioned benefit of helping you avoid coverage gaps related to Medicare Part A while also providing various other minor benefits that are unique to each individual plan type. With one of these plans, it becomes possible to have access to frequent hospitalizations, blood transfusions, and skill nursing care without worrying about how you're going to pay for it.
The other plan types that are available for Medigap beneficiaries to choose from are Medigap types B, C, F, G, M, and N. Not only do these plans provide coverage for the gaps in Medicare Part A coverage, they also help bridge the coverage gaps in Medicare Part B. That means that you'll have access to hospitalizations as well as emergency services and just about everything in between. Unfortunately, Medicare Part F will not be available after 2020. That means that one of the favorite options of many seniors is going to soon be off of the table. If you want the comprehensive level of coverage that Plan F has to offer, you'd better get enrolled quickly before this insurance product gets taken off the market!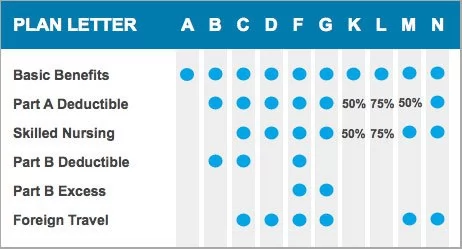 As mentioned earlier, it is impossible to add prescription drug coverage, dental care coverage, or vision care coverage directly to a Medicare Supplement insurance plan. However, there are other ways to ensure that those needs are met. In regards to prescription medications, many seniors often find that Medicare Part D prescription drug coverage provides enough help with paying for medications. In regards to dental and vision care, a private insurance plan can typically be purchased for less than $100 per month. With plenty of other options out there, you never have to worry about whether or not your insurance plan is going to keep you covered.
That worry is one that millions of seniors across the country face each day. For people reliant on Original Medicare, the increased risk of age-related health complications and rising medical costs are simply financially ruinous. By switching over to a Medicare Advantage plan or a Medicare Supplement insurance plan, you not only protect yourself from those worries but also avail yourself to a host of improvements to your overall coverage benefits. So what are you waiting for? Head over to Medigap.com today and get started on the path to regaining your financial independence.
| | | | |
| --- | --- | --- | --- |
| Medigap Plan | Minimum Monthly Premium | Maximum Monthly Premium | Average Estimated Monthly Premium (Part B Premium Included) |
| Plan A | $67 | $181 | $260 |
| Plan B | $97 | $210 | $289 |
| Plan C | $112 | $234 | $309 |
| Plan D | $99 | $206 | $288 |
| Plan F | $114 | $241 | $313 |
| Plan F (high deductible) | $26 | $56 | $177 |
| Plan G | $92 | $207 | $285 |
| Plan K | $40 | $106 | $209 |
| Plan L | $68 | $150 | $245 |
| Plan M | $103 | $153 | $264 |
| Plan N | $81 | $187 | $270 |