Utah is a very beautiful place to live and retire – West Jordan especially so. But your retirement dreams can quickly become a nightmare if you don't get your healthcare situation settled by the time you're ready to retire. Many newly retired seniors are unaware of the costly dangers of Medicare coverage gaps. Thankfully, there are simple and affordable ways to protect yourself from them. If you're approaching retirement age and you don't have a plan ready by the time you enroll in Medicare, it could cost you thousands!
Facts and Figures
There are 12,901 senior citizens living in West Jordan right now
There are 8 hospitals in the West Jordan area where seniors can get emergency and/or in-patient care
39% of Utah seniors have a Medicare Advantage plan
26% of seniors have a Medicare Supplement (Medigap) plan
Which leaves 35% of seniors potentially uninsured or underinsured against costly Medicare coverage gaps!
Do you know where some of the most costly Medicare coverage gaps come from? Oddly enough, it's not necessarily something like a cancer diagnosis or a sudden physical trauma. Many of the expensive coverage gaps you will run into are related to chronic illness. Most people don't think much about chronic illness because it has a way of sneaking up on them. But once you have it, the odds are good that it will be a problem for the rest of your life. You can see in the chart below how many West Jordan residents are dealing with their own form of chronic illness.
| | |
| --- | --- |
| Disease | Prevalence in West Jordan |
| Arthritis | 17% |
| High Blood Pressure | 21% |
| Coronary Heart Disease | 4% |
| Diabetes | 7% |
| Kidney Disease | 2% |
Healthcare Costs in West Jordan, UT
So why, exactly, are chronic diseases and Medicare coverage gaps so expensive? It has to do with the fact that once you get diagnosed with a chronic illness, it will be with you for the rest of your life – and you will need constant medical care in order to manage the symptoms. The better care you get during the early stages, the better your quality of life will be, and the longer you may end up living, too. But once you have to start taking more and more medications, spending more time in the hospital getting treatment, and paying expensive co-pays and excess charges, you will start running into the expensive coverage gaps inherent within the Medicare system.
| | | |
| --- | --- | --- |
| Disease | Prevalence in West Jordan | Annual Cost of Treatment |
| Arthritis | 17% | $280 |
| High Blood Pressure | 21% | $288 |
| Coronary Heart Disease | 4% | $7,557 |
| Diabetes | 7% | $2,158 |
| Kidney Disease | 2% | $6,974 |
Medicare Advantage Savings in West Jordan, UT
How are seniors protecting themselves from these coverage gaps? According to the most recent statistical data available, 39% of seniors in West Jordan have chosen to protect themselves with a Medicare Advantage plan. These are actually private health insurance plans which replace Original Medicare with as much or more coverage than you would get with Medicare Parts A and B. The government mandates that they must offer equal or better coverage to protect seniors like you who have paid into the Medicare system their whole lives. The government also contributes to your monthly premium from collected taxes, meaning that some seniors can get their Medicare Advantage plan for possibly as low as $0 per month.
But not all seniors will be able to get a Medicare Advantage plan for so cheap. It all depends on how much extra coverage you add to your insurance policy. As with all Insurance products, the more coverage you purchase, the more expensive it will be. So you will have to keep this in mind when you sit down to figure out how to budget for your health care expenses.
For some seniors, however, paying a little extra in monthly premiums is worth what they get in return. Not only do you get to manage all of your health care needs under one single, solitary policy with Medicare Advantage, but a lot of those extra optional coverages – which include dental, vision, and prescription drug coverage – are better than what you would find anywhere else. This isn't true for all locations, but depending on your provider and your zip code, it could be a very good value. But you won't know for sure unless you sit down with an expert and let them help you find the right plan.
Medicare Supplement (Medigap) Savings in West Jordan, UT
Unfortunately, Medicare Advantage might not be such a good value for all seniors. For at least 26% of West Jordan residents, this happens to be the case. these seniors instead have chosen to supplement their Medicare coverage gaps with a Medicare Supplement Insurance (Medigap) plan. There are 10 different policies to choose from, and each plan comes with a varying degree of supplemental coverage. Depending on the level of coverage you purchase, you will most likely not see a bill even if you happen to run into a Medicare coverage gap.
Some of these plans only supplement the gaps in Medicare Part A coverage. These are the coverage gaps which have to do with your hospital costs. Because you are technically purchasing less coverage if you get one of these plans (plans A, D, K, or L) you will likely have a lower monthly premium than you would if you went with one of the other six plans. However, the other six plans are more comprehensive – and they're especially helpful if you are also worried about Medicare Part B coverage gaps – so you shouldn't ignore them just because you're looking for a cheaper price.
Medigap plans B, C, G, F, M, and N are the plans to look at if you want comprehensive coverage for coverage gaps in both Medicare Parts A and B. In addition to protecting you from the cost of extended hospital stays or extra blood transfusions, you can also protect yourself from things like foreign travel medical expenses, excess charges, and get help with your Part B monthly premium, among other things. The most comprehensive of all 10 plans is Medigap Plan F, but it will be phased out at the end of 2020. Your best bet for getting the most comprehensive coverage available is to enroll in Plan F before January 2021 so that you can get grandfathered into those benefits (or to look at a similarly comprehensive plan like Plan G or Plan C if you cannot enroll in time).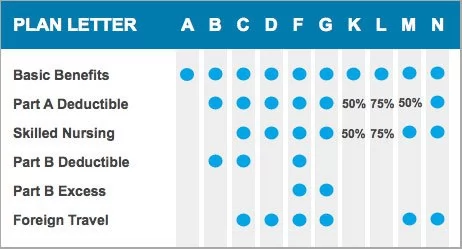 Unfortunately, you won't have the option of adding coverages like prescription drugs, vision, or dental directly to your Medigap policy. But you can get vision and dental health insurance at almost any time of year from a third-party provider, usually for a discounted rate. You can also sign up for Medicare Part D prescription drug coverage, which will help pay for almost all of your prescription costs unless you happen to fall into the "donut hole" coverage gap. But even then, you will only have to pay a maximum of 25% of your prescription costs until you spend enough money to qualify for catastrophic coverage.
We understand that sorting out your health care coverage needs can be time-consuming and complicated. But it's better to do it now and get it out of the way so that you can enjoy your golden years. Hesitating or putting it off because you don't want to deal with the hassle can cost you tens of thousands of dollars in out-of-pocket medical costs before you know it. So feel free to contact us here at Medigap.com so that we can help you make the smartest and most affordable decision.
| | | | |
| --- | --- | --- | --- |
| Medigap Plan | Minimum Monthly Premium | Maximum Monthly Premium | Average Estimated Monthly Premium (Part B Premium Included) |
| Plan A | $67 | $181 | $260 |
| Plan B | $97 | $210 | $289 |
| Plan C | $112 | $234 | $309 |
| Plan D | $99 | $206 | $288 |
| Plan F | $114 | $241 | $313 |
| Plan F (high deductible) | $26 | $56 | $177 |
| Plan G | $92 | $207 | $285 |
| Plan K | $40 | $106 | $209 |
| Plan L | $68 | $150 | $245 |
| Plan M | $103 | $159 | $267 |
| Plan N | $81 | $187 | $270 |