Orem can be a great place to retire, if you have the proper insurance. But for the thousands of seniors in Orem who rely on Original Medicare to meet their healthcare needs, Orem – or anywhere else for that matter – can be a financially disastrous place to be. If you are a beneficiary of Original Medicare, then you are constantly at risk of falling prey to the Medicare coverage gaps, which are gaps in your coverage that can cost you thousands of dollars in out-of-pocket expenses every single year. Fortunately, there are two easy ways to avoid these unwanted expenses: you can either enroll in a Medicare Advantage plan or a Medicare Supplement (a.k.a. Medigap) insurance plan.
Facts and Figures
There are 9,069 seniors living in Orem right now.
There are 6 hospitals in the Orem area where seniors can get emergency and/or in-patient care.
35% of Utah seniors have a Medicare Advantage plan.
15% of Utah seniors have a Medicare Supplement (Medigap) plan.
Which leaves 50% of seniors potentially uninsured or underinsured against costly Medicare coverage gaps!
One out of every two seniors in Orem, Utah, are covered with reliable insurance. That means that an estimated 4,535 seniors in Orem do not have affordable access to healthcare. If you rely on Original Medicare, you fall into that second category. Even though you might be enjoying your Original Medicare health insurance now, as your health worsens with age, your risk of falling into one of the Medicare coverage gaps also increases. That means that a treatment that may have been fully covered last year might now be charged almost entirely to you out-of-pocket. Since age tends to cause age-related illnesses to develop new symptoms as well as increase the frequency and severity of existing symptoms, you can run into many serious problems by continuing to rely on Original Medicare. The chart below showcases the prevalence of a few of the most common age-related illnesses in the Orem area.
| | |
| --- | --- |
| Disease | Prevalence in Orem, UT |
| Arthritis | 18% |
| High Blood Pressure | 21% |
| Coronary Heart Disease | 4% |
| Diabetes | 7% |
| Kidney Disease | 2% |
Healthcare Costs in Orem, UT
Healthcare costs are directly related to the amount of treatment that you need each year. Since the natural aging process tends to cause a variety of age-related illnesses, the amount of treatment that you need is most likely going to rise each year, leading to increased healthcare costs. Even if your need for treatment does not rise each year, which would in fact be miraculous, your healthcare costs still might. That's because medical costs are steadily increasing with each passing year as a result of a variety of factors that economists still haven't nailed down for certain. Combined with the fact that seniors are living longer lives than ever before, there will be more time during your life for all of these unfortunate factors to add up. The chart below only shows a low estimate for the average cost of treatment for each illness that you possess. And some of these estimates are on the lower end of the spectrum.
| | | |
| --- | --- | --- |
| Disease | Prevalence in Orem, UT | Annual Cost of Treatment |
| Arthritis | 18% | $280 |
| High Blood Pressure | 21% | $288 |
| Coronary Heart Disease | 4% | $7,709 |
| Diabetes | 7% | $2,158 |
| Kidney Disease | 2% | $6,808 |
Medicare Advantage Savings in Orem, UT
Since Medicare Advantage plans are private plans that entirely replace your Original Medicare coverage, there is a common misconception that states that these plans are less beneficial than Original Medicare. That could not be farther from the case. Not only does the law require that all Medicare Advantage plans provide the same minimum level of coverage as Original Medicare, but the providers of these plans also offer additional coverage options on a voluntary basis in exchange for paying higher premiums. That being said, the government is typically willing to handle all or most of your Medicare Advantage premiums, meaning that you might be able to get away with paying $0 every month in exchange for an increased number of coverage options and improved benefits.
Among the potential additional coverage options for you to choose from is Medicare Advantage prescription drug coverage. This plan tends to be even more comprehensive than Medicare Part D prescription drug coverage and doesn't pose the risk of opening up another coverage gap. Not only do these plans enable you to enjoy worry-free access to just about every prescription that you need, they can also be expanded to cover medical necessities such as glucose monitors and testing strips. If you suffer from age-related arthritis, high blood pressure, and/or diabetes, and rely on a large number of prescription medications and minor medical equipment, then you might stand to benefit more so from one of these plans than from a Medigap plan. These plans can help you save tens of thousands of dollars over a ten-year period.
Another two of the additional coverage options offered through Medicare Advantage are vision and dental care coverage. The benefits provided by these plans tend to be more comprehensive than both Original Medicare and Medicare Supplement Insurance combined, since neither of those other two plans provide much of any benefits related to either vision or dental care. Moreover, Medicare Advantage is the only one of the three options that enables you to add vision and dental care coverage directly to your insurance plan. For dental and vision care coverage while on either of the other two plans, you will have to go through several extra steps.
Medicare Supplement (Medigap) Savings in Orem, UT
As the name suggests, Medicare Supplement insurance plans do not replace your Original Medicare insurance plan. Rather, they supplement it, adding additional benefits on top. It helps to think of Medicare Supplement Insurance as icing on the cake that is Medicare. There are 10 different Medigap plans to choose from (A, B, C, D, F, G, K, L, M, and N), each of which providing some kind of benefit related to coverage gaps of Medicare Part A, which can be particularly destructive to the finances of seniors suffering from age-related heart and/or kidney disease. Because these plans are so similar and yet so different, it helps to break them down into two different categories.
The first category comprises Medigap Plans A, D, K, and L. These are the plan types that provide benefits exclusively related to Medicare Part A coverage gaps. Since these plan types do not provide any benefits related to Medicare Part B coverage gaps, they might not be great for you if you have also or have only been paying out-of-pocket costs related to Medicare Part B coverage gaps. That being said, if your only source of out-of-pocket expenses is treatment related to Medicare Part A (such as hospitalizations, blood transfusions, and skilled nursing care), you could benefit substantially from one of these plans.
The second category comprises the remaining plan types: B, C, F, G, M, and N. These plan types provide many of the same benefits as those in the first category as well as a wide variety of additional benefits related to Medicare Part B. That is to say that these plan types cover not only Medicare Part A coverage gaps but also Medicare Part B coverage gaps. That includes the treatments mentioned above as well as most forms of emergency services, including ambulances. Of course, it is important to note that these plans are subject to change however the administration believes is important. For example, Medigap Plan F is only going to be around until the end of 2020. Once 2021 begins, new Medicare enrollees will no longer have access to this plan or its benefits.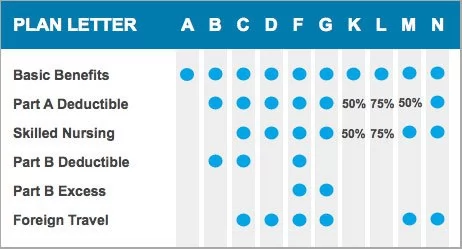 In order to obtain vision, dental, or prescription drug coverage while on a Medicare Supplement insurance plan, there are a few steps that you need to take. First off, contact a local provider of vision and dental insurance and ask about their coverage options. Once you've decided on what coverage options you like, negotiate your rate. From there, simply sign the necessary paperwork and you're good to go! Second, speak with an expert who can help you enroll in Medicare Part D prescription drug coverage. Although these plans can potentially cause you to fall into another coverage gap known as the "donut hole," they tend to provide benefits that are decent enough to cover the prescription needs of many seniors.
Now it is more important than ever before to take the time to ensure that your insurance is up to the task of protecting you both in terms of your health as well as your finances. Unfortunately, Original Medicare simply isn't going to cut it. The longer you delay the transition to a Medicare Advantage or Medicare Supplement Insurance plan, the longer you risk paying thousands of dollars in out-of-pocket expenses as a result of the Original Medicare coverage gaps. So don't wait! Log into Medigap.com today and begin speaking with the experts about which plan is right for you. The sooner you act, you more you can save.
| | | | |
| --- | --- | --- | --- |
| Medigap Plan | Minimum Monthly Premium | Maximum Monthly Premium | Average Estimated Monthly Premium (Part B Premium Included) |
| Plan A | $67 | $181 | $260 |
| Plan B | $97 | $210 | $289 |
| Plan C | $112 | $234 | $309 |
| Plan D | $99 | $206 | $288 |
| Plan F | $114 | $241 | $313 |
| Plan F (high deductible) | $26 | $56 | $177 |
| Plan G | $92 | $207 | $285 |
| Plan K | $40 | $106 | $209 |
| Plan L | $68 | $150 | $245 |
| Plan M | $103 | $159 | $267 |
| Plan N | $81 | $187 | $270 |