If you've decided to spend the majority of your golden years in Erie, then you should know that you're going to have to brace yourself against more than just the tough Northeastern winters. As you get older, you're also going to have to brace yourself against the unpredictable and often quite costly Medicare insurance gaps. Many seniors don't know that these gaps exist in the first place – they just take it for granted that Medicare will pay for everything. Unfortunately, that is not the case. And if you don't protect yourself soon with a Medicare Advantage or Medicare Supplement Insurance policy, it could devastate your life savings.
Facts and Figures
There are 13,505 senior citizens living in Erie right now
There are 11 hospitals in the Erie area where seniors can get emergency and/or in-patient care
41% of Pennsylvania seniors have a Medicare Advantage plan
27% of seniors have a Medicare Supplement (Medigap) plan
Which leaves 32% of seniors potentially uninsured or underinsured against costly Medicare coverage gaps!
Let's talk about something else most seniors don't consider: chronic disease. It's a little morbid to think about our bodies growing older and more decrepit as we age, but it's important to keep these things in mind in order to deal with the long-term consequences in the best way possible. Compared to things like cancer or sudden, traumatic injuries, chronic disease actually makes up the bulk of most seniors' health care expenses. The odds are good that you're suffering from one – and paying for more expensive and more frequent healthcare because of it – right now. You may even be suffering from more than one disease at the same time. In the chart below, you can see how this breaks down statistically for seniors who live in Erie.
| | |
| --- | --- |
| Disease | Prevalence in Erie |
| Arthritis | 27% |
| High Blood Pressure | 32% |
| Coronary Heart Disease | 7% |
| Diabetes | 9% |
| Kidney Disease | 3% |
Healthcare Costs in Erie, PA
Let's take high blood pressure, for example. Nearly one-third of the residents in Erie are suffering from high blood pressure and likely taking a medication for it right now. This involves more frequent doctor visits in order to monitor your blood pressure carefully, at least one or more medications to keep your blood pressure under a certain threshold, and may even require treatment like an at home blood pressure monitor. Overtime, just monitoring the condition and doing your best to try to keep it under control can cost you hundreds in doctor bills, medications, co-pays, and more. And those are just the early stages, before it eventually evolves into something like chronic heart disease – the treatment of which could easily fall into a Medicare coverage gap.
| | | |
| --- | --- | --- |
| Disease | Prevalence in Erie | Annual Cost of Treatment |
| Arthritis | 27% | $294 |
| High Blood Pressure | 32% | $356 |
| Coronary Heart Disease | 7% | $9,589 |
| Diabetes | 9% | $2,173 |
| Kidney Disease | 3% | $8,884 |
Medicare Advantage Savings in Erie, PA
41% of seniors in the Erie area have decided that a Medicare Advantage plan is the best way to protect themselves from Medicare coverage gaps. And it makes sense. Although it may feel a little risky to completely sign over your Medicare benefits and replace them with a private insurance plan, you will likely get something of value in exchange for doing so. For starters, you won't lose any coverage – Medicare Advantage plans are only legal because your private insurance company and the federal government agree that they will offer you no less than the exact same benefits you would get with Original Medicare. On top of that, taxes collected to fund Medicare (which you have been paying into all your working years) will be used to help pay for your monthly premium. This makes Medicare Advantage so affordable for some seniors that many end up paying as little as $0 each month for their health insurance plan.
But you don't have to settle for just basic Medicare benefits with a Medicare Advantage plan. Almost all Medicare Advantage providers will offer to sweeten the deal by adding additional benefits and coverage. Unfortunately, this is insurance, so of course you will have to pay more in monthly premiums if you purchase more coverage. But purchasing this coverage is what protects you from Medicare coverage gaps, makes prescriptions more affordable, and gives you an opportunity to get affordable extras like dental and vision coverage.
Another thing Medicare Advantage offers over other supplement plans is convenience. With things like Medicare Supplement Insurance, you have to purchase different forms of coverage separately from different providers because they aren't as flexible and won't let you add those coverages directly to your plan the way Medicare Advantage does. Many seniors prefer the convenience of managing all of their health care needs under a single policy through a single provider – they feel like it's less of a hassle when sorting out claims if they're talking to the same person every time. Just keep in mind that the more coverage you buy, the more you will literally be paying for this convenience. Still, it may prove worthwhile in the long run.
Medicare Supplement (Medigap) Savings in Erie, PA
Conversely, 27% of Erie residents over the age of 65 would rather supplement their Original Medicare benefits with a Medigap (Medicare Supplement Insurance) policy instead. Medigap policies are also offered by private insurance companies, and there are 10 available for purchase depending on where you live. They range in their scale of comprehensiveness, and also in price. They merely exist to supplement the gaps in Original Medicare coverage – no more, no less. These smaller yet precision-targeted insurance plans offer you peace of mind and security for Medicare coverage gaps without the huge price tag of a large and cumbersome Medicare Advantage plan.
You can divide Medigap plans into one of two groups: the plans which deal with Part A coverage gaps exclusively, and the more comprehensive plans that deal with both Medicare Parts A and B coverage gaps. Some seniors feel that they have their Medicare Part B expenses largely under control and that they only have to worry about the potentially massive expenses from things like extended hospital stays or hospice care, which Medicare Part A will not pay for. Because these plans (Plans A, D, K, and L) deal with coverage gaps that are less frequently encountered, and usually not until your later years, they tend to come with a much lower monthly premium.
But Medigap plans B, C, G, F, M, and N are a different story. Most of the coverage gaps in Medicare Part B have to do without patient care, co-pays, coinsurance, excess charges, and your Medicare Part B premiums. If you want some or all of these expenses covered in addition to your Part A coverage gaps, you'll need to look at one of these six plans instead. They are more expensive, but they do provide you with better coverage. The best plan for maximum comprehensiveness is Medigap Plan F. But time is running out to enroll in this plan. If you don't sign up before Plan F is phased out at the end of 2020, then you'll have to look it a similar plan like plan C or Plan G instead.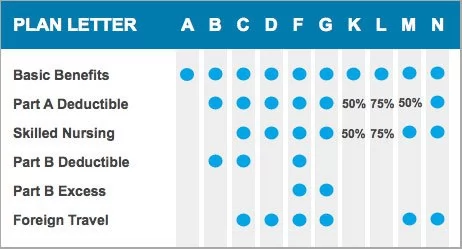 Most seniors will need some sort of dental and/or vision coverage in addition to the medical benefits they get from Original Medicare, with or without a Medigap supplement. Unfortunately, Medigap supplements do not provide these types of coverage. Neither do they provide prescription drug coverage. Medicare Part D is the federal prescription drug coverage program, and largely provides for your prescription costs minus the "donut hole" coverage gap which forces you to pay up to 25% of your prescription costs when you exceed your annual maximum spending limit but fall short of catastrophic coverage. Private dental and vision insurance plans are readily available in almost all areas for a small monthly premium at any time of year – there is no open enrollment period to worry about.
If you've made it this far and you still have questions, we certainly don't blame you. As a matter of fact, we'd like to help clear them up. We have customer service representatives standing by that you can get in touch with right now via phone or email. We can help you sort through the confusion, choose a plan that's right for you, and even find fast, affordable quotes to make the buying process that much easier. So don't hesitate! The longer you wait, the more vulnerable you are to Medicare coverage gaps.
| | | | |
| --- | --- | --- | --- |
| Medigap Plan | Minimum Monthly Premium | Maximum Monthly Premium | Average Estimated Monthly Premium (Part B Premium Included) |
| Plan A | $45 | $168 | $242 |
| Plan B | $56 | $192 | $260 |
| Plan C | $67 | $248 | $293 |
| Plan D | $83 | $216 | $285 |
| Plan F | $111 | $212 | $297 |
| Plan F (high deductible) | $34 | $67 | $186 |
| Plan G | $108 | $195 | $287 |
| Plan K | $50 | $73 | $197 |
| Plan L | $70 | $91 | $216 |