Highmark is one of the leading Medicare health insurance companies in America. Its companies are licensees of Blue Cross Blue Shield Association. Highmark Blue Shield was formed in 1996 when Blue Cross of Western Pennsylvania and Pennsylvania Blue Shield were consolidated into the current company.
In 1999, Highmark partnered with Mountain State Blue Cross Blue Shield and became the primary licensee of BCBS in West Virginia.
The same occurred in 2010 when a similar agreement was approved with Blue Cross Blue Shield of Delaware. Then in 2021, Highmark reached an agreement with HealthNow New York and serves 21 counties in western New York.
All companies are now working under the Highmark Inc. umbrella. Some of the Highmark subsidiaries include Highmark Choice, Highmark Senior Health Company, Highmark Blue Cross Blue Shield, and Highmark Senior Solutions.
Highmark Medicare plans
Highmark serves Pennsylvania, New York, West Virginia, Ohio, and Delaware. Supplemental Medicare coverage types they offer include Medicare Supplement plans, Medicare Advantage plans, and Medicare Part D prescription plans.
First, we'll cover Highmark's Medicare Supplement plans. Then, we'll discuss their Medicare Part C plans. Following that, we'll talk about their prescription drug plans.
Finally, we'll answer some common questions and tell you how you can get help enrolling in a Highmark plan.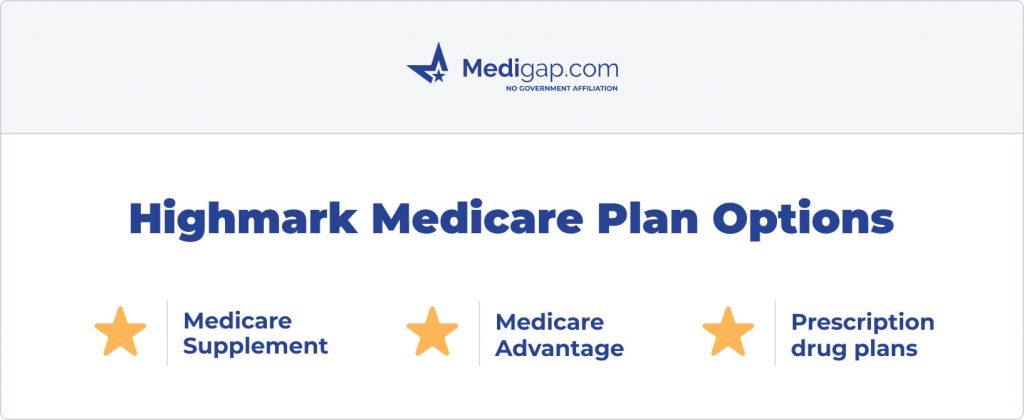 Highmark Medicare Supplement Plans
Medicare Supplement plans are often called Medigap plans. This type of health insurance helps cover the remaining cost gaps after Original Medicare covers its portion.
Depending on your chosen plan, these plans could cover Medicare Part A deductibles, Medicare Part B's annual deductible, Copayments, and Coinsurance.
There are 10 standardized plan options. That means regardless of which company you choose or where you live, the coverage is regulated and must be the same. The only exceptions are Wisconsin, Minnesota, and Massachusetts.
The great thing about Medicare Supplements is the freedom you have when it comes to using healthcare providers. Since these are additional to Original Medicare, you can use and healthcare provider or facility that takes Medicare.
Highmark Medicare Advantage plans
Highmark also offers Medicare Part C plans. These are referred to as Medicare Advantage plans. Medicare Advantage plans combine your Medicare Part A, Medicare Part B, and in many cases Part D in an all-in-one coverage.
Medicare Advantage plans are typically network-based plans. Offerings vary depending on where you reside. Highmark has PPO, HMO, PFFS, HMO-POS, and SNP Medicare plan options. Some of these plan offerings include out-of-network offerings, Although using in-network providers typically has lower out-of-pocket costs.
These plans typically provide additional benefits that Medicare doesn't offer. Some examples of plan extras will include dental, hearing, and vision coverage, as well as gym memberships and over-the-counter benefits.
Highmark Medicare Part D prescription drug plans
Medicare Part D is your prescription drug coverage portion of Medicare. These plans have a few coverage phases and are used to pick up your drugs from the pharmacy. Highmark has several prescription drug coverage options available throughout its service areas.
Highmark Medicare pros and cons
Pros
Associated with BlueCross BlueShield
Competitive Medicare Supplement premiums
Mild Underwriting
Provides high-rated Medicare Advantage plans
Cons
Only provides Medicare plans is specific territories
Rate increases are average
Financial strength ratings
Three companies are the industry standard for rating companies that offer Medicare health plans. AM Best, Standard & Poors, and Moody's.
AM Best gives Highmark a rating of "A" excellent.
Moody's ranks them at "Baa1".
Standard & Poor's gives them an "A-" stable rating.
Highmark reviews
Overall, Highmark Blue Cross is a solid choice for your Medicare coverage. They Have offerings in all aspects of Medicare. This means whether you need screenings, inpatient, outpatient, or preventative services, They have options that fit your healthcare needs.
FAQs
Which Medicare Supplement plan has the highest level of coverage?
Plan F Medicare Supplement plan has the highest level of coverage. It isn't available to everyone, If you're new to Medicare Plan G is the highest level of coverage you can buy. You can get either of these plans through Highmark Medigap blue.
Is Highmark considered Medicare?
Highmark is a private insurance company that offers Medicare Plans but isn't Medicare. However, they do offer Medicare Part C plans. These plans take over your Medicare benefits in a convenient all-in-one plan.
What type of coverage does Highmark offer?
Highmark offers Medicare Supplement plans, Medicare Advantage, and Medicare Prescription drug plans.
Who is the administrator of Highmark?
Highmark Inc is the parent company of Highmark BCBS. They are an independent licensee of the blue cross blue shield association.
How to enroll in a Highmark Medicare plan
Highmark can assist with a plan that fits your needs if you live in certain areas of Pennsylvania, New York, West Virginia, Ohio, or Delaware. As an affiliate of the Blue Cross and Blue Shield Association, you can rest easy knowing you'll receive excellent customer service and coverage.
Enrolling is easy. Simply give us a call, or fill out our online request form. One of our licensed experts can assist with all your Highmark options and help you pick the one that fits your needs.
---
Related Content
---