Retiring and spending your golden years in Salem gives you a lot to look forward to. It's a beautiful area, medical costs in the region are generally lower, you'll likely get to spend more time with your family…but you'll also have to spend more time navigating the coverage gaps in Original Medicare. These gaps tend to fly under the radar for most seniors, who don't find out about them until it's too late and they have tens of thousands of dollars in medical debt to pay. Don't let that happen to you. We want to help you find the right Medicare supplement insurance policy so that it doesn't. But first, let's go over the facts.
Facts and Figures
There are 23,067 senior citizens living in Salem right now
There are only 4 hospitals in the Salem area where seniors can get emergency and/or in-patient care
44% of Oregon seniors have a Medicare Advantage plan
16% of seniors have a Medicare Supplement (Medigap) plan
Which leaves 40% of seniors potentially uninsured or underinsured against costly Medicare coverage gaps!
What's the difference between a chronic disease, and something like cancer? The difference is that you can make cancer go away if you're fortunate. For chronic conditions, even if you can get the best medical care and have all the money in the world, you can't make them go away. Some of the most common chronic diseases in Salem are outlined in the chart below. High blood pressure seems to be the most common, with arthritis a close second. Diabetes is in the double digits, which is slightly higher than normal compared to cities with similarly-sized populations.
| | |
| --- | --- |
| Disease | Prevalence in Salem |
| Arthritis | 26% |
| High Blood Pressure | 29% |
| Coronary Heart Disease | 6% |
| Diabetes | 14% |
| Kidney Disease | 3% |
Healthcare Costs in Salem, OR
Why are we talking about chronic conditions? Because the odds are high that you will be diagnosed with one in your lifetime – if you haven't got one already. And the longer you live, the more likely you are to get that diagnosis. You may even get more than one. Also, the longer you live, the more expensive it will be to treat your chronic illness(es). The chart below outlines some estimated costs of the most common chronic diseases among the elderly for one year. But if you end up living five years or 10 years or more past your initial diagnosis, those costs will add up!
| | | |
| --- | --- | --- |
| Disease | Prevalence in Salem | Annual Cost of Treatment |
| Arthritis | 26% | $280 |
| High Blood Pressure | 29% | $288 |
| Coronary Heart Disease | 6% | $8,246 |
| Diabetes | 14% | $2,158 |
| Kidney Disease | 3% | $7,969 |
Medicare Advantage Savings in Salem, OR
It's important to think about things like the medical costs of chronic illness management, especially when you're trying to choose between your Medicare supplement insurance options. One of those options is Medicare Advantage. The way it works is that you purchase a Medicare Advantage policy from a private company, and they take over your health care needs in place of the federal Medicare program. You'll no longer receive medicare benefits from the government; you'll get them from a private company instead. But that company must legally offer you the same benefits that Medicare Parts A & B offer (they legally cannot sell you anything less without breaking some serious laws).
It might sound scary to opt out of Medicare in favor of a private insurance plan, but there are some advantages for certain seniors. The federal government will still help you pay your Medicare Advantage premiums every month since you did pay into the federal Medicare program for most of your working life. This means some seniors can get Medicare Advantage for as little as $0 per month. But if you add coverage options to your policy, it could increase the total price of your monthly premium – and then you might end up having to pay.
Some of the extra coverage options you can add are vision, dental, and prescription drug coverage, among other things. And it's not uncommon for your base Medicare Advantage plan to come with added benefits that already cover the gaps in Original Medicare coverage so that you don't have to worry about it. On top of everything, you get the added convenience of having all of your medical needs taken care of under a single policy. As long as everything fits within your budget, what more could you ask for?
Medicare Supplement (Medigap) Savings in Salem, OR
Well, depending on your needs, you might not want to ask for something more – but rather, something different. For many seniors, that something different is a Medicare supplement (AKA "Medigap") insurance policy. These policies are literally designed to cover the gaps in Medicare Parts A and B. These insurance policies are not designed to do anything more than that. And, depending on which one of the 10 standardized policies you choose, some offer more coverage than others.
Let's start by talking about the gaps in coverage associated with Part A, and also Medigap plans A, D, K, and L. Medicare Part A has some of the most expensive coverage gaps you may ever face. The uncovered medical expenses include things like extended hospital stays, extra blood transfusions, and hospice or end-of-life care. The four Medigap plans we just stated are designed to cover these coverage gaps, to varying degrees. Some cover more than others; just keep in mind that you'll have to pay a larger monthly premium for purchasing more coverage.
The same goes for the Medigap plans which cover the gaps in Part B coverage: plans B, C, F, G, M, and N. Unlike the other four plans, these 6 Medigap plans cover Medicare Part A and varying degrees of Medicare Part B coverage gaps. There are no Medigap plans which cover Part B gaps, but not Part A. This makes sense, since there are more Part A coverage gaps, and they tend to be more expensive than Part B coverage gaps. Part B coverage gaps apply to things like foreign travel insurance, co-pays, coinsurance, and deductibles. Just so you know: Plan F, the most comprehensive Medigap plan available for purchase right now, is scheduled to be phased out by the end of 2020. So if you want the most comprehensive Medigap plan at the best price, be sure to try and enroll before January 2021 or else you may miss your opportunity.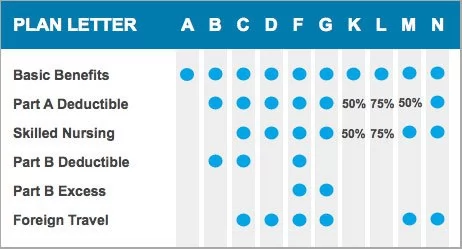 Here's where things get a little tricky with Medigap, though: you don't get to add benefits the way you do with a Medicare Advantage plan. This means your dental and vision coverage, if you choose to purchase it, must come from a separate private insurance company. The good news is it's not difficult to find local, affordable options, especially for seniors. Then there's the issue of prescription drug coverage. You will most likely have to sign up for Medicare Part D if you want financial assistance with your prescriptions. Just beware of the Medicare Part D "donut hole" which can restrict the assistance you get if your prescription costs become exorbitant, yet still fall short of "catastrophic" coverage.
At the end of the day, do you want a large, highly comprehensive plan with all of your needs covered by the same company? Or would you rather purchase a small, inexpensive supplement that gives you just enough coverage without paying for more than you need? The answer to that question might mean the difference between whether you go with Medicare Advantage, or a Medigap policy, respectively. But it really depends on a whole host of factors that are hard to calculate on your own. If you want the help and advice of experts, don't hesitate to call us! It's what we're here for.
| | | | |
| --- | --- | --- | --- |
| Medigap Plan | Minimum Monthly Premium | Maximum Monthly Premium | Average Estimated Monthly Premium (Part B Premium Included) |
| Plan A | $72 | $191 | $267 |
| Plan B | $96 | $217 | $292 |
| Plan C | $113 | $247 | $316 |
| Plan D | $105 | $154 | $265 |
| Plan F | $102 | $211 | $292 |
| Plan F (high deductible) | $27 | $83 | $191 |
| Plan G | $92 | $157 | $260 |
| Plan K | $40 | $92 | $202 |
| Plan L | $74 | $118 | $232 |
| Plan M | $95 | $139 | $253 |
| Plan N | $74 | $158 | $252 |