Are you recently retired, and trying to get your Medicare sorted out? The sooner you can get it done, the better. You may still be relatively young and healthy at the moment, but you will eventually run into medical costs that aren't covered thanks to the coverage gaps in Medicare Parts A and B. When that happens, it could cost you tens of thousands of dollars in unexpected medical bills if you weren't careful. But we have some great information here on this page that you can use to protect yourself and your savings from these expenses.
Facts and Figures
There are 25,515 senior citizens living in Eugene right now
There are 5 hospitals in the Eugene area where seniors can get emergency and/or in-patient care
44% of Oregon seniors have a Medicare Advantage plan
16% of seniors have a Medicare Supplement (Medigap) plan
Which leaves 40% of seniors potentially uninsured or underinsured against costly Medicare coverage gaps!
Let's take a minute to talk about chronic Disease. It's not the nicest of topics to discuss, but it becomes more necessary to talk about the older you get. Many seniors are afraid of sudden, traumatic injuries or surprise diagnosis like cancer. And these are legitimate concerns, to be fair. But chronic disease is a much more likely problem that almost everyone will have to deal with in their lifetime – and a potentially much more expensive one, too. Just look at the rates of chronic disease that exist in Eugene today (outlined in the chart below).
| | |
| --- | --- |
| Disease | Prevalence in Eugene |
| Arthritis | 24% |
| High Blood Pressure | 25% |
| Coronary Heart Disease | 6% |
| Diabetes | 8% |
| Kidney Disease | 3% |
Healthcare Costs in Eugene, OR
The medical expenses from chronic disease probably won't seem like much at first. With heart disease, for example, your doctor may put you on a relatively inexpensive, generic statin drug. And you might take that for years every day, thinking little more of it. But even with the help of one or multiple drugs, you could still end up finding yourself needing more frequent and more expensive diagnostic testing to make sure your arteries are clear, or even invasive bypass surgery to avoid a first or prevent a second heart attack. All of this can cost thousands (or even tens of thousands) of dollars easily. What adds insult to injury is that the longer you live, the more expensive it will all become.
| | | |
| --- | --- | --- |
| Disease | Prevalence in Eugene | Annual Cost of Treatment |
| Arthritis | 24% | $294 |
| High Blood Pressure | 25% | $356 |
| Coronary Heart Disease | 6% | $10,515 |
| Diabetes | 8% | $2,173 |
| Kidney Disease | 3% | $10,202 |
Medicare Advantage Savings in Eugene, OR
Your first option for protecting yourself from Medicare coverage gaps is Medicare Advantage. It may have the name "Medicare" attached to it, but don't be fooled. It is actually a private health insurance policy. But the reason it's called Medicare Advantage is because the company has permission from the federal government to sell you an insurance policy that at least is identical to or provides more than Medicare Parts A and B. If they offer you anything less, that is illegal. But just because you're opting out of the federal Medicare program doesn't mean you'll lose the money you spent paying into Medicare for years while you were younger. The government will use that money to help you pay your monthly premium, which means some seniors get their Medicare Advantage for $0 per month.
There are some advantages and disadvantages to this. You'll have to do with a private health insurance company instead of a single payer, which could come with its own headaches and complications to deal with. But most Medicare Advantage companies offer you the option to purchase all of the medical coverage you could possibly need and manage it under one single policy. The added convenience, plus the government assistance on your monthly premiums, makes the choice worthwhile for a lot of seniors. But not all Oregon retirees feel this way. You'll see why in a minute.
Some of the extra coverage you can purchase – in addition to protection from Medicare coverage gaps – are things like dental, vision, and prescription drugs. Depending on where you live and which company you purchase your policy from, this could save you a ton of money on these incidentals – or it could raise your monthly premium beyond what you originally intended to pay. It's good to sit down with a Medicare Advantage representative and to ask them as many questions as you can about what you are paying for, and how it can benefit you as you get older.
Medicare Supplement (Medigap) Savings in Eugene, OR
Another option you have is a Medicare Supplement Insurance policy, better known as Medigap. With Medicap, you get to keep your federal Medicare benefits as they were intended. You also get to protect yourself from the coverage gaps inherent in Medicare Parts A and B. These supplements exist to protect you from those gaps, and those gaps only. Medicare will pay for the vast majority of your expenses, Medigap will swoop in to pay for expenses associated with the gaps in Medicare coverage, and any leftover expenses will then go to you, if there are any.
There are a total of 10 standardized plans which offer benefits starting with the gaps in Medicare Part A. The plans which specifically protect you from Part A coverage gaps are Medigap Plans A, D, K, and L. With one of these policies, you won't suddenly find yourself drowning in thousands of dollars in medical debt if you require an extended hospital stay, multiple blood transfusions, or expensive end-of-life care. These four plants typically have the lowest monthly premium because they don't cover any gaps in Medicare Part B coverage.
But if you need some coverage for the gaps in Medicare Part B – which most seniors do – you want to take a closer look at Plans B, C, F, G, M, and N. When you purchase coverage for the gaps in Medicare Part B, you will get some relief from Part B coinsurance costs, co-pays, excess charges, and your monthly premium. You can also get things like foreign travel benefits. The more coverage you purchase, the more expensive your monthly premium will be; but the amount you could potentially save in the long run could drastically offset that cost. Currently, Plan F is the most comprehensive. But it won't be available forever. The government has scheduled it to be phased out soon, and will no longer be available for purchase as of 2021. So if you qualify for Medicare, and you want the most comprehensive plan available, you'd better act fast!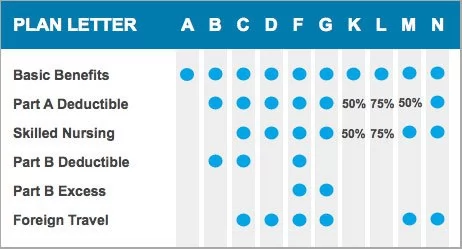 So what about extra coverage, like dental, vision, or prescription drugs? Well, as far as Medigap insurance is concerned, you're on your own with those. But you have options. The federal government will sell you a prescription drug assistance plan known as Medicare Part D. But be sure to do your research on the Medicare Part D "donut hole", especially if you take a lot of prescriptions. Dental and vision are a little bit easier to come by and tend to be less costly; but you will likely have to purchase them from local private insurance companies separate from your Medigap insurance.
Medicare Advantage is a large, complicated, but comprehensive policy offered by private insurance which may or may not be more expensive than Medigap depending on where you live and what you need. Medigap is simpler, smaller, streamlined, but doesn't offer help with incidentals like vision, dental, or prescriptions. Yet it could help save you money. Your overall savings will largely be determined by personal factors and your location. And if you need help trying to sort through all the confusion, our customer service representatives are standing by to help you right now.
| | | | |
| --- | --- | --- | --- |
| Medigap Plan | Minimum Monthly Premium | Maximum Monthly Premium | Average Estimated Monthly Premium (Part B Premium Included) |
| Plan A | $72 | $191 | $267 |
| Plan B | $96 | $217 | $292 |
| Plan C | $113 | $247 | $316 |
| Plan D | $105 | $154 | $265 |
| Plan F | $102 | $211 | $292 |
| Plan F (high deductible) | $27 | $83 | $191 |
| Plan G | $92 | $157 | $260 |
| Plan K | $40 | $92 | $202 |
| Plan L | $74 | $118 | $232 |
| Plan M | $95 | $139 | $253 |
| Plan N | $74 | $158 | $252 |