Lowell, Massachusetts, can be a great place to retire, but that doesn't mean that seniors in Lowell are immune to the harms of Medicare coverage gaps. Medicare coverage gaps are the gaps in your Medicare coverage, during which your effective benefits are significantly reduced. As a result of these Medicare coverage gaps, you can end up paying thousands of dollars in out-of-pocket expenses every year and even more in the long run. Fortunately, seniors in Lowell and all around the country have discovered two great methods for avoiding the costs of Medicare coverage gaps: you can enroll in a Medicare Advantage plan or you can enroll in a Medicare Supplement Insurance plan.
Facts and Figures
There are 11,725 seniors living in Lowell right now.
There are 4 hospitals in the Lowell area where seniors can get emergency and/or in-patient care.
21% of Massachusetts seniors have a Medicare Advantage plan.
20% of Massachusetts seniors have a Medicare Supplement (Medigap) plan.
Which leaves 59% of seniors potentially uninsured or underinsured against costly Medicare coverage gaps!
Just about three out of every five seniors in Lowell struggle to obtain reliable access to affordable healthcare. If you're one of the estimated 6,917 seniors who lack proper insurance protection against unforeseen medical circumstances, then your situation is only likely to worsen unless you act soon. Healthcare professionals have identified many age-related illnesses, which are so called because of the fact that your risk of developing them increases as you age. The frequency and severity of the symptoms associated with those illnesses also increase as you age. The chart below showcases a few of the most prevalent age-related illnesses in the Lowell area.
| | |
| --- | --- |
| Disease | Prevalence in Lowell, MA |
| Arthritis | 22% |
| High Blood Pressure | 29% |
| Coronary Heart Disease | 6% |
| Diabetes | 10% |
| Kidney Disease | 3% |
Healthcare Costs in Lowell, MA
Since the cost of healthcare is directly related to your need for healthcare, it is easy to assume that you will be spending more money each year as the frequency and severity of your symptoms increase. In addition, you can find yourself spending even more money as a result of being diagnosed with additional age-related illnesses. Even on the off-chance that your symptoms remain entirely the same from year to year, which would be a miracle in and of itself, your healthcare costs will likely still increase. That's because medical costs are rising across the board, regardless of any changes to your personal medical needs. And since seniors are living longer lives than ever before, there will be more time throughout your life for these various cost-increasing factors to add up.
| | | |
| --- | --- | --- |
| Disease | Prevalence in Lowell, MA | Annual Cost of Treatment |
| Arthritis | 22% | $294 |
| High Blood Pressure | 29% | $356 |
| Coronary Heart Disease | 6% | $8,705 |
| Diabetes | 10% | $2,173 |
| Kidney Disease | 3% | $8,656 |
Medicare Advantage Savings in Lowell, MA
It is slightly more common for seniors in Lowell to enroll in Medicare Advantage plans than Medicare Supplement plans in order to avoid Medicare coverage gaps. These are private plans that entirely replace your Original Medicare plan, but that does not mean that you will be losing coverage options. In fact, the law requires that all Medicare Advantage plans include the same basic coverage options as can be found in Original Medicare, and most providers don't stop there. Many providers of Medicare Advantage plans offer additional coverage options in exchange for paying a higher premium. But since the government handles all or most of your Medicare Advantage premiums, you could end up enjoying all of those improved coverage options without having to pay any premiums whatsoever.
One of the most widely loved additional coverage options available to Medicare Advantage beneficiaries is Medicare Advantage prescription drug coverage. The specifics vary from provider to provider, but most plans are so comprehensive as to include all of the prescriptions that you could possibly need, even if you are suffering from a condition that requires extensive medication, such as arthritis, high blood pressure, or diabetes. These plans can even be expanded to include coverage for minor medical equipment like glucose monitors and testing strips. With one of these plans, you could save potentially thousands or even tens of thousands of dollars over a ten-year period.
Medicare Advantage beneficiaries also often add vision and dental care coverage directly to their plans. This is an option that is wholly unique to Medicare Advantage, which is to say that neither Original Medicare nor Medicare Supplement Insurance plans are capable of doing the same. In fact, both Medicare and Medicare Supplement provide virtually none of the benefits that you can find in a Medicare Advantage plan with vision and dental care coverage.
Medicare Supplement (Medigap) Savings in Lowell, MA
As the name suggests, Medicare Supplement Insurance plans are designed to supplement rather than replace your Original Medicare. While that means that you can't add any additional coverage options, it also means that you can improve and flesh out your existing coverage options in a way that enables you to enjoy affordable access to healthcare without worrying about Medicare coverage gaps. There are ten types of plans in total and each one takes into account the Medicare Part A coverage gaps because those gaps can be the most financially ruinous, particularly if you're suffering from age-related heart and/or kidney disease. That being said, the ten available plans can be split into two separate groups based on their coverage options.
The first group of plans includes the plans that provide benefits solely related to Medicare Part A coverage gaps: Medigap type A, D, K, and L plans. These plans are designed with Medicare Part A expenses in mind, such as hospitalizations, blood transfusions, and skilled nursing care. If you have only been paying coverage gaps related to Medicare Part A, then one of these plans might be the best for you. However, if you have also or have only been paying Medicare Part B coverage gaps, then you are not going to receive much of any benefit from either of these plans.
The second group of plans includes the plans that provide benefits related to both Medicare Part A and Medicare Part B coverage gaps: Medigap plans B, C, F, G, M, and N plans. Whereas the first group of Medigap plans are designed to help you afford only expenses related to Medicare Part A, these plans help to ensure that you have a more well-rounded array of coverage options, even including emergency services. Unfortunately, not every Medigap plan is destined to last. For example, Medigap Plan F will no longer be available after 2020, meaning that you will have to look into one of the other nine plan types in order to find similar coverage options if you don't have an opportunity to enroll in Plan F now while it is still available.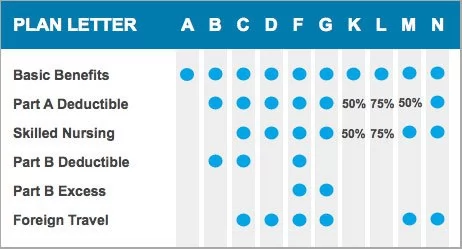 One of the most notable setbacks associated with Medicare Supplement Insurance plans is the fact that it is not possible to add prescription drug coverage, dental care coverage, or vision care coverage directly to your insurance plan. Instead, you have to add those coverage options on through a couple more steps. Fortunately, the process is quite simple. For prescription drug coverage, you can enroll in Medicare Part D prescription drug coverage. Although Medicare Part D prescription drug coverage does come with the risk of another coverage gap (known as the "donut hole"), the benefits that it provides tend to be more than enough for many seniors to avoid having to worry about that gap. For dental and vision care, you can contact one of the many insurance providers in the Lowell area and ask to see their coverage options. These plans are typically bundled, making them incredibly simple to purchase, and you can enroll in them at any time. That means you don't have to wait for an Open Enrollment Period to enroll in vision and dental care coverage.
As your health deteriorates over the years, you risk losing much more than just a couple bucks. You could lose thousands of dollars to the Medicare coverage gaps, rising medical costs, and increasing risks of developing new or worsening symptoms. That's why it is so important that you take the necessary precautions against worsening health conditions. The last thing you want is to decide to wait another year before enrolling in a better insurance plan only to find that you desperately need one now. So don't wait! Go online to Medigap.com today and start shopping for a plan that is right for you. Don't let procrastination lead to bankruptcy.
| | | | |
| --- | --- | --- | --- |
| Medigap Plan | Minimum Monthly Premium | Maximum Monthly Premium | Average Estimated Monthly Premium (Part B Premium Included) |
| Medigap Core Plan | $94 | $171 | $268 |
| Meditap Supplement 1 Plan | $169 | $257 | $349 |