Colonial Penn Life Insurance Company was created in Philadelphia, Pennsylvania, in 1957 by AARP co-founder Leonard Davis. This company's insurance policies have been helping seniors for over 60 years.
As a company, Colonial Penn boasts four core values:
Integrity: Acting in the spirit of the law with honest and ethical practices.
Customer focus: Colonial Penn works tirelessly to ensure it meets and exceeds the needs of its customers.
Excellence: Striving for excellence in all aspects of the insurance world, products, services, and business practices.
Teamwork: Working together to exemplify participation, collaboration, and commitment.
Colonial Penn Medicare Supplement insurance plans
Colonial Penn offers Medicare Supplement plans in the majority of the US. Unfortunately, at this time, they don't offer access to Medicare Advantage or prescription drug plans. However, this allows them to focus resources on improving the quality of care for their Medigap clients.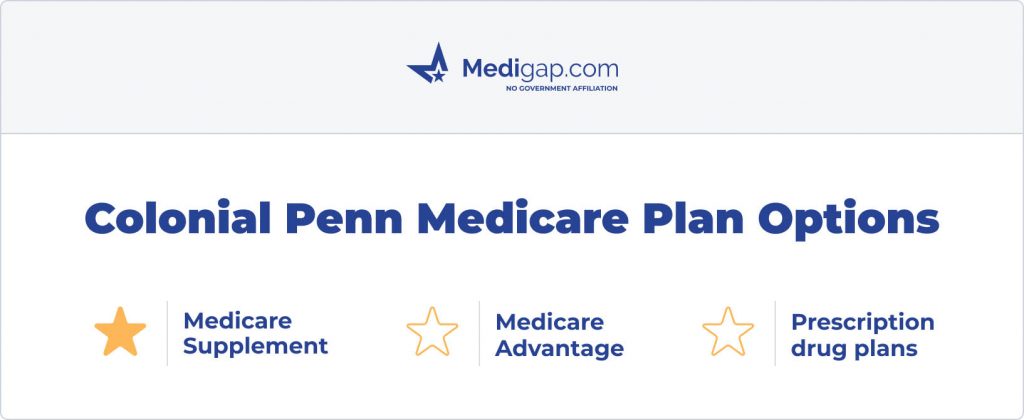 The Colonial Penn-affiliated companies
Colonial Penn primarily offers life insurance and coinsurance. The company also offers supplemental Medicare plans to help with Medicare Part A and Medicare Part B's healthcare needs.
Colonial Penn Medigap plans
Medicare Supplement plans (Medigap) by Colonial Penn are available in all 50 United States and the District of Columbia. Medigap plans are secondary coverage to your Original Medicare and pay portions of your Medicare out-of-pocket costs.
Medicare Supplement plans have a fixed monthly premium. You pay little or nothing in copayments when you use your healthcare coverage. When you select a Medigap plan, you retain all your Medicare benefits. Examples include coverage for a skilled nursing facility or hospice care.
These include the freedom of healthcare providers and help with other costs such as your Part A deductible, which serves as Part B coinsurance, and even Part B excess charges.
Colonial Penn Medicare Advantage plans
Colonial Penn does not offer Medicare Advantage (MA) health plans currently. Use our online request form for more information on Medicare Advantage plans that pay your Part B deductible.
Colonial Penn does offer Critical Illness plans that help cover cancer, heart attack, and stroke. If you are currently on a MA plan, a critical illness plan can help cover some of the gaps in the MA plan.
Colonial Penn Medicare Part D
Colonial Penn does not sell Part D drug plans. Fill out our online request form if you need help selecting a Part D drug plan to assist with your prescriptions.
Colonial Penn Medicare pros and cons
Pros
Financially sound company
Issue Age policies in most states
Liberal Underwriting
Cons
Average rate increases
No Medicare Advantage or Part D offerings
Colonial Penn financial strength ratings
| | |
| --- | --- |
| A.M. Best Rating | A- |
| Standard & Poors Rating | BBB+ |
| Moodys Rating | A2 |
A company's financial stability will usually correspond with more stable rates with lower rate increases for Medigap plans.
Colonial Penn reviews
Colonial Penn offers 10 Medigap health insurance plans throughout the United States. The plans available are dependent on the area of your residence.
Colonial Penn is a solid company that has a decent financial rating. Colonial Penn offers an option for a gym membership in many states.
| | |
| --- | --- |
| Medicare Supplement plans | YES |
| Medicare Advantage plans | NO |
| Medicare Part D Drug plans | NO |
FAQs
How does Colonial Penn health insurance work?
Colonial Penn offers Medicare Supplement plans. These plans help cover your cost share regarding Original Medicare. These health insurance programs are among the most comprehensive and least restrictive that you can purchase.
What Medicare supplements does Colonial Penn offer?
Colonial Penn sells Plans A, B, C, D, F, G, K, L, M, and Plan N. Plan availability — such as Plan C — is dependent on your location. They also offer high deductible Plan F and Plan G in some areas.
Is Colonial Penn and Bankers the same company?
Yes and no. CNO Financial is the parent company of both Colonial Penn and Bankers. They are two separate entities under their parent company.
Will my Colonial Penn premium increase?
Yes! It doesn't matter who you choose for your Medigap plan carrier. Your rate will usually increase annually.
When can I enroll in a Colonial Penn policy?
You can enroll at any time unless you have a Medicare Advantage plan. You must undergo medical underwriting unless you are in an Open Enrollment or a Guaranteed Issue situation.
Your Open Enrollment, when you are first starting Medicare, is the best time to enroll in a Medigap Plan such as Plan B, Plan D, or Plan K.
How to enroll in a Colonial Penn Medicare plan
We have licensed agents standing by to assist you with all Medicare questions. For help, use our online request form or give us a call for assistance.
We can help you with a needs assessment to help you determine which plan option fits your needs best.