If you're a Medicare beneficiary in Texas, you'll want to know all about BCBS of Texas and its various Medicare plans.
We'll give you an overview of the company and its offerings so that you can make an informed decision about your healthcare coverage. Stay tuned for everything you need to know about Blue Cross Blue Shield of Texas.
BCBS of Texas Medicare plans
Blue Cross Blue Shield of Texas is proud to offer a range of Medicare plans tailored to the needs of its members. BCBS of Texas provides quality coverage with options ranging from Medicare Advantage to Supplement and Part D prescription plans.
BCBS of Texas has built its services around flexibility, meaning members get access to a wide range of network benefits and exclusive programs as part of their Medicare plans.
Blue Cross Blue Shield of Texas members get access to the Blue365 discount program. Some discounts include: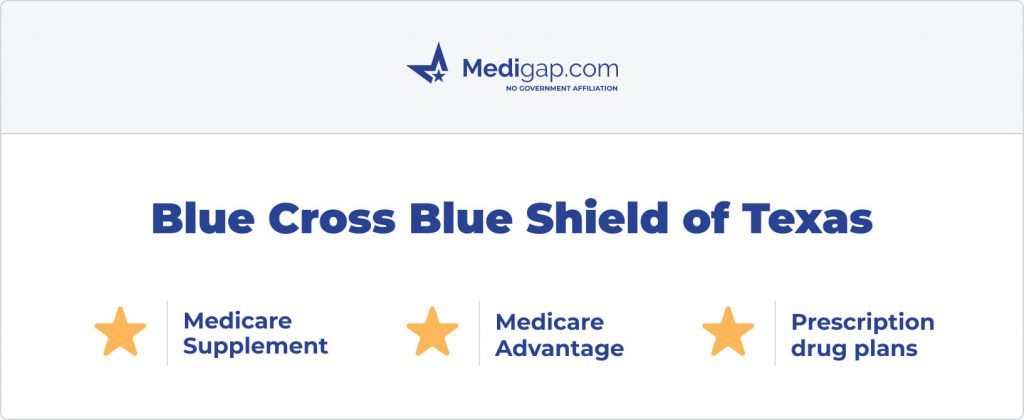 BCBS of Texas Medicare Supplement plans
BCBS of Texas offers an extensive variety of Medicare Supplement plans to meet the needs of their customers.
With BCBSTX Medicare plans, you can access great coverage with various supplement plans that can help you pay for expenses left by Original Medicare, such as copayments, deductibles, and coinsurance.
Ten Medicare Supplements are offered but may not be available in all locations. The majority of Medicare beneficiaries choose to enroll in the top Medigap plans.
BCBS of Texas Medicare Advantage plans
BCBS of Texas provides an extensive range of Medicare Advantage plans that give you the convenience and flexibility to make healthcare decisions that fit your needs.
With BCBS of Texas Medicare Advantage, you can ensure that you are provided with all essential health benefits, such as hospital services, preventive care, and more.
In addition to coverage for doctor visits and physician services, BCBS of Texas includes valuable extras, including vision, prescription drug coverage, dental care, and various other health-related services, all in one plan – no need to worry about multiple bills or plans.
BCBS of Texas Medicare Advantage plans provide an efficient and cost-effective way to get the medical support you need while maintaining your lifestyle.
Medicare Part D prescription drug plans
BCBS of Texas has a comprehensive range of Part D prescription drug plans that can offer significant savings for seniors and those who require long-term medication.
BCBS of Texas offers plans that provide both low premiums and copays to maximize coverage and minimize out-of-pocket costs.
Members can rest assured that BCBS of Texas ensures its members have access to the medications they need at an affordable price.
BCBS of Texas is determined to help Texans with their healthcare needs, offering prescription drug plans and many other services.
Blue Cross Blue Shield of Texas pros and cons
Pros
Preferential discounts and partners
Financially Sound
Competitive pricing
Cons
Slow claims processing
Overall out-of-pocket costs higher than competitiors
Regional companies
BCBS of Texas covers almost every aspect of traditional health insurance and a few unique options to cover extra expenses not covered by Medicare.
Customers can choose from various copay benefit plans and HMOs, which offer great value coupled with rising yearly premiums.
Furthermore, BCBS rewards its members with discounts on eyewear, hearing aids, and more. However, BCBS lacks the convenience of other insurers when it comes to using healthcare services outside the BCBS network.
In addition, BCBS is known for having slow processing times for claims, although there are exceptions due to an individual's circumstances.
BCBS provides abundant options at competitive prices but has certain drawbacks that customers should know before moving forward.
BSBC of Texas financial strength ratings
BCBS of TX offers exclusive Medigap plans for people aged 65 years or older, and these plans have various features that allow the individual to customize the coverage to match their budget and needs.
BCBS's financial stability means customers can have peace of mind knowing their investments are secure, with BCBS's commitment to its members being unwavering.
BCBS will always strive to provide exceptional care and financial stability so that customers can feel confident in their choice of health coverage provider.
Blue Cross Blue Shield of Texas reviews
BCBS of Texas reviews have long been a gold standard for their customers regarding providing the best possible Medicare options.

BCBS has earned a sterling reputation among its customers for offering quality and affordable services, expertise, and support from knowledgeable customer care representatives.

With BCBS of Texas, peace of mind comes from knowing that your Medicare coverage is handled with unsurpassed care and precision.

BCBS of Texas reviews prove that they consistently provide dependable coverage and proactive customer service to help ensure you have the resources you need when the time comes.
BCBS of TX FAQs
How much is the average cost of a BCBS of TX Medigap plan?
A Medigap plan with BCBS of TX can be anywhere from $100 to $200. The amount depends on several factors such as plan selection, age, and tobacco use.
Which Medicare Supplement plans are offered by BCBS of TX
BCBS of TX offers several Medicare Supplement plans. Plan options available are listed below.
Does BCBS of Texas offer a discount for more than one person in the household?
If more than one person enrolled in a BCBS of Texas Medicare Supplement. They will receive a spousal discount on the monthly premium.
Is BCBS of Texas a PPO or HMO?
BCBS of Texas has both PPO and HMO Medicare Advantage options. They also provide access to Medicare Supplement and Part D prescription drug plans.
Find help enrolling in a BCBS of Texas Medicare plan
Enrolling in a BCBS of Texas Medicare plan can seem intimidating and tedious, but it doesn't have to be. With our help, you can find a plan that fits your specific needs. Review Medicare plan rates and carriers in your area today. We can help you get through the enrollment process quickly and easily.
---
Related Content
---