BCBS of Michigan is a Medicare plan carrier offering a variety of Medicare Advantage, Medigap, and Part D plans with varying premiums, deductibles, and networks.
With so many options available, deciding which plan is right for you can be difficult. This article will provide an overview of the BCBSM Medicare plans available for 2023 and compare the pros and cons of each option.
We'll also include a company review to help you decide about your healthcare coverage.

BCBS of Michigan Medicare plans
BCBS of Michigan Medicare plans are among some of the most trusted and widely-used healthcare plans in the US. They are available to seniors across Michigan, with various plan options based on individual needs.
Plan costs vary depending upon the scope and coverage offered, and BCBS of Michigan Medicare can protect from potential risks and costs that could become unchecked with Original Medicare only.
This article will review BCBS of Michigan Medicare plan options and costs, provide pros and cons, and a company review to help readers make informed decisions about what BCBS health plan best fits their lifestyle.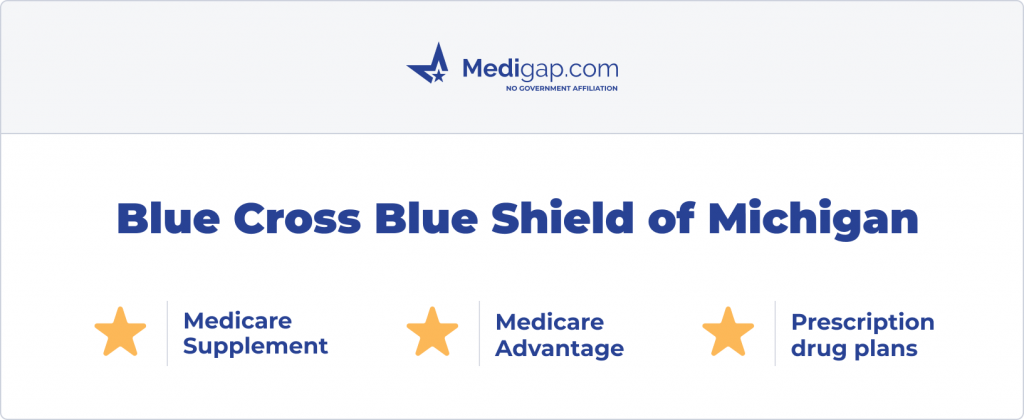 BCBS of Michigan Medicare Supplement plans
Blue Cross Blue Shield of Michigan offers Medicare Supplement plans to provide additional coverage beyond what's offered in the Original Medicare plan. BCBSM combines various cost-effective plans with competitive prices and features.
With BCBS of Michigan, customers can choose the best option that fits their unique needs, with options ranging from Part D drug coverage only to Medicare Advantage and Medigap.
BCBS of Michigan provides its customers security, peace of mind, and access to quality healthcare at reasonable costs.
You can choose ten Medicare Supplement plans with varying coverage levels and costs. BCBS of MI Medigap plans come with a few additional benefits and discounts such as:
Blue365
Blue Cross Virtual Well-Being
24-hour Nurse Line
Surgery Decision-Support program
BCBS of Michigan Medicare Advantage plans
Blue Cross Blue Chield of Michigan Medicare Advantage plans are designed to provide seniors and those eligible for Medicare with an option to get the most out of their health insurance coverage.
BCBSM is dedicated to helping customers understand what these plans have to offer while being mindful of their cost requirements and finding the right balance between budget and coverage.
Depending on the plan, you may be able to receive additional benefits such as eyewear, gym memberships, and hearing care that original Medicare does not typically cover.
Medicare Part D prescription drug plans
BCBS of Michigan offers several Part D prescription drug plans for those needing Medicare coverage.
By providing a range of cost and benefit options, BCBS of Michigan allows for individuals to tailor their care to best suit their medical needs.
Through its Medicare coverage BCBS of Michigan's plan formulary provides access to the medications necessary for a number of health issues at competitive prices.
In addition to finding the right plan, BCBS of Michigan also provides customers with helpful tools and resources such as company reviews that can assist in making an informed decision about which plan will provide the best care.
BCBS of Michigan pros and cons
Pros
Large network of providers
Offers Medicare Supplement, Medicare Advantage, and Part D drug plans
Excellent customer service
$0 premium Medicare Advantage options
Cons
High maximum out-of-pocket on some Medicare Advantage plans.
Part D plans have higher premiums than some competitors
BCBS of Michigan is a popular choice for individuals seeking affordable Medicare plans. They offer competitive rates and various coverage options to suit all medical needs.
However, it is important to thoroughly weigh the pros and cons of BCBS of Michigan before committing to a plan.
BCBS of Michigan financial strength ratings
Over the years BCBS has maintained strong ratings regarding their financial stability, signifying that they are well-equipped to handle customer needs and respond in a timely manner.
BCBS of Michigan is a popular health insurance provider known for its financial strength.
BCBS is an established company with years of operational experience. Their financial rating history is a testament to their impressive longevity, assuring customers that BCBS plans will provide value for them.
BCBS of Michigan company reviews
BCBS of Michigan has built up a reputation as one of the state's top providers of Medicare plans and services.

With its wide variety of plan options and competitive costs, BCBS of Michigan provides an accessible, trusted solution for many individuals looking to secure their medicare needs.

BCBS of Michigan is dedicated to providing excellent customer service to it's policyholders.
BCBS of Mi FAQs
What's the average costs of a Medicare Supplement plan from BCBS of MI?
Medicare Supplement plans from BCBS of MI can range from $120 to $230. Several factors can affect the monthly premium. These factors can include age and tobacco usage.
What's the difference between a BCBS of MI PPO and HMO?
You can access both HMO and PPO Medicare Advantage plans from BCBS of MI. In addition, they also offer Medicare Supplement plans and Part D prescription drug coverage.
What Medicare Supplement plans are offered by BCBS of MI?
Of the ten available standardized Medicare Supplement plans, BCBS of MI offers six, and the high deductible options. The plans offered are listed below.
What's the most popular BCBS of MI Medicare Supplement plan?
Plan F is the most popular Medicare Supplement plan for BCBS of MI policy holders. However the most popular for new Medicare beneficiaries is Plan G.
Get help enrolling in a BCBS of Michigan Medicare plan
Enrolling in a BCBS of Michigan Medicare plan can be intimidating, but you can make the process easier with the right tools. View rates online by filling out our online rate form, or let us connect you with a licensed agent specializing in Medicare.