Unicare is a health insurance company that sponsors Medicare Part D prescription drug plans and is an affiliate of Anthem BlueCross BlueShield. The company doesn't offer plans in all states.
Unicare Medicare plans
Supplemental Medicare plans are options designed to assist with healthcare costs left over by Medicare cost-sharing. There are a few different routes you can take for additional coverage. Supplemental Medicare plans include Medicare prescription drug coverage, Medicare Supplemental plans, and Medicare Advantage plans.
Next, we'll discuss the Supplemental Medicare options available through Unicare. Then, we'll discuss their financial strength and answer a few commonly asked questions. Finally, we'll go over how to get enrolled with a Unicare Supplemental Medicare option.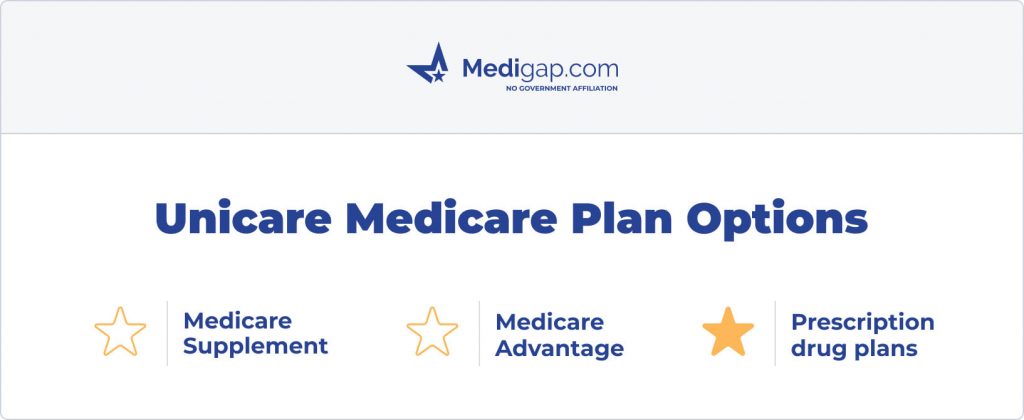 Unicare Medicare Part D prescription drug plans
Part D Prescription Drug plans help cover your costs of drugs picked up at the pharmacy. Part D plans set the deductible, co-insurance, and copays you pay when you pick up your prescriptions.
Make sure to check the formulary of the plan for the covered drugs. This will help ensure you choose a PDP plan that fits your needs. Generally speaking, your generic drugs will have fewer costs than brand-name drugs.
If you're struggling with the costs, you can apply for Extra Help. The Extra Help program assists low-income beneficiaries with costs related to their prescription drugs. If you use preferred in-network pharmacies, your cost-share could also be less.
Unicare Medicare Supplement plans
Medicare Supplement plans are health insurance plan options that pick up your portion of the costs left over by the Medicare program. Unicare doesn't offer Medigap plan options.
Unicare Medicare Advantage plans
Medicare Advantage plans are the same thing as Medicare Part C. These health plans combine your Medicare benefits in an easy-to-use all-in-one plan. The majority of these plans provide prescription drug benefits.
Unicare doesn't provide Medicare Advantage plans.
Unicare Medicare pros and cons
Pros
Affiliated with BlueCross BlueShield
Great prices
Low Co-pays on generics
Cons
Small preferred pharmacy network
Not available in many areas
Unicare financial strength ratings
Financial strength is a big indicator of how efficiently the company works to pay claims. There are a few independent companies that rate insurance companies financial strength.
AM Best grants Unicare an "A-" rating, and Standard & Poors provides a rating of "BBB"
Unicare reviews
Unicare's parent company Anthem BlueCross is very solid. Unicare only offers drug plans in specific states. Unicare offers competitive plan options for prescription drug plans. Make sure you do your homework to make sure they are the right plan for you before enrolling.
FAQs
Is UniCare part of Medicare?
No! Unicare is affiliated with Anthem BlueCross BlueShield. They sponsor Medicare Part D prescription drug plans.
How do I sign up for UniCare?
You can call them directly or work with a licensed broker that works with Unicare. Using a broker ensures you enroll with the best plan for your needs is wise.
Does UniCare offer a Medicare Part D plan?
Yes! Unicare offers Medicare Part D prescription drug coverage.
What are some of the benefits of UniCare?
Unicare offers coverage that helps with prescription drug costs. The Part D benefits will help cover the costs of generic and brand-name prescriptions.
How to enroll in a Unicare Medicare plan
To enroll in a Unicare drug plan, you want to do a few things. First, make sure you have a copy of your current drugs handy. It's vital to ensure your drugs are covered properly. Part D plans costs for you are determined primarily by your drugs, not the plan premium.
Our licensed brokers have access to Unicare and all of the insurance options in your area. We'll review your options and prescriptions to provide an accurate look at your plans. After that, we'll help you through the enrollment process.
Help is easy to find — give us a call, or fill out our online request form.