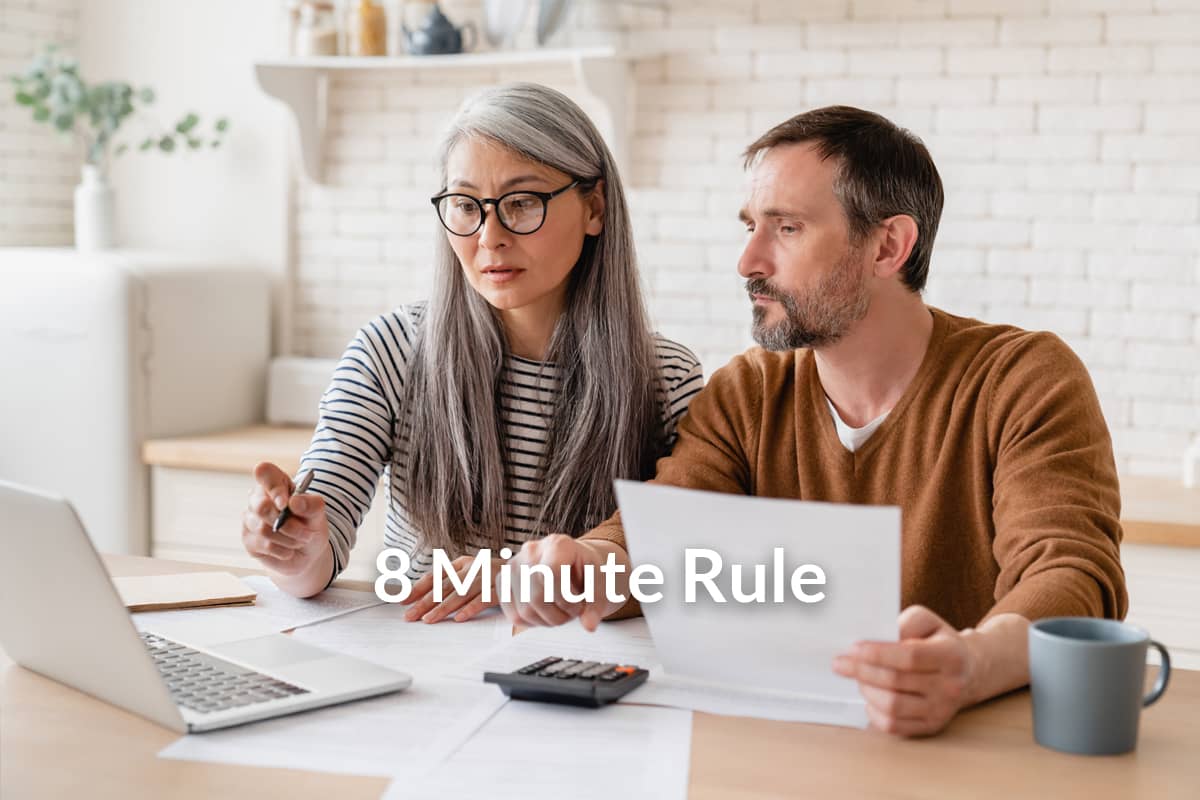 When a person starts Medicare, it can be pretty confusing. Knowing what all of the terms mean will help during each beneficiary's journey under Medicare insurance. The 8-Minute rule is one to know and understand.
Some providers also have a limited understanding of these rules, leading to underbilling or delayed reimbursement errors.
Service-based healthcare providers, such as physical therapists, provide services to Medicare beneficiaries, and then they bill Medicare. The current procedural timed code dictates the billing and claims processes.
Medicare's 8 Minute rule explained
With the 8-minute rule, a healthcare provider can bill Medicare for a single billable unit. For a service to be considered a single billable unit, it must last at least 8 minutes but not more than 22 minutes. After 22 minutes, billable units are calculated in 15-minute increments.
The 8-Minute rule has been in effect since April 1, 2000, and it applies to time-based current procedural terminology (CPT) codes for outpatient services.
This rule allows healthcare providers to bill for units of service and must be between 8 and 22 minutes.
A unit is a term used for the time interval of the service, and a unit of service is 15 minutes.
How does the Medicare 8-Minute rule work?
The 8-Minute rule applies to services where the beneficiary and the healthcare provider have direct contact. This means it must be an in-person visit. Review the below chart for a great visual of how the Medicare 8-Minute rule works.
Medicare will receive a bill that relates to the total number of minutes used. However, there isn't a bill if the individual service is less than 8 minutes. Medicare will receive a bill for services in 15-minute increments.
If the service lasts only 20 minutes, Medicare will receive a bill for one unit through CPT codes. This is because the service was less than 22 minutes, and between 8 minutes and 22 minutes is one unit.
Medicare beneficiary services that last between 23 and 37 minutes are billed for two units, 38 to 52-minute services are billed as three units, and so on.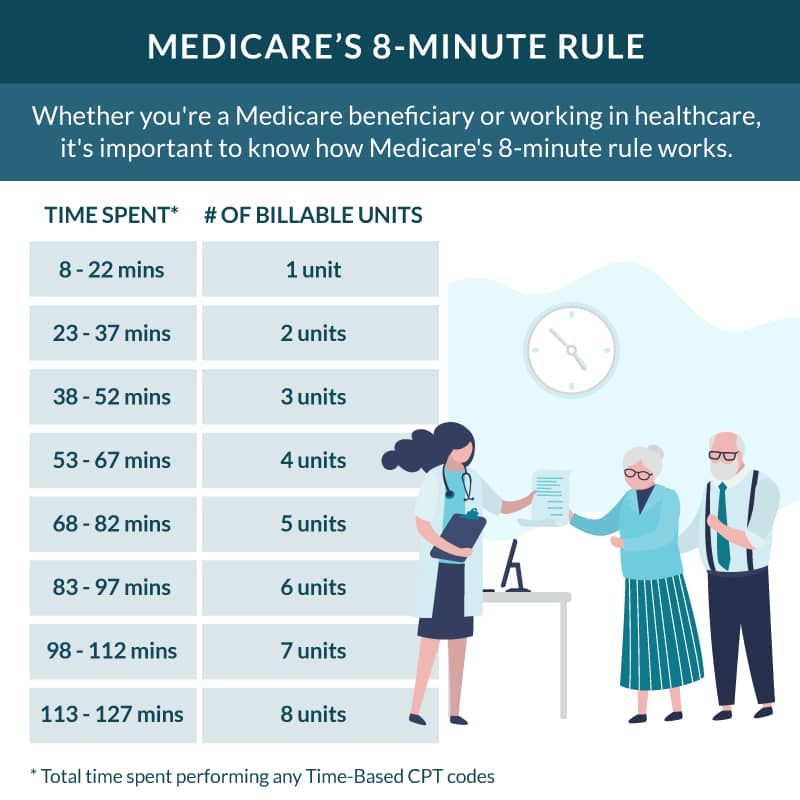 Examples of how the 8 Minute rule works
Suppose there is an appointment for physical therapy at a physical therapist's office. The person receives 28 minutes of physical therapy billing and a 9-minute consultation about the treatment plan at the appointment. That's a total of 37 minutes. So the physical therapist will bill Medicare for 2 units.
Services are not billed separately; they are combined based on the number of units for things such as therapeutic exercise or even applying cold packs. Timed procedures and modalities — even things like neuromuscular re-education or electrical stimulation are all billed this way for Medicare's sake.
Another example would be if there was another appointment at a medical facility. In this scenario, an ultrasound takes 11 minutes, then is followed by a 21-minute consultation, and ends with a 15-minute physical therapy session. The total is 47 minutes, so Medicare will be charged for 3 billable total time units.
Understanding how this works is essential so the person in question is not over-billed.
Who does the rule impact?
The 8-Minute rule applies to these outpatient healthcare providers. Private practices, skilled nursing facilities, rehabilitation facilities, minutes of manual therapy services, therapeutic activity, and hospital outpatient departments.
This rule also applies to home health agencies that provide approved Part B therapy covered in the beneficiary's home.
FAQs for the Medicare 8-Minute rule
Is the 8 Minute rule a requirement for Medicare Advantage plans?
No! Medicare Advantage plans don't have to follow the 8-Minute rule. These Part C plans have their own billing and payment rules.
Does the 8-Minute rule only apply to Medicare?
No, in addition to Medicare, CHAMPUS, and Tricare will also follow the 8-Minute rule. Some other private insurance plans also use the 8-minute rule. Because Medicare requires the use of the 8-minute rule, providers can't use another billing method.
Does group therapy apply to the 8-Minute rule?
No! The rule applies to 1-on-1 direct contact services. Group therapy and counseling sessions would not apply the 8 -minute rule
Does the 8-Minute rule apply to Medicare Part A?
No, this rule applies only to Medicare Part B, which is the payer for these services. That means only outpatient services apply the rule.
How does Medicare calculate therapy minutes?
Medicare's 8-Minute rule calculates minutes of therapeutic exercise, just like anything else.
How many minutes are 3 units for Medicare?
3 billable units for Medicare's 8-Minute rule would fall between 38 and 52 minutes. Once you reach 52 minutes, another billable unit occurs. Knowing how this works helps you get the most out of your Medicare coverage.
Does Medicaid use the 8-Minute rule?
Yes, Medicaid uses the same CPT codes, billing guidelines, and amount of time to calculate minutes from healthcare professionals.
What are leftover minutes?
When using the 8-Minute rule, there will be situations where minutes aren't fully used. Still, since the rule acts like tiers, The physician won't charge Medicare extra if you don't reach the next range.
Getting Supplemental Medicare to cover your therapy needs
The 8-Minute rule can be a bit confusing and strange for beneficiaries who haven't dealt with it. But it benefits Medicare recipients to understand how their provider's bill for direct contact services like physical therapy.
Suppose you'd like a Supplemental Medicare plan to assist you in covering any portions of your care that you'd be financially responsible for. In that case, our licensed insurance agents are experts in the field. Our highly motivated agents will help pick the right plan for your unique needs.
Best of all, there is no obligation to talk to an agent, and the assistance is complimentary. Give us a call or fill out our online request form to find the best rates in your area.