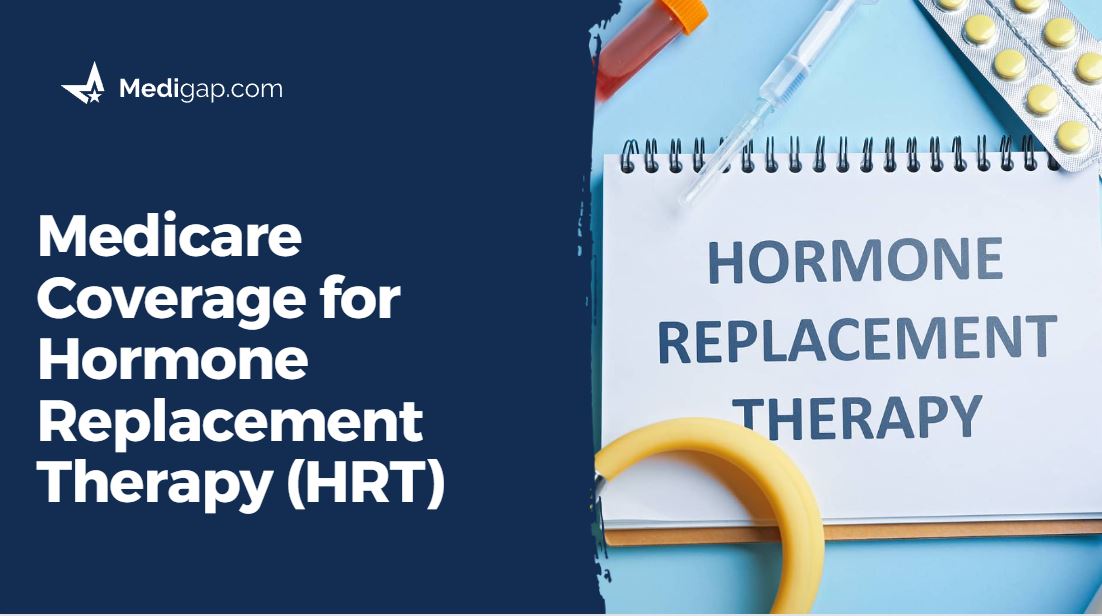 Medicare doesn't cover hormone replacement therapy. However, prescription drug coverage may help with the cost. Your healthcare provider will need to prove that HRT is medically necessary. Let's look at Medicare coverage for hormone replacement therapy and how you can get additional coverage.
Does Medicare cover hormone replacement therapy?
Medicare Part D plans or Medicare Advantage plans that include prescription drug coverage may cover hormone replacement therapy. HRT can help women suffering from menopause, and it can help men with low testosterone.
Hormone replacement therapy can be prescribed oral medication, a patch, topical estrogen cream, or even a spray. Some women may choose to receive estrogen through vaginal delivery through a prescription cream, tablet, or ring.
While prescription insurance can help with the cost of HRT medications, you may still be responsible for deductibles, coinsurances, or copayments. Compare top Part D plans to find the insurance plan that meets your needs.
Does Medicare pay for bio-identical hormones?
Medicare won't cover bioidentical hormones because neither Medicare Part A nor Medicare Part B covers medications. However, stand-alone Part D and Part C programs that include prescription coverage will cover bioidentical hormones such as testosterone, progesterone, and estrogen.
Does Medicare cover hormone therapy for transgender people?
Medicare does cover hormone therapy for transgender people the same way it covers any other beneficiary needing hormone therapy. Private insurance companies provide coverage for prescriptions no matter gender identity.
There may be local guidelines for transition-related care. Talk to your doctor about your options. Suppose a provider is disrespectful or discriminatory about you being transgender. In that case, you should file a complaint through your regional Centers for Medicare & Medicaid Services office.
Is hormone therapy for men covered by Original Medicare?
Yes, Medicare covers medically necessary hormone therapy, even for men. Every Medicare beneficiary has a right to access appropriate medications for their medical needs. A man may need testosterone therapy, and prescription coverage can help with the cost.
Do Medicare Advantage plans cover hormone replacement therapy?
Medicare Advantage plans must cover at least as well as Medicare. So, yes, these plans can include HRT. Please verify that the formulary includes the medications specific to your needs. Part C could also benefit in providing health services unavailable on Medicare.
Will Medicare Supplement insurance cover hormone replacement therapy?
Medigap plans don't cover medications. However, when it comes time for gender-affirming surgery, the policy could cover the 20% coinsurance you'd otherwise pay. A Medicare Supplement insurance plan means you have little to no out-of-pocket costs.
FAQs
Does Medicare cover testosterone replacement therapy?
Original Medicare, Part A, and Part B, generally doesn't provide coverage for hormone replacement therapy. If you require Medicare coverage for prescription drugs associated with hormone replacement therapy, you can explore a MAPD (Medicare Advantage Prescription Drug) plan or a Medicare Part D plan that specifically encompasses these medications.
Does Medicare cover gender reassignment surgery?
Medicare coverage for transition surgery is determined on a case-by-case basis. If gender reassignment surgery is being done to treat gender dysphoria, Medicare coverage will likely be available. Medicare may cover transmasculine bottom surgery and transfeminine bottom surgery.
If Medicare declines coverage for a gender reassignment surgery, you can file an appeal. When you file the appeal, include all information from the doctor proving the procedure is medically necessary for your gender identity.
Does Medicare cover transgender breast augmentation?
Medicare considers breast augmentation to be cosmetic or elective surgery. Since cosmetic surgeries aren't medically necessary, you can expect to cover 100% out-of-pocket costs. So, facial feminization, hair removal, body contouring, and vocal cord surgery wouldn't have coverage. Although, breast removal surgery may have coverage.
Do Prescription Drug Plans cover Estrace?
Yes, some plans that include Part D cover Estrace. You'll need to check the plan formulary to determine cost and coverage.
Does Medicare cover bioidentical hormone therapy?
Original Medicare provides no coverage for hormone therapy medications, including those for managing menopause. To obtain coverage for hormone replacement therapy (HRT), you must enroll in either a Medicare Part D prescription drug plan or a Medicare Advantage plan that includes prescription drug coverage.
Does Medicare cover estradiol patches?
Most Medicare Part D and Medicare Advantage plans cover estradiol patches. To determine if your plan does, refer to your plan's formulary.
Get Help Finding Medicare Health Insurance for Hormone Therapy
Whether you need hormone therapy for menopause or gender identity, private insurance can help with the cost. Medigap plans can cover the coinsurances or deductibles you'd otherwise pay with Original Medicare. Part D plans can lower the costs of your HRT medications.
Enrollment is easy and can be done over the phone; don't delay your coverage. Call us at the number above to speak with a licensed insurance agent about your health plan options. Or, fill out the online rate form to see plan options in your location.
Related Content