Sarasota, FL is one of the nicest places to live in the US. But the amount of money it costs to get good quality healthcare in Sarasota is less than ideal sometimes. This is especially true for senior citizens. There are ways to protect yourself from these costs if you purchase the right kind of Medicare supplement insurance. But if you don't prepare yourself with the right policy, your golden years could be plagued with unbearable medical expenses.
Facts and Figures
There are 15,820 senior citizens living in Sarasota right now

There are 8 hospitals in the Sarasota area where seniors can get emergency and/or in-patient care

42% of Florida seniors have a Medicare Advantage plan

19% of seniors have a Medicare Supplement (Medigap) plan

Which leaves 39% of seniors potentially uninsured or underinsured against costly Medicare coverage gaps!
Are you familiar with the term "chronic disease"? It's a type of ailment that gets slowly worse the older you get. Unfortunately, chronic diseases are inevitable, usually expensive, and some of them can be difficult to treat. According to the chart below, high blood pressure is one of the most common chronic conditions in Sarasota, FL. If you're currently paying a lot of money to treat your high blood pressure, we regret to inform you that these expenses will only get worse over time.
| | |
| --- | --- |
| Disease | Prevalence in Sarasota |
| Arthritis | 25% |
| High Blood Pressure | 33% |
| Coronary Heart Disease | 7% |
| Diabetes | 11% |
| Kidney Disease | 3% |
Healthcare Costs in Sarasota, FL
The chart below shows some estimated healthcare costs for seniors in Sarasota. But this is just a snapshot of what you might expect to pay for your health care. Not only will your costs vary by need, but they will continue to increase on an annual basis for as long as you need care. Things like inflation, uncertainty about politics, and your own unique healthcare needs will continue to increase your healthcare expenses on an annual basis.
| | | |
| --- | --- | --- |
| Disease | Prevalence in Sarasota | Annual Cost of Treatment |
| Arthritis | 25% | $280 |
| High Blood Pressure | 33% | $288 |
| Coronary Heart Disease | 7% | $7,599 |
| Diabetes | 11% | $2,158 |
| Kidney Disease | 3% | $6,469 |
Medicare Advantage Savings in Sarasota, FL
If you decide to supplement your Medicare benefits, the two main choices are either Medicare Advantage or Medicare Supplement Insurance. The most popular choice out of the two, as you saw earlier, is Medicare Advantage. But it doesn't work like Original Medicare. Government law mandates that it must offer you the exact same medical benefits as Medicare Part A and Medicare Part B. But many policies offer more benefits than that, including benefits which cover the gaps in Traditional Medicare, at little additional cost. The government pays a portion of the premium for you, sometimes getting you your plan for as little as $0 per month.
Many seniors in Sarasota feel that the optional coverage which Medicare Advantage allows them to purchase helps them afford basic medical needs and incidentals which Original Medicare will not help them pay for. Things like prescription drugs and medical supplies – which are very important for managing chronic disease – are easier to get covered or to at least get a portion of the costs shared on a Medicare Advantage plan. But that's not all you can get out of Medicare Part C (which is another name for Medicare Advantage in Florida).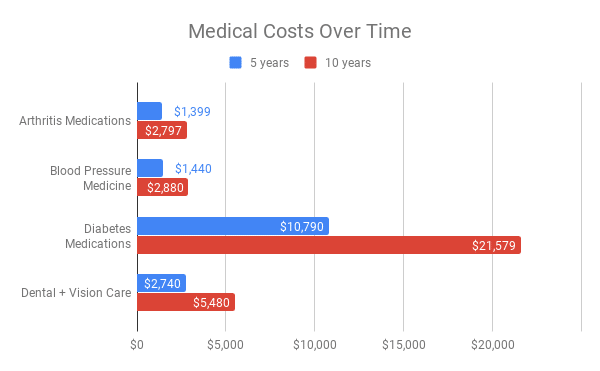 Some of the additional coverage options you have the chance to purchase include vision or dental coverage. Many Medicare Advantage plans also come with a prescription drug option. Your Medicare Advantage company will choose which dentists and eye doctors you are allowed to see, and you will likely need to stay within that medical network if you want the most affordable care (or if you want your health insurance provider to pay out claims). Another limitation of Medicare Advantage is that you cannot enroll in Medicare Part D prescription drug coverage; but most Medicare Advantage companies make their prescription drug coverage price-competitive with Medicare Part D, so this usually isn't a concern for most seniors.
Medicare Supplement (Medigap) Savings in Sarasota, FL
All of that being said, it helps explain why 42% of Sarasota seniors have chosen a Medicare Advantage plan. This is pretty high compared to most other parts of the country. But not everyone has hopped on board the Medicare Advantage train. Some seniors are perfectly happy with the Medicare benefits they have, and don't need some big, complicated, customized plan for themselves. For these people, Medicare Supplement Insurance in Sarasota is a better value. It focuses on plugging the holes in Traditional Medicare coverage only, which can make things a lot less expensive for many seniors.
The Medigap plan you purchase will depend largely on which gaps in Original Medicare coverage concern you the most. Some plans dedicate most of their resources to supplementing your Medicare Part A benefits, which are your hospital costs. Expensive conditions like coronary disease and renal failure are two of the most common and the most costly health ailments which are not completely covered by Original Medicare. If you are only concerned with the coverage gaps in Medicare Part A, then you're going to want to take a closer look at Medigap Plans A, D, K, or L in order to protect yourself from those expenses.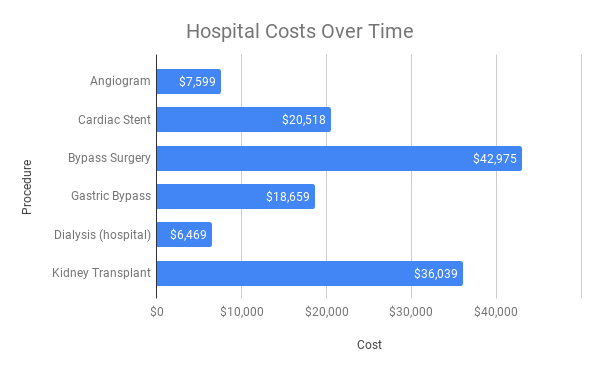 If you require frequent doctor visits, if you're big on preventative care, or if you want more help with your co-pays and your coinsurance costs, then you want to look at a Medigap plan which helps you pay for these expenses. Those plans include B, C, F, G, M, and N. In addition to helping you pay for your hospital costs, these Medigap plans will help take a bite out of your out-of-pocket expenses associated with gaps in Medicare Part B coverage. The most comprehensive of all the Medigap plans is Plan F, but it will no longer be available for purchase after 2020 – so if you want it, you'll have to act fast.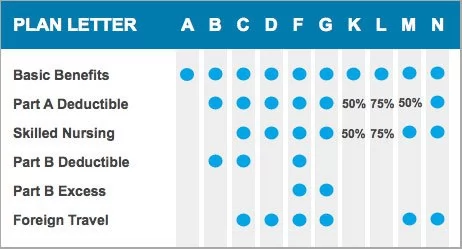 Because Medigap insurance policies are smaller than Medicare Advantage policies, you won't have the option to add prescription drug coverage or other supplementals to the same plan. To cover your prescription drugs, you'll need to enroll in the federal Medicare Part D Prescription Drug Program. In order to get dental and vision coverage, you'll have to enroll in those separately through a private provider. If you think this means your costs will go up, ask around and see if any vision or dental providers in your area offer discounts for seniors. You may be surprised by the deals you can get – for some residents, a Medigap policy is still the more affordable option, and more than adequate enough to meet their needs.
If you're going to be spending your golden years in Sarasota, you should at least be able to get affordable medical care while you do so. But your medical care can become very unaffordable very quickly if you don't purchase the right supplemental insurance to protect you from expensive Medicare coverage gaps. If you're still confused about which plan is right for you, we understand. And we want to help you – so we strongly encourage you to reach out to our customer service representatives. They're standing by ready to take your call right now.
| | | | |
| --- | --- | --- | --- |
| Medigap Plan | Minimum Monthly Premium | Maximum Monthly Premium | Average Estimated Monthly Premium (Part B Premium Included) |
| Plan A | $157 | $363 | $396 |
| Plan B | $188 | $394 | $427 |
| Plan C | $218 | $500 | $495 |
| Plan D | $239 | $416 | $463 |
| Plan F | $219 | $505 | $498 |
| Plan F (high deductible) | $76 | $179 | $263 |
| Plan G | $203 | $472 | $473 |
| Plan K | $78 | $181 | $265 |
| Plan L | $131 | $256 | $329 |
| Plan M | $231 | $374 | $438 |
| Plan N | $158 | $379 | $404 |