Did you decide to retire and enjoy your golden years in Bellevue because of the beautiful view? Well, you'll definitely need something nice to look at if you don't purchase supplemental Medicare coverage, because your medical bills may soon become a very ugly sight. You can end up paying tens of thousands of dollars or more in out-of-pocket expenses if you don't protect yourself with a Medicare Advantage or a Medicare Supplement Insurance policy. We will discuss the differences between these two below, and we'll also talk about why it's important to make a decision now before it's too late.
Facts and Figures
There are 20,811 senior citizens living in Bellevue right now
There are 10 hospitals in the Bellevue area where seniors can get emergency and/or in-patient care
30% of Washington seniors have a Medicare Advantage plan
21% of seniors have a Medicare Supplement (Medigap) plan
Which leaves 49% of seniors potentially uninsured or underinsured against costly Medicare coverage gaps!
Have you tried to sit down and budget for your future medical expenses? We know it's a challenging task, since you can't exactly predict whether or not you'll get something like a cancer diagnosis or fall and break your hip. But you can predict expenses if you have a chronic disease. Rates of chronic disease are shown in the chart below for Bellevue residents. Chances are you already have one – or more than one – of these conditions. And if you do, you need to supplement your Medicare coverage before it's too late.
| | |
| --- | --- |
| Disease | Prevalence in Bellevue |
| Arthritis | 21% |
| High Blood Pressure | 28% |
| Coronary Heart Disease | 7% |
| Diabetes | 8% |
| Kidney Disease | 3% |
Healthcare Costs in Bellevue, WA
Let's use the example of arthritis to illustrate how sneaky chronic disease can become overtime. Right now, you may have minor aches and pains that can be taken care of with an over-the-counter painkiller or a relatively cheap prescription. But over time, the pain can get so bad that you need more than one prescription, or an expensive drug that is hard to come by. You might need steroid injections to keep the inflammation at bay so that the pain isn't unmanageable. You might even need a joint replacement surgery, which could require several days in a hospital or extra blood transfusions which might not be covered due to Medicare coverage gaps. And that's just one of the many ways in which chronic disease can cost you a lot of money due to these coverage gaps.
| | | |
| --- | --- | --- |
| Disease | Prevalence in Bellevue | Annual Cost of Treatment |
| Arthritis | 21% | $291 |
| High Blood Pressure | 28% | $354 |
| Coronary Heart Disease | 7% | $8,418 |
| Diabetes | 8% | $2,163 |
| Kidney Disease | 3% | $7,959 |
Medicare Advantage Savings in Bellevue, WA
Nearly one-third of seniors in Bellevue I've decided to supplement their Medicare needs with a Medicare Advantage plan. These are actually Private health insurance plans; they aren't offered or managed by the federal government. But they contain identical benefits, and often offer more coverage options than what you would get with Medicare part A and B. The government helps pay a part of your monthly premium since you have paid into the Medicare system during your working yours. For some seniors, this means that they can get a deeply discounted or even $0 monthly premium for their Medicare Advantage plan.
How easy and convenient would it be to manage all of your medical coverage through one single, solitary entity? Medicare Advantage gives you that option. But it does so at a cost – literally. The more coverage you add to your policy, the more expensive your monthly premium will be. But due to the subsidies we mentioned, this could still make your monthly premiums relatively affordable. Furthermore, some seniors may be willing to pay a little extra each month in premiums for the convenience of not having to deal with multiple different insurance products from different providers.
Medicare Advantage is one of the only supplemental insurance options which will allow you to add dental, vision, and prescription drug coverage under the same insurance policy. Unfortunately, you can't get this with Original Medicare or Medigap. Original Medicare and Medigap have Medicare Part D prescription-drug coverage, but when you exceed your maximum spending limit and fall short of catastrophic coverage, you may end up paying 25% if your prescription drug costs out-of-pocket. This is important information for anyone he was on a lot of prescriptions, whose prescriptions are expensive, or both.
Medicare Supplement (Medigap) Savings in Bellevue, WA
With a Medigap policy, you get to keep your federal Medicare benefits just the way they are. Then you choose one of the 10 available Medigap policies to purchase, and if you get hit with a coverage gap, your Medigap policy will pay for most or all of those expenses based on the plan you choose. This means you are third in line to receive a bill for your medical expenses, assuming there's any unpaid expenses left over after Medicare and Medigap have pitched in.
Are you specifically worried about the Medicare coverage gaps in your Part A hospital expenses? Then look no further than Medigap plans A, D, K, or L. These plans have tailored their coverage options specifically to focus on Medicare Part A coverage gaps. Most of the time, monthly premiums on these four plans are less expensive than the other six, even though they're actually protecting you from some of the most expensive coverage gaps in all of Medicare. But if you think Medicare Part B coverage gaps could still be a potentially costly problem for you as well, make sure you review all available plans to get your best coverage options.
For the most comprehensive Medigap plans available, look no further than Plans B, C, F, G, M, or N. These plans offer the same Medicare Part A hospital benefits that you'll find in the other four plans, as well as comprehensive coverage for Medicare Part B coverage gaps like coinsurance or excess charges. The most comprehensive of all the plans is Medigap Plan F. But it is being phased out soon. If you can enroll in Medigap before January 2021, we strongly suggest you take the opportunity to get grandfathered into Plan F before it is too late. Alternatively, Plans G or C can offer very similar levels of coverage for around the same price.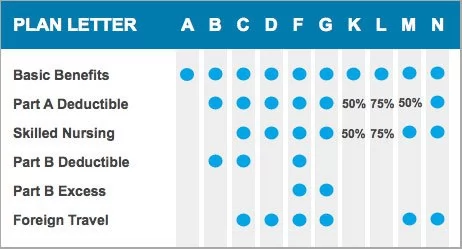 Just because Medigap insurance doesn't offer dental or vision coverage doesn't mean you don't need it. After all, your eyes and your teeth aren't getting any younger; you still need to take care of them in order to maintain optimal health. Luckily, you can get fairly affordably-priced dental and vision insurance from local providers if you know how and where to look. Also, the federal government does have Medicare Part D for prescription drug coverage available for seniors who need it. Is it a little inconvenient to manage all of these separate coverages through different entities? Yes. But can it save you money over a Medicare Advantage policy? That depends entirely upon your own unique personal circumstances.
Medicare can be confusing. It's no fun to try and sort through the mess all on your own. So why not let us help? Don't just sit there in front of your computer reading static words on a page – reach out and contact us right now for assistance getting quotes from Medicare supplement insurance providers near you. We will do our best to make sure you have factual, helpful information that can get you closer to the medical coverage you need at a cost you can afford.
| | | | |
| --- | --- | --- | --- |
| Medigap Plan | Minimum Monthly Premium | Maximum Monthly Premium | Average Estimated Monthly Premium (Part B Premium Included) |
| Plan A | $96 | $221 | $294 |
| Plan B | $156 | $267 | $347 |
| Plan C | $180 | $313 | $382 |
| Plan D | $178 | $237 | $343 |
| Plan F | $182 | $314 | $384 |
| Plan F (high deductible) | $44 | $88 | $202 |
| Plan G | $171 | $273 | $358 |
| Plan K | $57 | $115 | $222 |
| Plan L | $124 | $177 | $286 |
| Plan M | $162 | $238 | $336 |
| Plan N | $134 | $198 | $302 |