Allentown, Pennsylvania, has just about everything that you might want in a retirement community. With 10 hospitals, there is plenty of access to healthcare. Unfortunately, if you're on Medicare, you still might not be able to afford to get the treatment that you both need and deserve. Medicare coverage gaps might leave you with the choice to either avoid receiving treatment for your symptoms or to spend thousands of dollars in out-of-pocket expenses every year. Fortunately, seniors in Allentown have discovered two potential ways out: enroll in a Medicare Advantage plan or enroll in a Medicare Supplement plan.
Facts and Figures
There are 14,329 seniors living in Allentown right now.
There are 10 hospitals in the Allentown area where seniors can get emergency and/or in-patient care.
41% of Pennsylvania seniors have a Medicare Advantage plan.
27% of Pennsylvania seniors have a Medicare Supplement (Medigap) plan.
Which leaves 32% of seniors potentially uninsured or underinsured against costly Medicare coverage gaps!
Just about a third of all seniors in Allentown lack the proper level of insurance necessary to guarantee them reliable access to affordable healthcare. That means that one out of every three seniors in the Allentown area lacks the ability to seek treatment without having to pay large sums of money to the Medicare coverage gaps. If you're one of those seniors, there's some more bad news. The more you age, you more likely you are to develop new symptoms. Whether that means more symptoms related to your existing conditions or symptoms related to an entirely new diagnosis depends on your personal circumstances. Unfortunately, even as your risk of developing a new age-related illness increases, so too do the frequency and severity of many of your existing symptoms. According to the data below, more than one third of all seniors in Allentown, Pennsylvania currently suffer from at least one age-related illness.
| | |
| --- | --- |
| Disease | Prevalence in Allentown, PA |
| Arthritis | 28% |
| High Blood Pressure | 34% |
| Coronary Heart Disease | 7% |
| Diabetes | 7% |
| Kidney Disease | 3% |
Healthcare Costs in Allentown, PA
Healthcare costs in Allentown, and just about everywhere else in the country, are on the rise. Even if your symptoms remain the exact same from year to year, you would find that you are still paying more next year than you paid last year. Unfortunately, that's not the case for most seniors. Generally speaking, seniors experience a worsening of symptoms as they age. Symptoms simply do not tend to stay the same for very long. By relying on a healthcare insurance plan like Traditional Medicare, you could end up paying thousands of dollars each year in out-of-pocket expenses as a result of Medicare coverage gaps. The results can be particularly crippling to your financial and personal independence if you happen to have been diagnosed with kidney or heart disease, as the chart below shows.
| | | |
| --- | --- | --- |
| Disease | Prevalence in Allentown, PA | Annual Cost of Treatment |
| Arthritis | 28% | $291 |
| High Blood Pressure | 34% | $354 |
| Coronary Heart Disease | 7% | $8,324 |
| Diabetes | 7% | $2,163 |
| Kidney Disease | 3% | $7,678 |
Medicare Advantage Savings in Allentown, PA
The most popular of the two methods that Allentown seniors are using to avoid having to pay Medicare coverage gaps is to enroll in a Medicare Advantage plan. These plans are provided by private providers rather than the government and serve to replace your existing Traditional Medicare insurance plan. The government requires that all Medicare Advantage plans provide, at the bare minimum, the exact same level of benefits as Traditional Medicare. But the reality is that many Medicare Advantage providers offer substantially more than that. Of course, those extra benefits are going to cost you extra. More accurately, they're going to cost the government and taxpayers extra whereas you aren't going to have to pay a penny. Instead, the government will handle most or all of your Medicare Advantage premiums.
One of the key benefits of Medicare Advantage plans is that they enable you to add comprehensive prescription drug coverage options to your array of insurance benefits. Many seniors who rely on large numbers of prescription medications each night have found that Traditional Medicare (and even Medicare Part D prescription drug coverage) simply cannot provide enough help affording prescription medications. If you're in the same boat, you might want to start sailing for smoother waters by enrolling in a Medicare Advantage plan. The savings can be particularly great if you suffer from arthritis, high blood pressure, or diabetes. With the addition of minor medical equipment coverage, which covers things like glucose monitors and testing strips, your savings can really add up over time.
One of the most noteworthy differences between Medicare Advantage plans and Medicare Supplement and Traditional Medicare plans is the option of adding vision and dental care coverage directly to your Medicare Advantage plan. Neither of the other two plans allow that sort of flexibility in coverage options. In fact, Medicare Supplement insurance and Traditional Medicare insurance barely provide any sort of coverage whatsoever when it comes to dental and vision care. In order for either of those two plans to cover dental or vision treatments, those treatments almost always have to be considered emergency treatments. Even then, the coverage gaps can make paying for your insurance quite a hassle.
Medicare Supplement (Medigap) Savings in Allentown, PA
Of course, there are quite a few positives to enrolling in a Medicare Supplement insurance plan. More commonly known as Medigap, these plans simply supplement the existing coverage options found in your Traditional Medicare plan, making it possible to continue to receive those benefits without ever having to worry about Medicare coverage gaps. All in all, there are ten different Medigap plans and each one is different from the others. As a general rule of thumb, however, you can always count on any Medigap plan to provide assistance affording treatments related to Medicare Part A coverage gaps, which can be particularly burdensome if you're suffering from age-related heart and/or kidney disease.
The first Medigap plans that you should know about are Medicare Supplement insurance plans A, D, K, and L. As mentioned above, each of these plans provides coverage for expenses related to Medicare Part A coverage gaps. That includes things like hospitalizations, blood transfusions, skilled nursing care, and more. It is important to know that these benefits only apply to Medicare Part A coverage gaps. If you are having to pay out-of-pocket expenses related to Medicare Part B coverage gaps as well, then you're not going to get the coverage you need with one of these plan types.
Instead, you will need to look into one of the following Medicare Supplement plan types: B, C, F, G, M, or N. These plan types are capable of providing financial assistance for coverage gaps related to not only Medicare Part A but Medicare Part B as well. That means that things like emergency services as well as most other hospital-related treatments will be covered without you having to worry about coverage gaps. Unfortunately, Medigap Plan F is set to be discontinued after the end of the 2020 calendar year. That means that you should probably look into one of the other Medigap plans if you don't believe you will be able to complete the enrollment process for Plan F by the December 2020 deadline.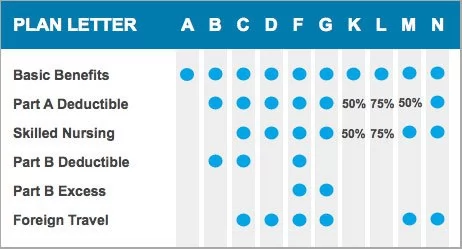 If you're wondering what to do about prescription drug coverage and dental and vision care coverage, worry no more. There are a couple of easy ways to ensure that you have access to all aspects of insurance to meet all of your healthcare needs. First, look into Medicare Part D prescription drug coverage. If you don't use too many prescription medications, Medicare Part D prescription drug coverage should provide more than enough benefits to help you ensure you stay in good health. Second, look into private providers of vision and dental care coverage plans in your area. Since you live in Allentown, it shouldn't be too difficult to locate a provider who is willing to offer decent coverage benefits at a great cost.
Seeing medical costs rise every year while your risk of developing new or worsening symptoms increases can cause quite a panic. Although it is definitely prudent to be worried about what might happen if you don't have proper health insurance, you don't have to stress. The next time open-enrollment comes around, simply enroll in a Medicare Advantage or Medicare Supplement plan and secure your financial and personal independence against the changing future. Head over to Medigap.com and start on the path to a safer, healthier future today!
| | | | |
| --- | --- | --- | --- |
| Medigap Plan | Minimum Monthly Premium | Maximum Monthly Premium | Average Estimated Monthly Premium (Part B Premium Included) |
| Plan A | $45 | $168 | $242 |
| Plan B | $56 | $192 | $260 |
| Plan C | $67 | $248 | $293 |
| Plan D | $83 | $216 | $285 |
| Plan F | $111 | $212 | $297 |
| Plan F (high deductible) | $34 | $67 | $186 |
| Plan G | $108 | $195 | $287 |
| Plan K | $50 | $73 | $197 |
| Plan L | $70 | $91 | $216 |