So you've chosen to spend your golden years in Elizabeth, New Jersey? Good for you! But you have another big decision to make: how to supplement your Medicare coverage. Because if you don't, you can end up with some very expensive medical bills as time marches on. Most seniors in New Jersey choose between either Medicare Advantage, or a Medicare Supplement Insurance policy. We'll explain the differences between these two below, and if you need more information in order to help you make a decision, we'll tell you how to get in contact with one of our Medicare experts.
Facts and Figures
There are 13,017 senior citizens living in Elizabeth right now
There are 3 hospitals in the Elizabeth area where seniors can get emergency and/or in-patient care
21% of New Jersey seniors have a Medicare Advantage plan
26% of seniors have a Medicare Supplement (Medigap) plan
Which leaves 53% of seniors potentially uninsured or underinsured against costly Medicare coverage gaps!
Being an Elizabeth resident, there's almost a 1 in 3 chance that you have one of the chronic diseases listed in the chart below. If that's true, then you need to act fast and get your medicare coverage gaps insured right away. Even if your health isn't in dire straits now, that will likely change in the future given the diagnosis of a chronic disease. And there's a high likelihood that the treatment and care you need won't be available for an affordable price due to Medicare coverage gaps.
| | |
| --- | --- |
| Disease | Prevalence in Elizabeth |
| Arthritis | 21% |
| High Blood Pressure | 32% |
| Coronary Heart Disease | 6% |
| Diabetes | 12% |
| Kidney Disease | 3% |
Healthcare Costs in Elizabeth, NJ
Most chronic disease doesn't have noticeable symptoms in the early stages. It's when you get to the middle and late stages that it starts to get burdensome. In order to alleviate that burden, you're going to need more frequent and more expensive medical treatment. Eventually, you may find yourself at a point where you need so much care so frequently that some of it is not covered due to Medicare coverage gaps. An extended hospital stay after a heart attack due to cardiovascular disease, for example, might not be covered by your Medicare Part A benefits; are you financially prepared to handle your medical expenses if that happens to you? Even your daily needs like prescription drugs and regular outpatient treatment can cost a substantial amount of money, and not all of it will be taken care of by Medicare as the chart below illustrates.
| | | |
| --- | --- | --- |
| Disease | Prevalence in Elizabeth | Annual Cost of Treatment |
| Arthritis | 21% | $294 |
| High Blood Pressure | 32% | $356 |
| Coronary Heart Disease | 6% | $8,882 |
| Diabetes | 12% | $2,173 |
| Kidney Disease | 3% | $8,563 |
Medicare Advantage Savings in Elizabeth, NJ
The first option we're going to talk about for supplementing your Medicare coverage gaps is Medicare Advantage. If you decide to enroll in a Medicare Advantage plan, you will effectively be trading in your federal Medicare coverage for a private insurance plan which offers identical medical benefits. On top of that, many providers will offer you additional coverage options in order to sweeten the deal. But just because you're giving up your federal benefits does it mean you wasted money over the years paying into the Medicare system; seniors with a Medicare Advantage plan get a substantial subsidy which helps pay for their monthly premiums. Some singers can't even get a plan for as little as $0 per month thanks to this.
Medicare Advantage plans can be large and complex. But in exchange, you get convenience. With other supplement options like Medigap, you can't add additional coverage options and customize the policy to suit your exact needs. But with Medicare Advantage, you can add things like dental, vision, and comprehensive prescription drug coverage and manage them all under one single policy. For many seniors, they get this convenience at an affordable price compared to their other options. Other seniors may see their Medicare Advantage costs exceeding those of similar options, but may believe that the convenience is well worth the premium price.
The three most popular coverage add-ons for Medicare Advantage are, in fact, vision, dental, and comprehensive prescription drug coverage. You can't get any of these options added on to a Medigap policy. And we'd like to point out that comprehensive prescription drug coverage, depending on your plan, could offer better coverage than Medicare Part D under Medigap. Medicare Part D has a "donut hole" coverage gap where only 75% of your prescription costs are covered if you exceed a certain limit, yet still fall short of catastrophic coverage qualifications. Your Medicare Advantage plan may have something similar, or it might not. You'll have to talk to your Medicare Advantage insurance agent if you have specific and expensive prescription needs.
Medicare Supplement (Medigap) Savings in Elizabeth, NJ
Medigap, on the other hand, doesn't replace your Medicare benefits the way Medicare Advantage does. Instead, it's supplements just those coverage gaps that Original Medicare won't pay for. So instead of receiving a hospital bill or an invoice from your doctor for an expense related to coverage gaps, your Medigap supplement will handle most of those expenses. You will only ever see a bill after Medicare and Medigap have both pitched in their fair share.
Let's start by talking about Medigap plans A, D, K, and L. These are the plans that take care of the gaps in Medicare Part A coverage. Medicare Part A deals with hospital expenses and end-of-life care. There are a lot more expensive coverage gaps associated with Medicare Part A compared to Medicare Part B; for this reason, there are four specific Medigap plans designed to handle these specific concerns. If you aren't worried about the coverage gaps in Medicare Part B, you could save money by choosing among one of these four plans since they usually have less expensive monthly premiums than any of the other six plans. However, Medicare Part B coverage gaps can be expensive if you aren't careful, which makes the other plans cost effective for many seniors.
The other Medigap plans provide a combination of medical benefits which cover varying degrees of Medicare Part A as well as Medicare Part B coverage gaps. These plans are B, C, F, G, M, and N. Typical Part B coverage gaps include things like coinsurance, co-pays, and excess costs. Plan F is the most comprehensive, but it is being phased out at the end of 2020. If you want to get grandfathered into these benefits before they are gone, you need to hurry up and enroll in Plan F now before it's too late. Otherwise, you can look at a plan with a similar level of comprehensiveness like Plan C or Plan G.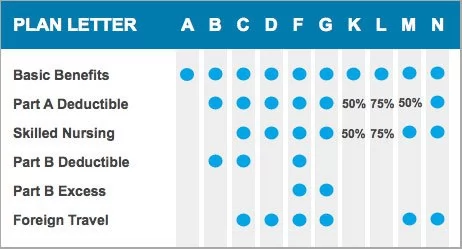 As we touched on earlier, you can't get extra coverages like dental, vision, or prescription drugs tacked directly onto a Medigap plan. Staying enrolled in Medicare means that you will have to also enroll in Medicare Part D in order to get your prescription drugs covered. Furthermore, for dental and vision care, you will have to look elsewhere and get a private insurance policy from a local provider. But these policies are usually relatively inexpensive, and may even come with discounts or other benefits because you are a senior. Yes, it's inconvenient to manage multiple different policies at the same time, but it could also provide you with the coverage you need at a substantially lower cost.
How do you feel about what you've read so far? Do you think you now have enough information to make a good decision, or are you still a little confused? If it's the latter, that's okay. That's what we are here for. We strongly encourage you to contact our experts today for expert advice on how to choose the plan that's best for you and your needs. But the longer you wait, the more expensive it will become – so don't delay!
| | | | |
| --- | --- | --- | --- |
| Medigap Plan | Minimum Monthly Premium | Maximum Monthly Premium | Average Estimated Monthly Premium (Part B Premium Included) |
| Plan A | $99 | $234 | $302 |
| Plan B | $139 | $290 | $350 |
| Plan C | $165 | $329 | $383 |
| Plan D | $277 | $277 | $413 |
| Plan F | $157 | $314 | $371 |
| Plan F (high deductible) | $48 | $86 | $203 |
| Plan G | $139 | $269 | $340 |
| Plan K | $54 | $124 | $225 |
| Plan L | $78 | $149 | $249 |
| Plan M | $154 | $158 | $292 |
| Plan N | $109 | $225 | $303 |