It's quite ironic that living in a city named Independence can cause you to lose your financial and personal independence. Despite there being ample access to healthcare in Independence, the presence of Medicare coverage gaps has led thousands of seniors to be incapable of affording their healthcare. Since Medicare coverage gaps often leave seniors with the choice of either paying thousands of dollars in annual out-of-pocket expenses or going without the treatment that they both need and deserve, many seniors just like you have started losing their independence piece by piece as they seek more and more help. Fortunately for you, there are thousands of seniors in the Independence area who have figured out a way to avoid the burdensome out-of-pocket expenses related to Medicare coverage gaps: enroll in either a Medicare Advantage or Medicare Supplement Insurance plan.
Facts and Figures
There are 20,461 seniors living in Indepence right now.
There are 5 hospitals in the Independence area where seniors can get emergency and/or in-patient care.
31% of Missouri seniors have a Medicare Advantage plan.
27% of Missouri seniors have a Medicare Supplement (Medigap) plan.
Which leaves 42% of seniors potentially uninsured or underinsured against costly Medicare coverage gaps!
More than two out of every five seniors in Independence, Missouri, face a daily struggle to obtain access to healthcare options that they both need and deserve. If you're one of those thousands of seniors, then there are a few more things that you should know. Healthcare professionals have long studied the effects of aging on the body's health. Unfortunately, as you age, your risk of developing another age-related illness increases. You could theoretically develop each and every illness on the list below. To make matters worse, your risk of developing new or worsening symptoms also increases with age and so too do the frequency and severity of those symptoms. The chart below demonstrates just how common some of the most debilitating age-related illnesses are in Independence.
| | |
| --- | --- |
| Disease | Prevalence in Independence, MO |
| Arthritis | 29% |
| High Blood Pressure | 34% |
| Coronary Heart Disease | 7% |
| Diabetes | 11% |
| Kidney Disease | 3% |
Healthcare Costs in Independence, MO
As you age, your healthcare costs are going to increase. Even if you maintain perfect health and your symptoms remain the same year after year, you're going to see higher healthcare costs each passing year. Why? Because medical costs are the rise in almost every category, whether you use your benefits or not. Unfortunately, for many seniors, having symptoms that remain the same from one year to the next is little more than a dream. For most seniors, symptoms increase in frequency and severity as you age, further driving up healthcare costs. Since seniors are living longer lives now than ever before, there will also be more time in your life for both of these phenomena to take effect. That means that your healthcare costs will be able to increase to higher levels than other generations.
| | | |
| --- | --- | --- |
| Disease | Prevalence in Independence, MO | Annual Cost of Treatment |
| Arthritis | 29% | $294 |
| High Blood Pressure | 34% | $356 |
| Coronary Heart Disease | 7% | $9,187 |
| Diabetes | 11% | $2,173 |
| Kidney Disease | 3% | $8,569 |
Medicare Advantage Savings in Independence, MO
Nearly a third of all seniors in Independence have already enrolled in a Medicare Advantage plan, which is a private insurance plan provided by a private business in order to replace your Original Medicare plan. Since the government requires that all providers of Medicare Advantage plans provide the same basic level of coverage benefits as Original Medicare, you won't have to worry about losing any of your favorite coverage options. In fact, many providers of Medicare Advantage plans also offer the option to add additional coverage options directly to your insurance plan in exchange for paying higher premiums each month. Granted, the government is typically willing to pay all or most of your premiums, meaning that it's possible to enjoy all of the additional benefits that Medicare Advantage plans have to offer while bearing none of the costs.
One popular coverage option that you can add to your Medicare Advantage plan is prescription drug and minor medical equipment coverage. For seniors suffering from arthritis, high blood pressure, or diabetes, this can help you save quite a bit of money every month. That's because these plans come with an expansive array of comprehensive coverage benefits designed to help even those seniors who rely on a large number of prescription medications and medical equipment such as glucose monitors and testing strips. If you happen to be suffering from one or more of those or similar illnesses, then your savings with a Medicare Advantage prescription drug plan could really add up over time. The graph below shows the effects over the five- and ten- year periods.
Another couple of popular coverage options for Medicare Advantage beneficiaries are vision care and dental care coverage. Typically bundled together, vision and dental care insurance coverage can be added directly to your Medicare Advantage plan. That's an option that is exclusive to Medicare Advantage plans, meaning that neither a Medicare Supplement Insurance plan nor an Original Medicare plan are capable of doing that.
Medicare Supplement (Medigap) Savings in Independence, MO
Medicare Supplement Insurance plans are commonly referred to by the name Medigap. Medigap plans come in a variety of ten different options (A, B, C, D, F, G, K, L, M and N), each with its own particular benefits and costs. One thing that every one of the ten plan types have in common, however, is the fact that they provide some kind of benefit for Medicare Part A coverage gaps, which tend to be exceptionally burdensome for seniors suffering from age-related heart and/or kidney disease.
The first few plans to look at are Medigap plans A, D, K, and L. These plans provide substantial financial assistance when it comes to paying off Medicare Part A coverage gaps. That includes things like hospitalizations, blood transfusions, and skilled nursing care. Although these plans can be great options for you if you're experiencing high out-of-pocket costs as a result of Medicare Part A coverage gaps, they won't help you at all when it comes to Medicare Part B coverage gaps. If you're only experiencing Medicare Part A coverage gaps, then one of these plans might be a great option. However, if you're experiencing both coverage gaps or only Medicare Part B coverage gaps, then you're not going to want to use one of these plan types.
The remaining Medicare plan types are Medigap plans B, C, F, G, M, and N. These plans provide benefits similar to those of the aforementioned plans, but also provide extensive coverage options for coverage gaps related to Medicare Part B. Not only do these plans make it possible to enjoy hospitalization coverage, they also make it possible to enjoy most emergency services and many different kinds of ambulance rides. Of course, it is important to note that Medicare law is constantly changing and not all plans stay the same forever. For example, the government has decided to discontinue Medicare Plan F at the end of 2020. So it is important to keep an eye out for changes by speaking with an expert before you enroll in a plan.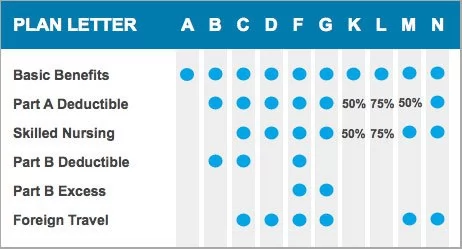 As mentioned earlier, it is impossible to add prescription drug coverage or vision and dental care coverage directly to your Medigap plan, but that doesn't mean that you won't be able to enjoy access to those coverage options. You'll simply have to look elsewhere. For prescription medications, you could enroll in Medicare Part D prescription drug coverage. Many seniors find that Medicare Part D covers just about everything that they need, although there is still the risk of coverage gaps associated with Medicare Part D (also called the "Donut Hole"). For vision and dental care coverage, you can easily enroll in a private provider's insurance plan. This can be done at any time of the year, since vision and dental care plans typically do not have to wait for an open-enrollment period.
While medical costs continue to rise and your risk of developing new or worsening symptoms is higher than ever before, taking control of your health insurance is incredibly important. By relying on Original Medicare, you risk having to pay thousands of dollars in out-of-pocket expenses for another year before the Open Enrollment Period comes back around again. So don't put it off for another twelve months. Head over to Medigap.com today and get started on your journey to a brighter, healthier future.
| | | | |
| --- | --- | --- | --- |
| Medigap Plan | Minimum Monthly Premium | Maximum Monthly Premium | Average Estimated Monthly Premium (Part B Premium Included) |
| Plan A | $99 | $260 | $315 |
| Plan B | $136 | $296 | $352 |
| Plan C | $163 | $357 | $396 |
| Plan D | $142 | $228 | $321 |
| Plan F | $137 | $270 | $339 |
| Plan F (high deductible) | $30 | $93 | $197 |
| Plan G | $123 | $248 | $321 |
| Plan K | $64 | $126 | $231 |
| Plan L | $106 | $185 | $281 |
| Plan M | $137 | $225 | $317 |
| Plan N | $104 | $196 | $286 |