Out of all the cities in Michigan, Warren is the third largest. Parks, churches, theaters, plenty of hospitals, Warren has everything that retirement aged people would want. Unfortunately, life isn't that simple. Just because there are multiple hospitals in the Warren area doesn't mean that the healthcare that they offer is at all affordable. Thanks to the existence of Medicare coverage gaps, people like you could end up spending thousands of dollars each year in out-of-pocket expenses just to enjoy the quality of healthcare that you need and deserve. If you've been caught off-guard by these Medicare coverage gaps, it's important to know that you're not alone and you're definitely not trapped. Thousands of seniors just like you have found two ways to avoid Medicare coverage gaps in Warren: by switching to Medicare Advantage or Medicare Supplement (Medigap) insurance.
Facts and Figures
There are 20,995 seniors living in Warren right now.
There are 5 hospitals in the Warren area where seniors can get emergency and/or in-patient care.
34% of Michigan seniors have a Medicare Advantage plan.
22% of Michigan seniors have a Medicare Supplement (Medigap) plan.
Which leaves 44% of seniors potentially uninsured or underinsured against costly Medicare coverage gaps!
Just over half of all of Warren's seniors have enough health insurance to ensure reliable access to affordable healthcare. The other 44% are left with one of two options: rely on family and friends for help, giving up their financial independence in the process, or take out extra disbursements from their retirement accounts and hope that they aren't forced back into the workforce. With the presence of age-related illnesses, those two options will both run out, and quickly. Age-related illnesses increase in prevalence as you age, which is your doctor's way of saying that you are more likely to develop additional illnesses with each passing year. But that's not all. The illnesses that you develop also increase in both the frequency and severity of symptoms. Considering that more than a third of seniors in Warren already suffer from high blood pressure (see the chart below) and yet are still at risk of developing additional conditions, the problem is quite severe.
| | |
| --- | --- |
| Disease | Prevalence in Warren, MI |
| Arthritis | 22% |
| High Blood Pressure | 35% |
| Coronary Heart Disease | 8% |
| Diabetes | 12% |
| Kidney Disease | 3% |
Healthcare Costs in Warren, MI
As your health worsens, so too will the costs associated with paying for treatment. The chart below demonstrates just how expensive the aforementioned age-related illnesses can become soon after being diagnosed. If you continue to rely exclusively on Original Medicare, your out-of-pocket costs can increase significantly with each passing year. Increased need for treatment isn't the only factor leading to increased healthcare costs in Warren, Michigan. Medical expenses across the board have been increasing for everybody, not just seniors, making almost all kinds of healthcare less accessible and more expensive. Without decent insurance, you'll be forced to either go without the healthcare that you both need and deserve or to lose your financial independence in order to afford your treatments. Since seniors are living longer lives now than ever before, those problems have a greater amount of time to build up, compound, and worsen.
| | | |
| --- | --- | --- |
| Disease | Prevalence in Warren, MI | Annual Cost of Treatment |
| Arthritis | 22% | $280 |
| High Blood Pressure | 35% | $288 |
| Coronary Heart Disease | 8% | $7,954 |
| Diabetes | 12% | $2,158 |
| Kidney Disease | 3% | $7,458 |
Medicare Advantage Savings in Warren, MI
The most popular solution to the threat of Medicare coverage gaps in Warren is to enrol into a Medicare Advantage plan. These plans are different from Original Medicare in that they are privately owned and operated, meaning that the government – the provider of Original Medicare – is not directly involved. That said, the government still heavily regulates Medicare Advantage plans. One example of those regulations is the fact that Medicare Advantage plans are required by law to provide (at the bare minimum) the same level of coverage benefits as Original Medicare. Of course, that's only a minimum. Many providers of Medicare Advantage plans offer the option to add additional coverage benefits in exchange for higher premiums. Because of the fact that the government still takes care of all or most of your Medicare Advantage premiums, it's possible to enjoy all of those additional benefits but none of the additional costs.
Seniors struggling with chronic health conditions the likes of age-related arthritis, diabetes, and high blood pressure find that Medicare Advantage is the best option for them. That's because Medicare Advantage plans can enable you to enjoy virtually unlimited access to prescription medications and minor medical equipment, including necessities like glucose monitors and testing strips. If you take large amounts of prescription medications and find that Medicare Part D prescription drug coverage simply doesn't cut it, you will most likely be satisfied by Medicare Advantage. In both the long and short terms, Medicare Advantage plans can save you thousands of dollars.
Medicare Advantage plans can save you even more money each year if you decide to enrol in option vision and dental coverage in addition to your normal medical coverage. Orthodontists, dental surgeons, and even dental hygienists are then only a phone call away. Neither Original Medicare nor Medicare Supplement insurance plans are capable of providing the same level of care. In fact, Original Medicare plans cover almost no dental or vision care of any kind, unless your doctor claims that treatments administered in those categories are critically important in order to resolve an emergency health concern. Unfortunately, simple teeth cleanings and cavity fillings are hardly considered emergencies. With Medicare Advantage, you wouldn't have to worry about that.
Medicare Supplement (Medigap) Savings in Warren, MI
Medicare Supplement enables you to add additional coverage options to your Original Medicare in order to avoid the Medicare coverage gaps. Rather than by replacing your Original Medicare benefits, this is done by adding a second layer of protection on top of your existing Medicare benefits. This additional coverage can be implemented in one of ten different ways, each bringing with it its own set of pros and cons. That said, they all have one thing in common: each Medigap plan type includes increased coverage options designed to help you avoid Medicare Part A coverage gaps, which can be exceptionally high for seniors struggling with age-related heart and kidney disease. Some plans are more comprehensive than others, covering Medicare Part B as well, so it is incredibly important to understand the differences between the ten plans.
The first batch of plans covers Medicare Supplement plans A, D, K, and L. As mentioned above, these four plans help you avoid the coverage gaps caused by Medicare Part A and its related expenses. That can make healthcare costs associated with things like hospital stays, blood transfusions, and skilled nursing care much more affordable without you having to worry about falling prey to any of the costly Medicare coverage gaps. Unfortunately, these benefits apply solely to Medicare Part A coverage gaps and nothing else.
In order to receive coverage and protection from coverage gaps related to both Medicare Part A and Medicare Part B, you will want to consider enrolling in one of the following Medigap plan types: B, C, F, G, M, or N. Each of these plans provides benefits for Medicare Part A coverage gaps as well as Medicare Part B coverage gaps, meaning that just about everything from emergency services to hospital services will be covered by your insurance. If you like Medicare Supplement Plan F the most, there is a bit of bad news: that plan will no longer be offered after the end of 2020. But the good news is that if you act fast and enroll now, you'll be able to get grandfathered into the program and retain those benefits for life – as long as you pay your monthly premiums on time and in full.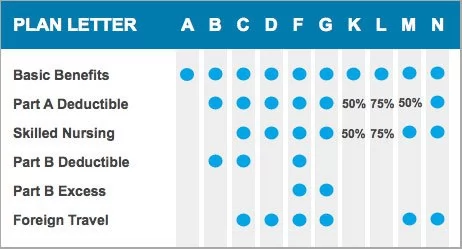 One of the biggest setbacks of Medigap plans is the fact that they do not allow you to enroll in additional coverage options such as prescription drug coverage or dental and vision care coverage. That said, securing access to those coverage categories is a relatively simple process, particularly if you hire an experienced team to help you. In regards to prescription drugs, you can enroll in a Medicare Part D prescription drug coverage plan. Those plans tend to be sufficient to meet the prescription needs of most seniors. For dental and vision care coverage, you could simply call a private insurance company and enroll in separate dental and vision insurance plans. That can usually be done for less than $100 per month, though that depends on a number of factors, including your chosen provider and how comprehensive the plan is.
Amid rising healthcare costs, increased risk of developing age-related illnesses, and a sea of legalese, it can be difficult to find an insurance plan that works for you. Unfortunately, it is more important to do so now than ever before and it is only going to become more important to do so as you age. By waiting, you risk exposing yourself to endless financial challenges and the potential loss of your independence. So don't wait! Head over to Medigap.com and start on your path to regaining control of your health insurance today!
| | | | |
| --- | --- | --- | --- |
| Medigap Plan | Minimum Monthly Premium | Maximum Monthly Premium | Average Estimated Monthly Premium (Part B Premium Included) |
| Plan A | $40 | $342 | $327 |
| Plan B | $115 | $238 | $312 |
| Plan C | $123 | $271 | $333 |
| Plan D | $163 | $169 | $302 |
| Plan F | $133 | $467 | $436 |
| Plan F (high deductible) | $32 | $57 | $180 |
| Plan G | $116 | $376 | $382 |
| Plan K | $44 | $80 | $198 |
| Plan L | $80 | $102 | $227 |
| Plan N | $96 | $151 | $259 |