The senior community in Waldorf, Maryland might be a smaller one, but that doesn't mean you should have to struggle to get the healthcare you need at an affordable rate. However, if you haven't prepared yourself against the potentially expensive gaps in Medicare coverage, you could be woefully vulnerable – and end up with a compromised bank account in addition to compromised health care. We put this page together to help seniors like you living in Waldorf, Maryland navigate the complexities of choosing the right Medicare supplement. By the time you finish reading this, you'll be amazed at how much you'll learn!
Facts and Figures
There are 6,029 senior citizens living in Waldorf right now

There are only 3 hospitals in the Waldorf area where seniors can get emergency and/or in-patient care

11% of Maryland seniors have a Medicare Advantage plan

21% of seniors have a Medicare Supplement (Medigap) plan

Which leaves 68% of seniors potentially uninsured or underinsured against costly Medicare coverage gaps!
This will come as a surprise to most seniors: but the most costly expenses you will face thanks to Medicare coverage gaps don't come from acute disease. In reality, the most expensive medical bills you will get will come from the Medicare coverage gaps that don't cover chronic disease treatment. You can see a list of the most popular chronic diseases in the chart below. If you already have at least one of these diagnoses, then you really can't afford to wait any longer. You need to choose a Medicare supplement plan and protect yourself as soon as possible.
| | |
| --- | --- |
| Disease | Prevalence in Waldorf |
| Arthritis | 27% |
| High Blood Pressure | 42% |
| Coronary Heart Disease | 6% |
| Diabetes | 12% |
| Kidney Disease | 3% |
Healthcare Costs in Waldorf, MD
Let's take a look at diabetes as an example of how Medicare coverage gaps can cause financially devastating expenses. The prescription drugs you need to keep diabetes under control will get more expensive as you age, because diabetes is a progressive disease. In the late stages, you can experience things like lower limb amputations, renal failure, and eye damage which can result in blindness. And guess what Medicare coverage gaps will leave you paying for out-of-pocket? Extended hospital stays and vision care, among other things. And you will have to enroll in Medicare Part D in order to cover your prescription drugs – but there are coverage gaps there, too.
| | | |
| --- | --- | --- |
| Disease | Prevalence in Waldorf | Annual Cost of Treatment |
| Arthritis | 27% | $291 |
| High Blood Pressure | 42% | $354 |
| Coronary Heart Disease | 6% | $8,309 |
| Diabetes | 12% | $2,163 |
| Kidney Disease | 3% | $6,844 |
Medicare Advantage Savings in Waldorf, MD
One fairly popular option is Medicare Advantage – although at 11%, it's not that popular in Maryland. with Medicare Advantage, you effectively opt out of your federal Medicare benefits and instead replace them by purchasing a private health insurance policy. But instead of paying that monthly premium all by yourself, you will receive a government subsidy due to the fact that you paid taxes into the Medicare system for most of your life. For many seniors, this means their Medicare Advantage plan can be as little as $0 each month, outside of cost sharing responsibilities like coinsurance and copays, that is.
Legally, Medicare Advantage must start with the same benefits you get from Medicare Parts A and B. If a Medicare Advantage company tries to offer less, they're breaking some serious laws. But most Medicare Advantage providers give you the option to purchase extra coverage such as riders for your Medicare coverage gaps, prescription drug coverage, dental, vision, and more. Although purchasing more coverage will make your monthly premiums more expensive, you still get your insurance for discounted monthly premium because of the government subsidy.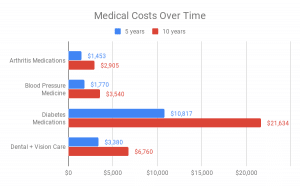 So why isn't Medicare Advantage more popular in Maryland? Some people may just have better qualifying coverage. Others might not be able to afford the monthly premium on a Cadillac plan like Medicare Advantage, even with a government subsidy. Still more seniors may just prefer the simplicity of the other, more popular option in the state – Medicare Supplement Insurance (Medigap).
Medicare Supplement (Medigap) Savings in Waldorf, MD
Whereas Medicare Advantage tries to cover everything to the point of replacing your Medicare benefits, Medigap insurance policies let you keep your Medicare benefits and only provide coverage for the gaps in Original Medicare. There are actually 10 different Medigap insurance plans to choose from depending on your needs. You will have to pay a relatively small monthly premium in order to get those benefits, and possibly other cost-sharing expenses depending on the plan you choose. But these plans are universal across all 50 states, so Plan A in Alaska offers you the same exact coverage as Plan A in California.
Different plans provide different levels of coverage. Medigap plans A, D, K, and L provide coverage when it comes to the gaps in Medicare Part A. Medicare Part A, in case you didn't know, handles your hospital expenses. Whether it's an extended stay, extra blood transfusions, or end-of-life care, things can get very expensive, very quickly if you don't do anything about these coverage gaps. Although there is a disadvantage with these four plans – namely, they don't cover any of the coverage gaps in Medicare Part B – you will enjoy a lower monthly premium with one of these four compared to the other six. So you just have to sit down and do a cost-benefit analysis of whether or not that is worth it to you.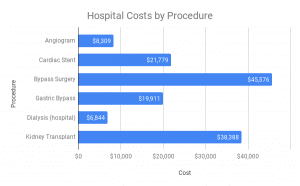 For many seniors, it might not be. They might be worried about the gaps in Part B benefits such as foreign travel insurance, coinsurance costs, excess charges, and more. Out of all of these plans, if you want the most comprehensive benefits your money can get, then you'll want to opt in for Medigap Plan F. But you want to do it as soon as possible. At the end of 2020, Plan F will be retired and new enrollees will no longer be able to enroll in those benefits. But if you enroll now before the end of the year, you will get to hold onto those benefits as long as you pay your premiums on time each month and as long as your Medigap provider stays financially solvent.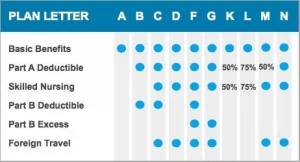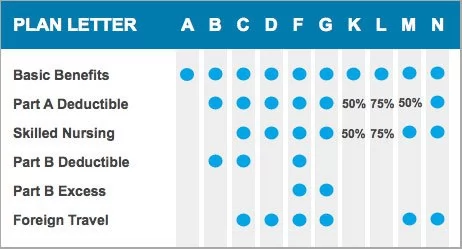 Another big difference between Medicare Advantage and Medigap is the fact that you have to accept the benefits that come with Medigap – there's no negotiation for adding or subtracting coverage. Fortunately, you can still purchase dental and/or vision insurance separately from local providers who will be more than happy to give you a good deal for being a senior citizen. you can also enroll in Medicare Part D, which is the federal prescription drug coverage program. As long as you keep your prescription costs low, you won't have any problems with it; but there is a gap in coverage between your annual maximum and the minimum threshold for catastrophic coverage where you could end up paying as much as 25% have your prescription costs out-of-pocket.
Although Medigap seems like the clear favorite compared to Medicare Advantage in Maryland, that might not be the best option for you. It all depends on your own, individual circumstances. We hope you've learned enough about these two different options to be able to make a good decision for yourself. But if not, we are more than happy to help. You can call or email us at any time in order to talk to one of our Medicare experts who can help point you in the right direction.
| | | | |
| --- | --- | --- | --- |
| Medigap Plan | Minimum Monthly Premium | Maximum Monthly Premium | Average Estimated Monthly Premium (Part B Premium Included) |
| Plan A | $98 | $270 | $320 |
| Plan B | $126 | $292 | $345 |
| Plan C | $159 | $303 | $367 |
| Plan D | $156 | $207 | $317 |
| Plan F | $151 | $344 | $383 |
| Plan F (high deductible) | $31 | $94 | $198 |
| Plan G | $126 | $310 | $354 |
| Plan K | $58 | $151 | $240 |
| Plan L | $92 | $241 | $302 |
| Plan M | $129 | $284 | $342 |
| Plan N | $100 | $240 | $306 |