CareFirst is an affiliate of the Blue Cross and Blue Shield Association. CareFirst's service area and plans are for people that live in Maryland, Washington D.C., and Northern Virginia. Founded in 1935, its enrollees include about 75% of the Medicare beneficiaries in Maryland.
CareFirst Supplemental Medicare plans
CareFirst's product offerings include Medicare Advantage, prescription drug plans, and Medicare Supplement plans. We'll go over what Medicare Supplements are and Which Medicare Advantage plans they offer.
After that, we'll talk about the Medicare Part D plans and the financial strength ratings of CareFirst. Finally, we'll provide a review, answer a few common questions, and show you how to get help with CareFirst Medicare plans.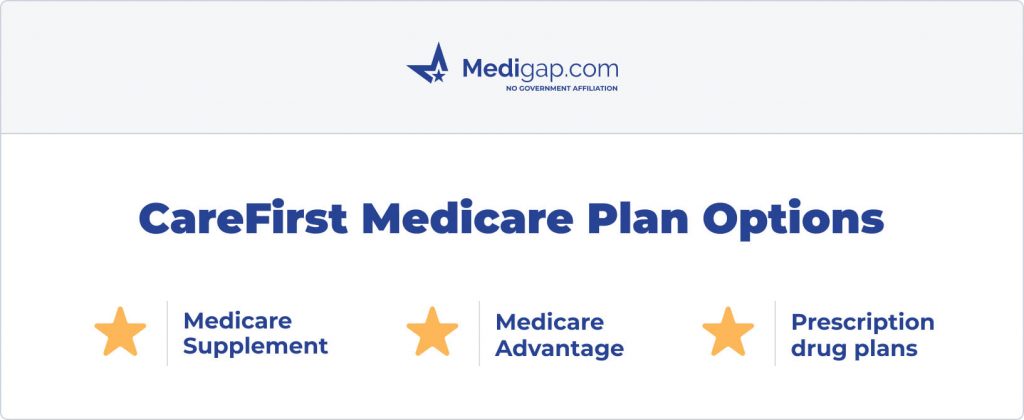 CareFirst Medicare Supplement plans
There are ten Medicare Supplement plan options available to Medicare Beneficiaries. These plans are coverages that add to your traditional Medicare coverage to help cover your portion of the health care costs. Most Medicare beneficiaries choose to enroll in the most popular programs. These plans will include a separate monthly premium on top of your Part B premium.
CareFirst BCBS offers all ten Medigap health plans, including the high deductible Plans HDF and HDG. Plan F, Plan N, and Plan G are the most commonly enrolled plans.
These plans are regulated and standardized by the federal government. Standardization means except for three states. The coverage is the same regardless of where you live or which insurance carrier you choose to enroll with. Remember, Medigap plans don't include prescription drug coverage, so you must add a Part D plan to get prescription drug coverage.
CareFirst Medigap plans in Maryland are among the top choices for beneficiaries living in the area.
CareFirst Medicare Advantage plans
Medicare Part C is called Medicare Advantage. These plans take all your Medicare benefits and enroll them into one easy-to-use program that, in most cases, will include drug coverage. In addition, they have plan extras such as gym memberships, dental coverage, vision plans, and more.
Most CareFirst BlueCross BlueShield Medicare Advantage plans are HMO or PPO options. A PPO will allow you to see in and out-of-network providers. In-network providers will have lower copays in most cases. HMO plans require seeing your primary care physician and getting specialist referrals. HMO plans are designed with wellness at the forefront to attempt to find concerns fast and treat them early.
Medicare Part D prescription drug plans
Part D of Medicare is coverage you use when picking up prescriptions from the pharmacy. You can pick up your prescriptions using stand-alone drug plans or a Medicare Advantage plan with drug coverage. Private insurance companies provide Medicare Part C and D. They are monitored and regulated by the Centers for Medicare & Medicaid Services.
CareFirst Medicare pros and cons
Pros
BCBS Affiliate
Provides Medicare Supplement, Medicare Advantage, and Part D options
High customer satisfaction
Cons
Coverage isn't available in all areas.
Financial strength is a little lower than some of their competitors
CareFirst financial strength ratings
Insurance carriers that provide Medicare plans are reviewed and rated by their financial strength. Financial solid ratings usually indicate more competitive premiums and lower rate increases.AM Best, Moodys, and Standard & Poors are the primary companies that do these independent reviews.
CareFirst reviews
BCBS is one of the most trusted brands in health insurance. CareFirst has a close affiliation with BlueCross BlueShield. They offer all three types of Medicare insurance options. Their Medicare Advantage plans are designed for people that see providers from the following:
Adventist Health Care
Anne Arundel Health Systems
MedStar
Privia Health
Doctor's Community Hospital
LifeBridge Health
Frederick Health
Tidalhealth/Peninsula Regional Medicare Center
and their affiliated providers
FAQs
Is CareFirst the same thing as BlueCross BlueShield?
Yes! CareFirst is an affiliate of BlueCross BlueShield. Their operating territories include Northern Virginia, Maryland, and Washington D.C.
What CareFirst Medicare Supplement is the most popular?
Plan F is the most popular CareFirst Medicare Supplement plan among Medicare beneficiaries. For people new to Medicare, Plan G has become the most popular.
Does CareFirst Medicare Advantage plans include SilverSneakers?
Yes! All CareFirst's Medicare Advantage plan options include a gym membership through SilverSneakers.
What does a Medicare Supplement with CareFirst cover?
Medicare Supplements cover your portion of the out-of-pocket costs from Original Medicare. Some medical expenses that Blue Cross Blue Shield plans include:
Medicare Part A Deductible
Medicare Part A Copays
Medicare Part B Deductible
Medicare Part B Coinsurance
Medicare Part B Excess Charges
Emergency Room Costs
How to enroll in a CareFirst Medicare plan
If you live in the District of Columbia, Maryland, or northern Virginia, you're eligible for plans through CareFirst BlueCross BlueShield. Our agents can assist you with your Medicare needs. It's recommended that you have an agent assist with checking your prescriptions and healthcare providers to ensure you get coverage that fits your needs.
We take the time to educate you on the Medicare options available and help narrow them down based on your needs and wants. We'll help you through every step of the process. Once you have decided on the best plan for your needs, we can help simplify your enrollment process.
For assistance, simply give us a call or fill out our online request form.