Are you prepared for retirement? If you feel confident that you have all your ducks in a row and that you're prepared for your golden years, let's ask one more question: are you prepared for the gaps in Medicare coverage? Because if you can't answer yes to that question, then you're not fully ready for retirement yet. But we can help you get there. The information below can help you tell the difference between the various forms of Medicare supplement insurance that will protect you from costly coverage gaps. And once you know how to protect yourself from those, you'll be able to enjoy your golden years and style.
Facts and Figures
There are 7,359 senior citizens living in Silver Spring right now

There are 4 hospitals in the Silver Spring area where seniors can get emergency and/or in-patient care

11% of Maryland seniors have a Medicare Advantage plan

21% of seniors have a Medicare Supplement (Medigap) plan

Which leaves 68% of seniors potentially uninsured or underinsured against costly Medicare coverage gaps!
There are two types of illness that medical science has identified: acute, and chronic illness. An acute illness would be something like a fractured hip after a hard fall or a sudden cancer diagnosis. Chronic disease, on the other hand, is something different. Heart disease, dementia, or diabetes are all examples of chronic disease. These are diseases that most of us will experience at some point in our lives, and are almost impossible to avoid. What's worse is that chronic diseases are often more insidious and more expensive than acute health problems.
| | |
| --- | --- |
| Disease | Prevalence in Silver Spring |
| Arthritis | 29% |
| High Blood Pressure | 40% |
| Coronary Heart Disease | 7% |
| Diabetes | 14% |
| Kidney Disease | 4% |
Healthcare Costs in Silver Spring, MD
How, exactly, does chronic disease end up being so expensive for seniors? Let's use arthritis as an example. It might not be a big problem at first, and you could go years or even decades with minimal pain management using over-the-counter anti-inflammatory drugs. But the worse it gets, the more often you'll have to see a doctor for your pain management. You might have to switch to prescription anti-inflammatory drugs or harder painkillers. You might need steroid injections or even a full joint replacement if the arthritis pain doesn't go away. And although you may think your Medicare coverage will help you pay for the vast majority of these expenses, the truth is that there are some serious coverage gaps which could leave you paying for your care out-of-pocket.
| | | |
| --- | --- | --- |
| Disease | Prevalence in Silver Spring | Annual Cost of Treatment |
| Arthritis | 29% | $280 |
| High Blood Pressure | 40% | $288 |
| Coronary Heart Disease | 7% | $8,309 |
| Diabetes | 14% | $2,158 |
| Kidney Disease | 4% | $6,844 |
Medicare Advantage Savings in Silver Spring, MD
Only around 11% of seniors in Maryland are enrolled in a Medicare Advantage program. This makes it a less popular choice compared to other supplement products available. But why? Lots of seniors find Value in a Medicare Advantage plan. Medicare Advantage is an alternative to Traditional Medicare because it takes all of the coverage options you get from Medicare Parts A and B and packages them into a insurance policy offered by a private company, much like the insurance coverage you received when you were employed. The main difference is that the government pays for the majority of your monthly premiums, sometimes whittling those down to as low as $0 per month. Medicare Advantage also gives you the option to add extra coverages to your plan in order to give yourself the most comprehensive care – albeit for a higher monthly premium.
Legally, Medicare Advantage plans have to offer you the exact same benefits that you would get with regular Medicare or else they're breaking the law. The extra benefits many Medicare Advantage plans offer in addition to that base level of coverage include things like dental care, vision, and prescription drug coverage, among other things. The more coverage you add to your plan, the more you will have to pay in monthly premiums. But if the government takes care of a large enough share of that monthly premium, you can get a customized, highly comprehensive plan for pennies on the dollar compared to what you would get from other private insurance companies.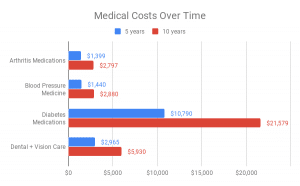 So what's not to like about Medicare Advantage? Some seniors might prefer the financial advantage they get from participating in a single-payer healthcare system. Others might not be able to get the coverage they need under Medicare Advantage because adding extra coverage makes their monthly premiums prohibitively expensive. Still others may be perfectly content with the coverage that Original Medicare offers, and only concerned with the gaps in coverage. Those seniors would be better served by looking at Medicare Supplement Insurance (Medigap) instead.
Medicare Supplement (Medigap) Savings in Silver Spring, MD
It seems as though most seniors in Silver Spring fall into that latter category, because 21% of them have chosen Medigap insurance over Medicare Advantage. Some perks to Medicare Supplement Insurance include the fact that these are smaller and usually less expensive to obtain. They only deal with the gaps in Medicare coverage and nothing more – sort of like a surgical strike against your out-of-pocket medical costs. There are 10 plans in total to choose from, and the plan you choose will largely depend on your personal circumstances.
The first four you should take a look at our Medigap plans A, D, K, and L. These plans are usually the least expensive as far as your monthly premiums are concerned – but they only cover the gaps in Medicare Part A. This means that if you have an extended hospital stay, if you require more than 3 blood transfusions, or if you have other hospital-related expenses that Medicare won't pay for, your Medigap insurance will help you pay the bills. Only after Medicare and Medigap take care of your expenses will you ever see a bill if there are still unpaid expenses.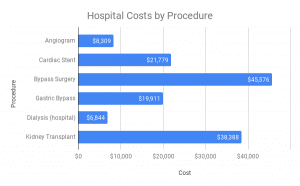 The other six Medigap plans – B, C, F, G, M, and N – take care of a combination of Medicare Part A and Part B coverage gaps. The most comprehensive is Plan F, but it won't be available forever. At the end of 2020, if you have not yet enrolled in Medicare and Medigap Plan F, you will no longer be able to. But if you hurry and enroll during the upcoming Open Enrollment period, you can secure yourself the comprehensive benefits available through Plan F for the rest of your life as long as you pay your premiums on time every month and your Medigap insurance provider stays financially stable.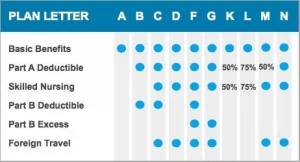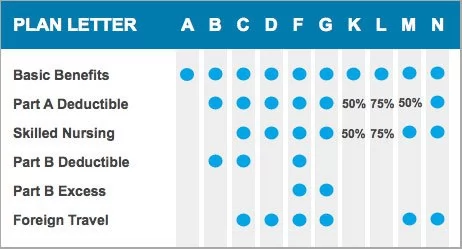 Unfortunately, there are some drawbacks to Medigap insurance. Unlike Medicare Advantage, you cannot customize your plan and add coverage to it. Medigap insurance plans are sold as is, with no wiggle room for negotiation. But at the same time, this gives you the freedom to go out and choose your own dental, vision, and even prescription drug coverage providers. Most people end up going with Medicare Part D prescription-drug coverage, but there is a donut hole coverage gap there which could leave you paying for 25% of your prescription costs out-of-pocket if you exceed your annual maximum but fall short of catastrophic coverage.
So there you have it – you can trade in your government benefits for a customizable, comprehensive "Cadillac" insurance plan through Medicare Advantage. Or you can join the majority of seniors in Silver Spring and specifically protect yourself from Medicare coverage gaps with a Medigap insurance policy. The choice you make is up to you, and largely depends on your health status and the amount of money you have budgeted for your health care costs. But this is not a decision that is meant to be made lightly. So if you're still struggling, we strongly encourage you to reach out and contact us to ask any questions or clear up any confusion.
| | | | |
| --- | --- | --- | --- |
| Medigap Plan | Minimum Monthly Premium | Maximum Monthly Premium | Average Estimated Monthly Premium (Part B Premium Included) |
| Plan A | $98 | $270 | $320 |
| Plan B | $126 | $292 | $345 |
| Plan C | $159 | $303 | $367 |
| Plan D | $156 | $207 | $317 |
| Plan F | $151 | $344 | $383 |
| Plan F (high deductible) | $31 | $94 | $198 |
| Plan G | $126 | $310 | $354 |
| Plan K | $58 | $151 | $240 |
| Plan L | $92 | $241 | $302 |
| Plan M | $129 | $284 | $342 |
| Plan N | $100 | $240 | $306 |