If you're a resident of Sioux City, Iowa and preparing for retirement, you have a lot of things to look forward to – but not all of them are good. Medicare coverage gaps, for example, definitely fall into the "not good" category for the vast majority of senior citizens. These coverage gaps can suck the life and the joy out of your golden years by forcing you to pay tens of thousands of dollars or more in out-of-pocket medical expenses. Thankfully, there are plenty of options you can choose from to supplement your Medicare benefits and protect yourself from these costly gaps. And we will explain them below.
Facts and Figures
There are 11,205 senior citizens living in Sioux City right now
There are 9 hospitals in the Sioux City area where seniors can get emergency and/or in-patient care
18% of Iowa seniors have a Medicare Advantage plan
49% of seniors have a Medicare Supplement (Medigap) plan
Which leaves 33% of seniors potentially uninsured or underinsured against costly Medicare coverage gaps!
What medical ailments will leave you the most vulnerable to Medicare coverage gaps? Most people might guess something like a cancer diagnosis, or a broken hip. And while these things are far from cheap, they're actually not the most likely cause of your healthcare expenses from Medicare coverage gaps. That goes to age-related chronic diseases. The reason these ailments are more financially destructive is not only because of how common they are, but because of the fact that you can't get rid of them once you have them. You can only try to manage them as best you can in order to maintain a higher quality of life.
| | |
| --- | --- |
| Disease | Prevalence in Sioux City |
| Arthritis | 24% |
| High Blood Pressure | 30% |
| Coronary Heart Disease | 7% |
| Diabetes | 10% |
| Kidney Disease | 3% |
Healthcare Costs in Sioux City, IA
Let's use high blood pressure as an example of how these Medicare coverage gaps can sneak up on you. Original Medicare ( Medicare Parts A and B) does not provide any prescription drug coverage whatsoever. The typical first step for treating high blood pressure includes putting seniors like you on one or several medications – and not all of them are cheap. Over time, if the blood pressure doesn't go down, it can cause serious physical problems to your cardiovascular system. This can require you to purchase medical equipment so that you can track your blood pressure more closely. It can also require you to see your doctor more frequently and to undergo expensive tests like a CT scan of your heart, which may not be covered after you exhaust all of your benefits. These expenses will all add up over time.
| | | |
| --- | --- | --- |
| Disease | Prevalence in Sioux City | Annual Cost of Treatment |
| Arthritis | 24% | $294 |
| High Blood Pressure | 30% | $356 |
| Coronary Heart Disease | 7% | $9,300 |
| Diabetes | 10% | $2,173 |
| Kidney Disease | 3% | $7,884 |
Medicare Advantage Savings in Sioux City, IA
So how do you protect yourself from these coverage gaps and hold on to your life savings for as long as possible? Well, in Iowa, Medicare Advantage is not the most popular option – but it is still worth talking about. With Medicare Advantage, you basically choose to forgo your federal Medicare benefits and instead purchase a private health insurance plan which is designed to be as good or better. But these plans are closely monitored by the government so that you don't get swindled or shortchanged on your benefits by an unscrupulous company. By law, the policy you purchase must offer at least the same exact benefits as Medicare Parts A and B. If anyone tries to sell you anything less, they're committing fraud and you should contact your authorities to report the fraud.
But most Medicare Advantage plans don't stop with just the bare minimum benefits. Many companies will sell you a plan which has additional benefits built in, and gives you the option to purchase even more coverage. This is largely in part to help secure your business and grow a loyal customer base. On top of that, your monthly premium will be subsidized by the federal government since you have been paying money into the Medicare system via taxes for the majority of your working years. For some seniors, this means that they get to design themselves a highly customized, highly comprehensive "Cadillac" insurance plan for little or no monthly cost thanks to the government subsidy.
So far, you may be thinking a Medicare Advantage plan sounds really great. You may be wondering why more seniors don't have one. It could be that some people are squeamish about giving up their federal benefits and trusting their health care to a private, for-profit company. For others, the extra cost of the additional coverage they need makes their monthly premiums prohibitively expensive, despite the federal subsidy. Still others may feel that they just don't need that much coverage, and prefer the simplicity of a Medigap insurance plan instead.
Medicare Supplement (Medigap) Savings in Sioux City, IA
As a matter of fact, 49% of seniors in the Sioux City area have chosen Medigap over Medicare Advantage. These plans are much simpler than Medicare Advantage because they only offer coverage for your Medicare Part A and B gaps – nothing more. They merely supplement your Original Medicare instead of replacing it entirely. The federal government will still pay for the vast majority of your medical needs. Then your Medigap insurance will swoop in and pay the bill when you hit a coverage gap. If there is any unpaid portion of your bill left over, only then will your medical costs come out of pocket.
The medical costs you end up paying for will largely depend on which plan you purchase. Plans A, D, K, and L are the Medigap plans which are tailored to protect you from the gaps in Medicare Part A hospital insurance. So if, for example, you have to stay in the hospital longer than two weeks and require more than 3 blood transfusions in that time, one of these plans will protect you from those out-of-pocket costs. And they will do so for a lower monthly premium than any of the other Medigap plans available. If hospital insurance costs are your main concern, one of these four Medigap plans can give you the best bang for your buck.
But the fact is that most seniors are worried about both Medicare Part A and Medicare Part B costs. This is particularly true about your Medicare Part B deductible, excess charges, coinsurance, and co-payments. If you want to protect yourself from those expenses as well, You'll need to take a closer look at Medigap plans B, C, F, G, M, or N. And if your goal is to get the most comprehensive plan possible, then you'll want to act fast. Medigap Plan F is the most comprehensive plan available for the most reasonable monthly premium, but it is getting phased out at the end of 2020. Thankfully, you can still grandfather yourself into this program if you enroll now and if you maintain on time, full payments every month for the duration of your policy. But if you hesitate, you may miss out.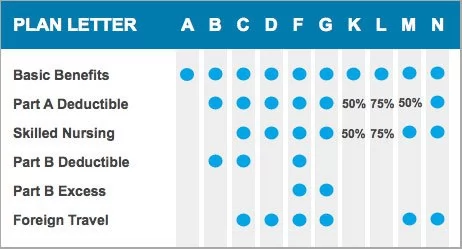 Part of the reason these plans will save you money is because you cannot customize them the way you can with Medicare Advantage. You have to take them as is, or not at all. This means that you cannot add things like prescription drugs, dental, or vision to your Medigap policy. But you can sign up for Medicare Part D prescription drug coverage instead, and as long as you avoid the donut hole coverage gap, you won't have to pay much for your prescription costs. Furthermore, you can easily find your own vision and dental insurance products from local providers at any time year-round – there aren't any restrictive enrollment periods associated with these types of insurance. You May Even Get Lucky and find age-related discounts in your area.
After reading all of that information, how do you feel about choosing a Medicare supplement insurance plan for yourself? Do you know which plan you are ready to buy? Or are you still undecided? If you're having trouble making such an important decision, we understand – and we also want to help. We even have knowledgeable customer service representatives standing by right now to answer your email or take your call. The sooner you contact us, the sooner you can get things taken care of – and the sooner you can relax knowing that you and your life savings won't fall victim to costly Medicare coverage gaps.
| | | | |
| --- | --- | --- | --- |
| Medigap Plan | Minimum Monthly Premium | Maximum Monthly Premium | Average Estimated Monthly Premium (Part B Premium Included) |
| Plan A | $68 | $222 | $281 |
| Plan B | $104 | $252 | $314 |
| Plan C | $121 | $287 | $340 |
| Plan D | $116 | $233 | $310 |
| Plan F | $109 | $266 | $323 |
| Plan F (high deductible) | $28 | $76 | $188 |
| Plan G | $94 | $195 | $280 |
| Plan K | $41 | $92 | $202 |
| Plan L | $74 | $129 | $237 |
| Plan M | $109 | $146 | $263 |
| Plan N | $74 | $186 | $266 |