Los Angeles, California is a picturesque place to spend your golden years. Unfortunately, paying for healthcare in one of the most beautiful cities in the world is not as pretty. As a Los Angeles resident of retirement age, you need to know how expensive your healthcare costs are going to be as you get older – and how best to protect your savings from out-of-control medical bills. We will be more than happy to help you find the answers to these important questions.
Facts and Figures
There are 46,688,335 seniors living in Los Angeles right now
There 10 hospitals in the Los Angeles area where seniors can get emergency and/or in-patient care
40% of California seniors have a Medicare Advantage plan
Only a small fraction of California seniors have purchased a Medigap plan
Which means that up to 58% of seniors are either uninsured or underinsured against costly Medicare coverage gaps!
Unfortunately, the human body breaks down in certain predictable ways as we age. Your doctor can help you treat the symptoms and slow down any disease, but you can't hold it off forever. The chart below shows some of the most common ailments that California citizens are suffering from right now – as well as their rate of prevalence in the Los Angeles area. The more prevalent an ailment, the more expensive it tends to be to treat. And if you are in the majority of people suffering from one or more of these conditions, it will have an unfortunate effect on your health care costs.
| | |
| --- | --- |
| Disease | Prevalence in Los Angeles |
| Arthritis | 17% |
| High Blood Pressure | 27% |
| Coronary Heart Disease | 5% |
| Diabetes | 10% |
| Kidney Disease | 3% |
Healthcare Costs in Los Angeles, CA
It's not just that more popular diseases are more expensive to treat; it's that as they progress over time, it becomes more expensive to manage the symptoms. Arthritis, for example, may not cost you very much money in over the counter pain creams or anti-inflammatory prescription drugs – but as you get older, you may require expensive steroid shots directly into the joints or even surgery in order to manage your pain. And that's just one example of how chronic conditions can start out relatively inexpensive but become more costly over time.
| | | |
| --- | --- | --- |
| Disease | Prevalence in Los Angeles | Annual Cost of Treatment |
| Arthritis | 25% | $305 |
| High Blood Pressure | 33% | $180 |
| Coronary Heart Disease | 7% | $8,882 |
| Diabetes | 11% | $2,208 |
| Kidney Disease | 3% | $8,563 |
Medicare Advantage Savings in Los Angeles, CA
If you're wondering why Medicare Advantage in California is so popular among Los Angeles seniors, it may be because this particular type of coverage can financially protect you from the gaps in Original Medicare benefits for sometimes as little as $0 a month. Keep in mind that in order to get these benefits, you will have to leave Medicare part A and Medicare Part B behind and purchase a private Medicare Advantage health insurance plan instead. But don't worry – these plans are closely regulated by the federal government and it is against the law for a Medicare Advantage provider to sell you a plan which does not give you, at the very least, identical benefits to what you were paying for when you were enrolled in Original Medicare.
Unlike original Medicare, where you have to enroll in a Part D prescription drug plan in order to get financial assistance with your prescriptions, most Medicare Advantage plans already have that included. These plants can also help you save money if you need incidentals such as glucose monitors or testing strips, which might otherwise be more expensive under Medicare Part B. if the majority of your health care costs come from prescriptions or other incidentals, there are some attractive cost-savings features inherent in most Medicare Advantage plans.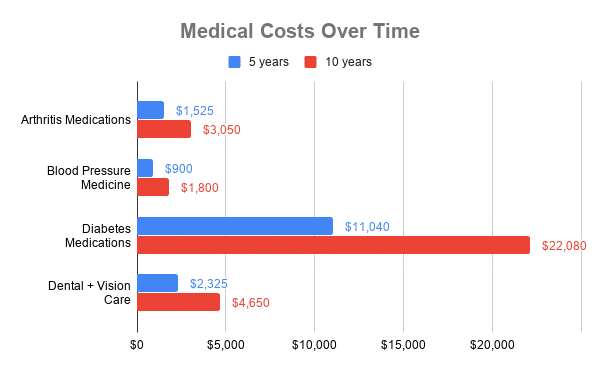 On top of that, adding dental and/or vision insurance to your Medicare Advantage plan is a very popular option which most insurance companies offer to seniors like you. Even if all you need is routine annual or bi]-annual testing and cleanings, the expenses can add up over time. Adding such coverage to your Medicare Advantage policy can help keep your out-of-pocket costs affordable and help you keep your eyes and teeth healthy for as long as you need.
Medicare Supplement (Medigap) Savings in Los Angeles, CA
California Medicare supplement (AKA Medigap) plans work a little bit differently. There are 10 of them, and according to federal law, each plan must offer the exact same benefits across all 50 states. This means that whether you live in California or Kentucky, plan A will offer you the exact same benefits that it would in any other state. Some Medigap plans specifically cover Medicare part A gaps in hospital coverage costs; others focus more closely on Medicare Part B costs. And some plans do both – but you'll have to pay higher premiums for more coverage.
The Medigap plans which specifically focus on part a hospital costs are plans A, D, K, and L. They are exclusively concerned with the expenses you might pay from an extended hospital stay, from extra blood transfusions, and other common costly procedures which Medicare part A won't pay for. Because hospital visits are less common than outpatient or preventive care, and because these expenses are incurred less frequently, these Medigap plans tend to be a little cheaper than some of the others when it comes to your monthly premium.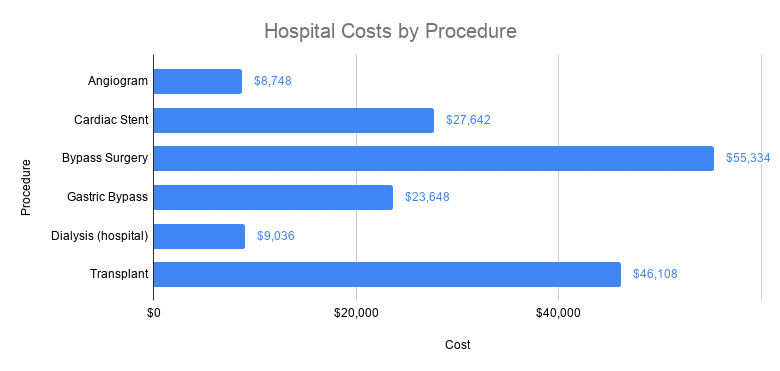 If you require frequent doctor visits, if you're big on preventative care, or if you want more help with your co-pays and your coinsurance costs, then you want to look at a Medigap plan which helps you pay for these expenses. Those plans include B, C, D, F, G, M, and N. In addition to helping you pay for your hospital costs, these Medigap plans will help take a bite out of your out-of-pocket expenses associated with gaps in Medicare Part B coverage. The most comprehensive of all the Medigap plans is Plan F, but it will no longer be available for purchase after 2020 – so if you want it, you'll have to act fast.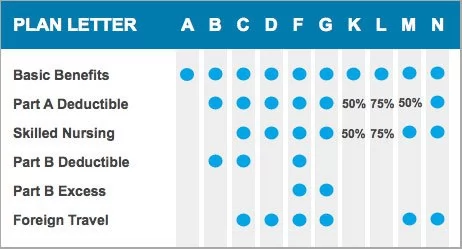 In order to get prescription drug coverage with a Medigap plan, you will have to enroll in the Medicare Part D prescription drug plan through the federal government. You may also want to explore local and state government prescription drug coverage programs in your area. The best place to find more information about those is through your local Department of Insurance. Also, unlike Medicare Advantage, you won't have the option to add dental or vision coverage to your Medigap plan. You will have to purchase such coverage separately from private entities, or pay for those costs 100% out-of-pocket. But most private options are relatively affordable and some of them even offer senior discounts. You just won't have the added convenience of managing all of your healthcare needs under the same plan the way you would with Medicare Advantage.
Spending your retirement years in Los Angeles may be a dream for some – and a very expensive reality for others. But just because it's more expensive to live in such a wonderful city doesn't mean your healthcare has to break your budget. We have agents standing by who are knowledgeable, friendly, and eager to help you find the Medicare Supplement Insurance plan which best suits your needs. The sooner you contact us, the sooner you can rest assured that you will be protected from the rising costs of healthcare.
| | | | |
| --- | --- | --- | --- |
| Medigap Plan | Minimum Monthly Premium | Maximum Monthly Premium | Average Estimated Monthly Premium (Part B Premium Included) |
| Plan A | $71 | $194 | $268 |
| Plan B | $112 | $193 | $288 |
| Plan C | $125 | $250 | $323 |
| Plan D | $106 | $221 | $299 |
| Plan F | $119 | $372 | $381 |
| Plan F (high deductible) | $21 | $74 | $183 |
| Plan G | $110 | $253 | $317 |
| Plan K | $45 | $106 | $211 |
| Plan L | $76 | $157 | $252 |
| Plan M | $107 | $199 | $289 |
| Plan N | $73 | $231 | $288 |