Are you ready for retirement in Juneau, Alaska? It involves a lot more than bracing for the harsh winters, or snowbirding down south each year. Preparing for retirement also involves purchasing the right Medicare supplement insurance policy. But you have so many options – how do you know which one is best for you? We have a plethora of information at our fingertips designed to help you make the best decision for your health and your savings. Keep reading to learn more.
Facts and Figures
There are 3,853 senior citizens living in Juneau right now

There are 5 hospitals in the Juneau area where seniors can get emergency and/or in-patient care

1% of Alaska seniors have a Medicare Advantage plan

12% of seniors have a Medicare Supplement (Medigap) plan

Which leaves 87% of seniors potentially uninsured or underinsured against costly Medicare coverage gaps!
What do you think is the most expensive disease you will need to get care for in your lifetime? Most people might think of something horrendous like cancer or something we don't have a cure for yet, like multiple sclerosis; but the truth is that the most expensive health ailments are usually the ones you don't think about. Just take a look at the statistics regarding age-related disease in the chart below. Nearly one-third of Juneau residents suffer from at least one of these on a daily basis. And if you're one of them, things can get expensive before you know it.
| | |
| --- | --- |
| Disease | Prevalence in Juneau |
| Arthritis | 22% |
| High Blood Pressure | 31% |
| Coronary Heart Disease | 6% |
| Diabetes | 11% |
| Kidney Disease | 3% |
Healthcare Costs in Juneau, AK
Most chronic disease doesn't have noticeable symptoms in the early stages. It's when you get to the middle and late stages that it starts to get burdensome. In order to alleviate that burden, you're going to need more frequent and more expensive medical treatment. Eventually, you may find yourself at a point where you need so much care so frequently that some of it is not covered due to Medicare coverage gaps. An extended hospital stay after a heart attack due to cardiovascular disease, for example, might not be covered by your Medicare Part A benefits; are you financially prepared to handle your medical expenses if that happens to you? Even your daily needs like prescription drugs and regular outpatient treatment can cost a substantial amount of money, and not all of it will be taken care of by Medicare as the chart below illustrates.
| | | |
| --- | --- | --- |
| Disease | Prevalence in Juneau | Annual Cost of Treatment |
| Arthritis | 22% | $291 |
| High Blood Pressure | 31% | $354 |
| Coronary Heart Disease | 6% | $9,860 |
| Diabetes | 11% | $2,163 |
| Kidney Disease | 3% | $8,687 |
Medicare Advantage Savings in Juneau, AK
A little over one-fourth of seniors in Juneau have decided that Medicare Advantage is how they want to supplement their Medicare coverage gaps. When you enroll in Medicare Advantage, you effectively end your federal Medicare benefits and replace them with a private health insurance policy designed to give you the exact same coverage. but many Medicare Advantage companies offer additional benefit options for seniors who can afford them. And most seniors can, since the federal government will pay a portion of your monthly premium with funds from the Medicare program. Some lucky seniors will get their Medicare Advantage plan for $0 in monthly premiums thanks to this subsidy.
Many people find Medicare Advantage particularly helpful when it comes to things like prescription drugs and the cost of medical equipment. Indeed, many chronic diseases rely on prescriptions and testing equipment in order to manage them properly; but Original Medicare doesn't have the best plan to cover these expenses. It has Medicare Part D for prescription drug costs, but Medicare Part D comes with the problematic "donut hole" coverage gap which can get expensive if you aren't careful. Many Medicare Advantage plans, on the other hand, have a prescription drug plan packaged with them which greatly reduces prescription drug and medical equipment prices.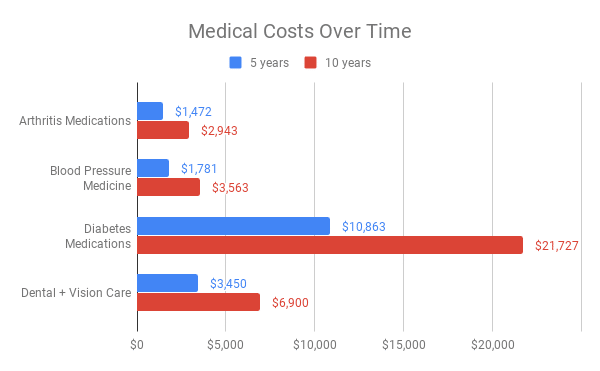 Some of these extra coverages include things like dental, vision, or prescription drug coverage. With Medicare Advantage, you can add all of these to your policy and enjoy the convenience of managing everything through one company. With something like a Medigap insurance policy, you would have to purchase these coverages separately from at least one if not multiple other providers. For some seniors, Medicare Advantage is the cheaper and more convenient option; for others, it can be more expensive, but the added convenience could be worth the price.
Medicare Supplement (Medigap) Savings in Juneau, AK
If Medicare Advantage isn't quite right for you, then you should take a closer look at a Medigap policy. These Medicare supplement insurance policies do exactly that: they supplement, but they do not replace, Original Medicare. Once Medicare pays for the vast majority of your medical expenses, your Medigap supplement will pay for whatever falls through the gaps. Whatever it doesn't pay for, you may receive a bill for. But these expenses will be few, far between, and much less costly with a Medigap supplement.
The most affordable plans are Plans A, D, K, and L. These are the most affordable because they exclusively focus on the gaps in Medicare Part A coverage. These gaps include things like extended hospital stays, extra blood transfusions, and hospice care, among other things. Seniors tend to hit these gaps less frequently, but when they do, they can be exceptionally expensive.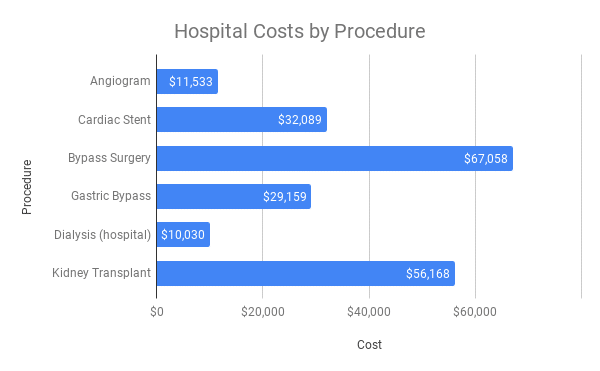 But if you need some coverage for the gaps in Medicare Part B – which most seniors do – you want to take a closer look at Plans B, C, F, G, M, and N. When you purchase coverage for the gaps in Medicare Part B, you will get some relief from Part B coinsurance costs, co-pays, excess charges, and your monthly premium. You can also get things like foreign travel benefits. The more coverage you purchase, the more expensive your monthly premium will be; but the amount you could potentially save in the long run could drastically offset that cost. Currently, Plan F is the most comprehensive. But it won't be available forever. The government has scheduled it to be phased out soon, and will no longer be available for purchase as of 2021. So if you qualify for Medicare, and you want the most comprehensive plan available, you'd better act fast!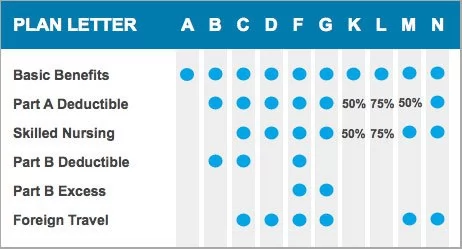 Here's where things get a little tricky with Medigap, though: you don't get to add benefits the way you do with a Medicare Advantage plan. This means your dental and vision coverage, if you choose to purchase it, must come from a separate private insurance company. The good news is it's not difficult to find local, affordable options, especially for seniors. Then there's the issue of prescription drug coverage. You will most likely have to sign up for Medicare Part D if you want financial assistance with your prescriptions. Just beware of the Medicare Part D "donut hole" which can restrict the assistance you get if your prescription costs become exorbitant, yet still fall short of "catastrophic" coverage.
Statistics show that for seniors in Juneau, an affordable yet comprehensive Medigap plan is the favorite choice among seniors. But if you have unique circumstances and health care needs, something like Medicare Advantage could work for you, too. You won't really know for sure until you sit down with one of our experts and ask for an evaluation. On top of that, we can help you get fast and affordable quotes from the best providers in your area. What's not to love? Reach out and contact us today!
| | | | |
| --- | --- | --- | --- |
| Medigap Plan | Minimum Monthly Premium | Maximum Monthly Premium | Average Estimated Monthly Premium (Part B Premium Included) |
| Plan A | $90 | $224 | $293 |
| Plan B | $142 | $266 | $340 |
| Plan C | $164 | $346 | $391 |
| Plan D | $173 | $288 | $366 |
| Plan F | $166 | $302 | $370 |
| Plan F (high deductible) | $45 | $92 | $204 |
| Plan G | $172 | $295 | $369 |
| Plan K | $69 | $134 | $237 |
| Plan L | $120 | $189 | $290 |
| Plan M | $142 | $239 | $326 |