Founded in 2005, American Continental Insurance has been a subsidiary of Aetna since 2011. Their home office is located in Brentwood, Tennessee. American Continental is a subsidiary of Aetna. Aetna's brands are among some of the most trusted names in the Medicare market.
American Continental Insurance Medicare plans
American Continental offers Medicare Supplement plans, and that's their primary focus. The states they offer plans in will occasionally change, as Aetna will occasionally rotate its brands in different states.
In this article, we'll discuss American Continental's Medicare Supplement options, followed by some information about Medicare Advantage plans. Then, we'll provide information about Part D coverage and American Continental's financial strength ratings. Finally, we'll address some frequent questions and how to get help enrolling in an American Continental Medicare plan.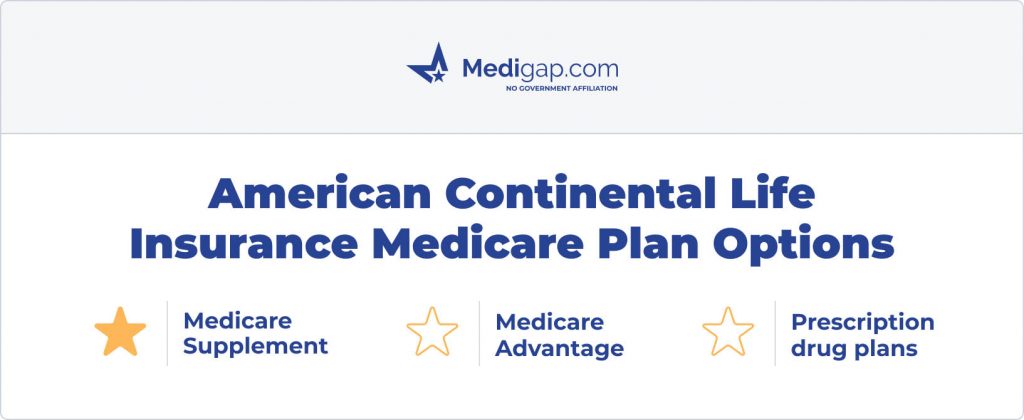 American Continental Insurance Medicare Supplement plans
American Continental is a top choice when it comes to Medicare Supplement plans. They put a lot of effort into meeting their clients' needs.
Medicare Supplement plans will assist with the costs left over by Original Medicare. They are secondary gap coverage. This is why they are sometimes called Medigap plans.
One of the best features is that since Medicare is primary, there is no need to worry about networks or referrals. Your coverage travels with you nationwide.
Plan F, Plan G, and Plan N are the most popular Medigap plan options. They provide the most comprehensive coverage to piggyback on Original Medicare.
The federal government regulates Medigap plans, and the benefits are standardized. The coverage remains the same no matter which insurance carrier you select or where you reside. Wisconsin, Massachusetts, and Minnesota are the only states that don't follow the standardization rules.
American Continental Insurance Medicare Advantage plans
American Continental doesn't offer Medicare Advantage plans. Their parent company Aetna does provide Medicare Part C options. These plans help by taking over your Original Medicare and combining your Medicare benefits in a simple-to-use all-in-one plan.
In many cases, these plans will also give you additional coverages and services that traditional Medicare doesn't. This makes them very attractive to Medicare beneficiaries.
American Continental Insurance Medicare Part D
Aetna offers their Part D prescription coverage through their SilverScript branded company. SilverScript is a premier provider of Part D coverage. Part D is the prescription pharmacy coverage through Medicare.
American Continental Insurance Medicare pros and cons
Pros
Part of the Aetna/CVS family
Affordable Medicare Supplement plan premiums
Available in most states
Rate increases are conservative
Approval at the time of application
Cons
Tight underwriting
Lower household discounts
American Continental Insurance financial strength ratings
Standard & Poors and AM Best are companies that review and rate Medicare Insurance companies' financial strength. How strong the company can affect rate increases as well as premiums.
AM Best provides American Continental Life with an "A" rating.
Standard & Poors awards them a rating of "AA-."
| | |
| --- | --- |
| A.M. Best Rating | A |
| Standard & Poor's Rating | AA- |
| Moody's Rating | n/a |
American Continental Insurance reviews
American Continental and all Aetna brands have very competitive rates for their Medicare Supplement plans. They place a significant effort on providing excellent customer service. With great financial backing, they keep their rates affordable and rate increases lower than many competitors.
FAQs
Is American Continental Insurance the same as Aetna?
American Continental is a subsidiary of Aetna. Aetna is the parent company. They are essentially the same company.
Who owns an American Continental insurance company?
CVS is the owner of Aetna and all of its subsequent companies.
Which Medigap plan is the most popular for people just starting Medicare?
Plan G is the most popular plan for new Medicare beneficiaries. It provides almost the same coverage as Plan F, but at a more affordable premium.
How to enroll in an American Continental Insurance Medicare plan
Medicare Beneficiaries love American Continental. They give great service and coverage for your medical needs. Let us help you determine which plan option is the best for you.
Our licensed brokers will guide you through each step to ensure you have a simple and pleasant experience. Fill out our online request form or give us a call.