Are you retiring in Green Bay, Wisconsin because you're a Packers fan? Because you've lived there all your life? Because it's a beautiful place to grow old and spend your golden years? Regardless of your reason, you should have the healthiest and highest quality of life that you can after you retire in Green Bay. But if you don't have proper Medicare supplement insurance, that could become a very expensive problem. Unsupplemented Medicare comes with a series of coverage gaps which, if neglected, could run you upwards of tens of thousands of dollars in out-of-pocket medical expenses. But in this article, we're going to discuss some options that can help you protect your savings, your health, and your quality of life for decades to come.
Facts and Figures
There are 12,901 senior citizens living in Green Bay right now
There are 8 hospitals in the Green Bay area where seniors can get emergency and/or in-patient care
39% of Wisconsin seniors have a Medicare Advantage plan
26% of seniors have a Medicare Supplement (Medigap) plan
Which leaves 35% of seniors potentially uninsured or underinsured against costly Medicare coverage gaps!
Odds are that as far as your health goes, you're more worried about the here and now: getting your winter flu shot before you get sick, getting a cancer diagnosis, falling and breaking a bone, or similar health problems. But you may not be paying much thought to some of the most expensive and insidious medical ailments of all: chronic diseases. The chart below gives a snapshot of the most popular chronic diseases in Green Bay right now, along with the percentage of Wisconsinites who are suffering from them. If you're on this list, you're not alone. But if you're not on it yet, you should prepare for it to happen eventually.
| | |
| --- | --- |
| Disease | Prevalence in Green Bay |
| Arthritis | 25% |
| High Blood Pressure | 30% |
| Coronary Heart Disease | 6% |
| Diabetes | 10% |
| Kidney Disease | 3% |
Healthcare Costs in Green Bay, WI
Chronic disease is virtually unavoidable for every single living person. Eventually, time will come for us all – and it's usually due to a chronic disease. These diseases aren't cheap, either. What's worse is that in the end stages of many of these diseases – such as kidney disease or coronary heart disease – much of the medical treatment you will need is unfortunately not covered due to medicare coverage gaps. That's why it's so important to protect yourself with some form of Medicare supplement insurance, weather that's Medicare Advantage or a Medigap supplement.
| | | |
| --- | --- | --- |
| Disease | Prevalence in Green Bay | Annual Cost of Treatment |
| Arthritis | 25% | $294 |
| High Blood Pressure | 30% | $356 |
| Coronary Heart Disease | 6% | $9,133 |
| Diabetes | 10% | $2,173 |
| Kidney Disease | 3% | $8,292 |
Medicare Advantage Savings in Green Bay, WI
Let's talk about the first of those two supplements right now: Medicare Advantage. Also known as Medicare Part C, Medicare Advantage is a private health insurance policy which replaces federal Medicare for you. But don't worry – the government legally mandates that these policies give you at least the exact same coverage, and many in fact will offer you more. In turn, the federal government will help contribute towards your monthly premium. This can make some Medicare Advantage plans as affordable as $0 per month.
The types of extra coverage you can get with your Medicare Advantage policy will vary by location and by provider. But some of those extra coverages can include things like dental, vision, prescription drugs, or even medical equipment like testing strips or catheters. This gives you a streamlined and all-encompassing approach to managing your health care needs. Most seniors are very happy with this added convenience. That may explain why 39% of Green Bay residents have already chosen Medicare Advantage.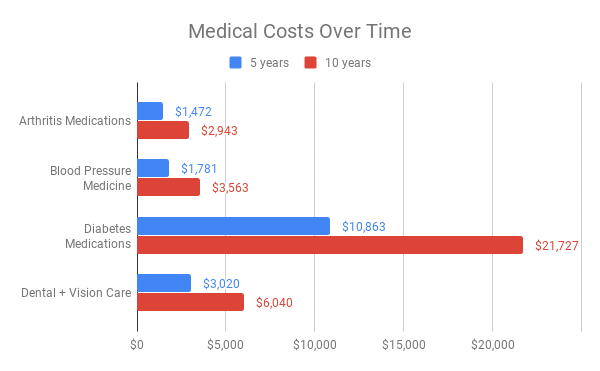 The thing that determines whether or not Medicare Advantage is right for you ultimately boils down to one thing: affordability. Like any insurance product, the more coverage you purchase, the more expensive your Medicare Advantage plan will be. The government will only subsidize your monthly premiums so much – beyond that, your monthly premiums are your responsibility. Your co-pays, coinsurance, deductibles, and any other expenses as outlined by your policy will also be your responsibility. Based on the popularity of Medicare Advantage in Wisconsin, it seems as though these costs are generally lower for Green Bay residents than they are in other states. But if that isn't the case for you, you may want to consider a Medicare Supplement Insurance (Medigap) plan instead.
Medicare Supplement (Medigap) Savings in Green Bay, WI
If you would rather keep your Medicare benefits, or if you can't find an affordable Medicare Advantage plan, you can look to Medigap instead. There are 10 different Medigap plans to choose from, and they are specifically designed to protect you from Medicare coverage gaps only. The fact that they are limited in scope helps make them more affordable, especially for seniors on a budget.
Medigap plans start with those that primarily focus on the coverage gaps in Medicare Part A: plans A, D, K, and L. Why is Medicare Part A so important to protect yourself against? Because Medicare Part A deals with hospital stays, and this is also where some of the most expensive coverage gaps exist in all of Medicare. Extended hospital stays, extra blood transfusions, and end-of-life hospice care are among some of the most expensive coverage gaps you could face in your lifetime. And you will have to pay for all of them out-of-pocket if you don't supplement your benefits before it's too late. But by picking one of these four plans, you can protect yourself from the Part A coverage gaps for a slightly more affordable monthly premium then what you would have to pay for one of the other six plans.
But you should really only go for that cost-cutting strategy if you are sure that you can keep your Medicare Part B coverage gap expenses under control. Because if you only protect yourself from Part A, you will leave yourself vulnerable to things like coinsurance, co-pays, sky high deductibles, and monthly premiums for Medicare Part B that you will have to pay out-of-pocket all on your own. The plans that cover Medicare Parts A and B coverage gaps comprehensively are plans B, C, G, F, M, and N. The most comprehensive plan is Plan F, but because it offers the most coverage, it will also be the most expensive. It is also the one you have to hurry if you want to get that level of coverage before the plan is no longer available for sale at the end of 2020. Signing up for it now will grandfather you into a policy that you can maintain for the rest of your life as long as you pay your premiums on time in the company stays above water.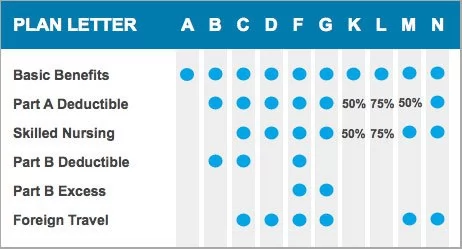 If you need extra coverage like vision, dental, or prescription drugs, a Medigap insurance policy will unfortunately not be able to provide that for you. But there are other ways you can get that coverage. It just means you will have to purchase it from a separate provider, and that you'll have to juggle multiple policies at the same time to meet all of your health care needs. Vision and dental plans are available from local, private providers for a typically affordable monthly premium. Prescription drug coverage is available through Medicare Part D, and usually covers most of your prescription expenses. There is a danger you may end up in the "donut hole" coverage gap, but all that means is that once you exceed your annual maximum, you'll be paying for 25% of your prescription drug costs until you reach catastrophic coverage levels. Then the government will step back in and help you pay for the majority of the cost.
If you're still on the fence and can't decide between Medicare Advantage or Medigap, we would love to help. We have experts waiting right now to answer your questions via email, phone, and more. Our mission at Medigap.com is to make sure you have everything you need to make the most affordable decision before it's too late. So contact us today! We promise you won't regret it.
| | | | |
| --- | --- | --- | --- |
| Medigap Plan | Minimum Monthly Premium | Maximum Monthly Premium | Average Estimated Monthly Premium (Part B Premium Included) |
| 25% Cost Sharing Plan | $97 | $148 | $258 |
| 50% Cost Sharing Plan | $76 | $117 | $232 |
| Medigap Basic Plan | $93 | $228 | $296 |
| High Deductible Plan | $40 | $235 | $273 |