Congratulations, you made it to your golden years. Now you need to focus on staying as healthy as possible so that you can enjoy them. But how do you do that, in today's economy, given the costly Medicare coverage gaps? for seniors in Charleston, you have two main options: Medicare Advantage, or a Medicare Supplement Insurance (Medigap) policy. Truth be told, there's also a third option: don't purchase supplemental coverage at all, and pay for those expensive Medicare coverage gaps 100% out-of-pocket. But most seniors don't end up choosing that option – and you'll see why if you keep reading.
Facts and Figures
There are 18,932 senior citizens living in Charleston right now
There are 11 hospitals in the Charleston area where seniors can get emergency and/or in-patient care
24% of South Carolina seniors have a Medicare Advantage plan
22% of seniors have a Medicare Supplement (Medigap) plan
Which leaves 54% of seniors potentially uninsured or underinsured against costly Medicare coverage gaps!
We're not talking about coverage gaps related to sudden and difficult to predict emergencies like a surprise cancer diagnosis or a hip fracture. Most likely, if you get hit with medical expenses from a coverage gap, it'll be related to chronic disease. Take a look at the chart below. It contains statistical information about how prevalent chronic diseases are among Charleston seniors. There's also a high likelihood that you already have one of the diseases mentioned below.
| | |
| --- | --- |
| Disease | Prevalence in Charleston |
| Arthritis | 23% |
| High Blood Pressure | 30% |
| Coronary Heart Disease | 5% |
| Diabetes | 10% |
| Kidney Disease | 3% |
Healthcare Costs in Charleston, SC
Here's the thing about chronic disease: once you have it, you're stuck with it. You're going to have to deal with it for the rest of your life, and you're going to have to work closely with your doctor in order to do so. This is going to require more care, which is going to make your medical expenses go up. At some point, these expenses may fall into the territory of a Medicare coverage gap. And when that happens, things can get devastatingly expensive. Just look at the estimates for the annual cost of treatment are chronic disease in Charleston. Not only are these numbers on the lower end of the spectrum, but they don't take into account that medical expenses are constantly on the rise.
| | | |
| --- | --- | --- |
| Disease | Prevalence in Charleston | Annual Cost of Treatment |
| Arthritis | 23% | $280 |
| High Blood Pressure | 30% | $288 |
| Coronary Heart Disease | 5% | $7,283 |
| Diabetes | 10% | $2,158 |
| Kidney Disease | 3% | $6,451 |
Medicare Advantage Savings in Charleston, SC
Let's take a minute to talk about your first Medicare supplement coverage option: Medicare Advantage. Lots of seniors don't know this, but Medicare Advantage is actually a private health insurance policy that replaces your Medicare benefits with as much or more coverage than what the government is willing to offer (by law, they can't offer you anything less). But don't worry, the taxes you paid into the Medicare system will help you pay for your Medicare Advantage plan. If you enroll in one of these policies, the company will collect some of your monthly premium directly from Uncle Sam. For some seniors, the contribution from the government towards their monthly premium is so substantial that they don't actually have a monthly premium to pay.
One of the things that seniors like about Medicare Advantage plans is that they combine convenience and customization to how you approach your health care needs. You can add as many benefits and coverage options as your insurer is willing to offer, and you can manage all of your needs through one entity (your Medicare Advantage company). But adding too much coverage could make your monthly premiums prohibitively expensive, so it's important to strike a good balance between the coverage you want, and the coverage you can afford.
Have you heard about the Medicare Part D donut hole coverage Gap? it's what happens when you spend so much money on prescription drugs that you exceed your annual spending limit, and it doesn't go away until you spend enough money on your prescriptions to qualify for catastrophic coverage. This donut hole coverage Gap forces you to spend upwards of 25% of the costs for your lifesaving drugs out of pocket. Medicare Advantage plans, however, tend not to have such devastating coverage gaps. They also allow you to add vision and dental to your policy for a lot of convenience and quality of care.
Medicare Supplement (Medigap) Savings in Charleston, SC
Some seniors may not want to leave their life and death medical decisions in the hands of a private insurance company. That's completely understandable. So if you'd rather keep your federal Medicare benefits, you should take a closer look at Medicare Supplement Insurance (Medigap). There are 10 plans to choose from, each with varying degrees of comprehensive coverage. So if you go to the hospital or see your doctor, Medicare will pay first. Your Medigap insurance policy will then pay second if there is a coverage gap that Medicare won't pay for. If there is any expense left over, only then will you see a bill.
If you think you have your Medicare Part B coverage gap expenses under control, you can save money by focusing on Medicare Part A coverage gaps only. The Medigap policies which cover Medicare Part A coverage gaps are Medigap plans A, D, K, and L. Because they don't cover Part B coverage gaps, they cost less money in monthly premiums than the other six plans (usually). But the fact of the matter is that most seniors are worried about their Part B coverage gaps. And if that sounds like you, then you might need to spend a little extra in monthly premiums for more comprehensive coverage.
If you want the most comprehensive Medigap coverage available, you'll want to take a closer look at plans B, C, F, G, M, and N. These plans are what will protect you from not only Medicare Part A coverage gaps, but also many of the more expensive Part B coverage gaps like excess charges, coinsurance, and getting medical care when you travel abroad. For the maximum level of comprehensiveness, you're going to want to look at Medigap Plan F. But if you want this plan, you'll need to act fast. Plan F is being phased out at the end of 2020 and will no longer be available for purchase as of January 2021. If you currently qualify for Medicare, you can enroll now and get grandfathered in before it's too late. Otherwise, you'll have to wait and purchase something like Plan C or Plan G to get a similar level of coverage.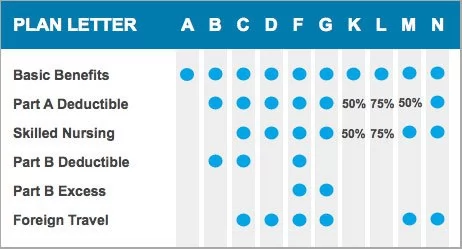 Between medicare and medigap, almost all of your medical needs will be covered save for three important areas: dental, vision, and prescription drugs. But these are relatively simple areas to obtain coverage. You'll probably want to start by enrolling in Medicare Part D to get your prescription drugs taken care of, and there may even be financial assistance or other supplemental insurance coverage available to protect you from the "donut hole" coverage gap. the next step is to find a local provider of dental and/or vision insurance that will give you a fair price. But such providers are common all across the country, so it shouldn't be too big of a problem for you if you look in the right areas.
Unfortunately, knowing where and how to look can be the most confusing part about settling all of your Medicare needs. But that's what we're here for. We have experts standing by right now waiting to hear from you. If you reach out and contact us, we can get you fast and accurate quotes on Medicare Advantage and Medigap policies near you. We can also help answer any questions you may have about Medicare and supplementing your coverage to protect you and your savings. But the longer you put it off, the more likely it is that you will run into out-of-pocket medical costs – so we strongly suggest that you reach out to us today before it's too late.
| | | | |
| --- | --- | --- | --- |
| Medigap Plan | Minimum Monthly Premium | Maximum Monthly Premium | Average Estimated Monthly Premium (Part B Premium Included) |
| Plan A | $60 | $192 | $262 |
| Plan B | $86 | $247 | $302 |
| Plan C | $95 | $314 | $340 |
| Plan D | $84 | $276 | $316 |
| Plan F | $100 | $308 | $340 |
| Plan F (high deductible) | $29 | $138 | $219 |
| Plan G | $90 | $284 | $323 |
| Plan K | $42 | $87 | $200 |
| Plan L | $72 | $123 | $233 |