Whether you live in Los Angeles, Rochester, or anywhere in between, you're probably familiar with the state of the healthcare system. If you happen to be a senior, you're set up to be on the receiving end of some potentially catastrophic coverage gaps. Nowadays, seniors who rely on Medicare to meet their healthcare needs are more and more frequently finding themselves getting caught in these gaps, where things like extended hospital stays or custodial care simply aren't paid for by the federal government. This can result in you spending thousands of dollars out of pocket every year. Let's take a quick look at some of the numbers to see just how many seniors in Rochester this affects today.
Facts and Figures
There are 21,247 seniors living in Rochester, NY right now.
There are 10 hospitals in the Rochester area where seniors can go for emergency and/or in-patient care.
38% of seniors in New York have a Medicare Advantage plan.
12% of seniors in New York have a Medicare Supplement (Medigap) plan.
This leaves 50% of seniors potentially uninsured or underinsured against costly Medicare coverage gaps!
As the data show, there are just about 10,623 seniors in Rochester, New York who either don't have enough healthcare coverage or don't have any insurance whatsoever. This is an issue in and of itself. However, in the grand scheme of things, this lack of coverage is merely the tip of the iceberg. As people age, their health deteriorates; and, as people move further and further into retirement, their nest egg decreases in volume, earning less money in interest and providing less security against unforeseen circumstances, such as deteriorating health. You might now be able to see just how deleterious this cycle is. This worsening of health as you age is what researchers refer to as the onset of "age-related illnesses," or diseases that come on in senior populations. The chart below details a few of the more common age-related illnesses in the Rochester population.
| | |
| --- | --- |
| Disease | Prevalence in Rochester, NY |
| Arthritis | 27% |
| High Blood Pressure | 33% |
| Coronary Heart Disease | 7% |
| Diabetes | 13% |
| Kidney Disease | 4% |
Healthcare Costs in Rochester, NY
Comparatively speaking, Rochester's seniors are among the healthiest in the country, but that could change any day as more and more people move into the senior age bracket and up in their years. The thing about age-related illnesses is that, not only does the risk of developing one or more increase with age, both the frequency and severity of their symptoms increase as well. Further complicating this is the fact that seniors are living longer now than ever before. Thanks to advances in modern medical sciences, people can sometimes live upwards of 100 years. While this is undoubtedly a gift from the great scientific minds to the seniors of today, it is also a curse bestowed upon the seniors of tomorrow. Why? Because this longer lifespan correlates strongly with an increased amount of time during which the frequency and severity of age-related illnesses can further worsen. The chart below provides a conservative estimate of the costs of the aforementioned illnesses in healthier, younger seniors.
| | | |
| --- | --- | --- |
| Disease | Prevalence in Rochester, NY | Annual Cost of Treatment |
| Arthritis | 27% | $280 |
| High Blood Pressure | 33% | $288 |
| Coronary Heart Disease | 7% | $7,200 |
| Diabetes | 13% | $2,158 |
| Kidney Disease | 4% | $6,380 |
Medicare Advantage Savings in Rochester, NY
Let's get back to the point. You probably found this article while searching for information on how to protect yourself or a loved one from the costly Medicare coverage gaps, meaning that you're already familiar with the costs thereof. Medicare Advantage is one option people choose when trying to offset these expenses. However, Medicare Advantage is neither owned nor operated by the government. Instead, Medicare Advantage plans are private insurance plans designed to replace Original Medicare. They are still required by law to provide all of the same benefits as Original Medicare, but providers of such plans typically also enable you to "pay a little extra" to receive additional coverage options. Thanks to subsidies offered by the US government, that "little extra" could even potentially come out to a total of $0 per payment period.
One of the greatest benefits of enrolling in a Medicare Advantage plan is that many providers enable you to add coverage for prescription drugs at levels ranging from all-inclusive to covering solely the basics, depending on your prescription needs. This can be particularly helpful for seniors suffering from chronic health conditions, such as diabetes, because these plans can be expanded to provide additional coverage for medical equipment and other necessities, including glucose monitors and testing strips. In fact, for people with any of the aforementioned age-related illnesses, the savings can really add up after as little as one year. The chart below shows just how large these savings can become around the five- and ten- year periods.
Because Medicare Advantage plans are privately owned and managed, the companies that provide the coverage have to compete with one another for your fealty, affording you some measure of power to shop around and find better rates. This can enable you to save even more money while adding additional coverage options, even going so far as to include dental and vision care coverage, options that neither Original Medicare nor Medicare Supplement Insurance can provide. If you believe that Medicare Advantage plans might be right for you, check out a few of the most competitive rates from top providers listed in the chart below. If not, keep reading and we'll discuss other, less-comprehensive options that might be better suited to your particular needs.
Medicare Supplement (Medigap) Savings in Rochester, NY
Unlike Medicare Advantage plans, Medicare Supplement plans (also known as Medigap plans) don't fully replace your Original Medicare plan. Instead, as the name suggests, Medicare Supplement plans supplement your existing Medicare plan, meaning that you won't have to worry about re-negotiating or re-working your finances in order to accomodate the transition in plans. Generally speaking, Medigap plans are less comprehensive than Medicare Advantage plans but more comprehensive than Original Medicare, providing you with a range of benefits specifically tailored for preventing unwanted expenses while you're caught off guard by Medicare coverage gaps. All-in-all, there are ten primary types of plans from which to choose. Let's break down each category in detail.
The first category of Medigap plans includes Medicare Supplement insurance Plans A, D, K, and L. Each of these four plans provides special coverage to help improve your access to hospital and in-patient expenses. To use official terms, these plans cover the costs incurred pertaining to Medicare Part A. For this reason, many seniors who suffer from chronic illnesses such as severe arthritis or kidney disease find that either of these four plans is all that they need. However, the plans in this category only help cover costs related to Medicare Part A and provide no benefits for Medicare Part B.
The second category of plans, on the other hand, covers both Medicare Part A and Medicare Part B coverage gaps. The plan types included in this category are Plans B, C, F, G, M, and N. The plans in this category are great for seniors who have experienced a dearth in coverage due to the Medicare coverage gaps as a result of both Medicare Part A and Medicare Part B. Unfortunately, if you have already fallen in love with Medigap Plan F, we have a bit of bad news for you: Medigap Plan F will no longer be available as of 2021. In order to secure similar benefits, talk to a specialist about plans B, C, G, M, and N.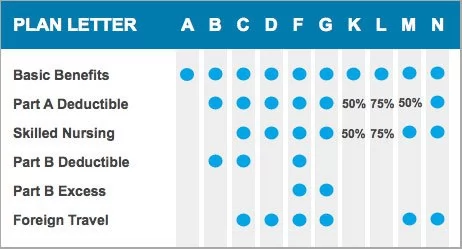 The greatest strength of Medigap plans is their unique nature, with each one providing benefits specifically tailored to the needs of particular groups of seniors. However, this custom fit nature is also Medigap's greatest weakness. Although Medigap plans can be great for rendering Medicare Part A and Medicare Part B more affordable, it is currently not possible to add prescription drug, vision, or dental coverage to a Medigap plan. Instead, you will have to add outside insurance plans to your suite of healthcare options in order to ensure that you receive the level of treatment that you both need and deserve.
At the end of the day, through struggle and strife of constantly worrying whether or not you're going to find yourself lost in a sea of coverage gaps, there is one thing that you need to remember: you've earned this! You didn't spend your life paying Medicare taxes just for the government to abstain from helping you pay for your most expensive healthcare needs. So what are you waiting for? Take back control of your financial future today by logging into Medigap.com and shopping for the plan that is best for you. Your future self with thank you for your future health.
| | | | |
| --- | --- | --- | --- |
| Medigap Plan | Minimum Monthly Premium | Maximum Monthly Premium | Average Estimated Monthly Premium (Part B Premium Included) |
| Plan A | $137 | $336 | $372 |
| Plan B | $165 | $399 | $418 |
| Plan C | $224 | $432 | $464 |
| Plan D | $269 | $398 | $469 |
| Plan F | $193 | $568 | $516 |
| Plan F (high deductible) | $51 | $167 | $245 |
| Plan G | $220 | $455 | $473 |
| Plan K | $64 | $175 | $255 |
| Plan L | $133 | $250 | $327 |
| Plan M | $228 | $369 | $434 |
| Plan N | $156 | $265 | $346 |