Raise your hand if you assumed that Medicare would cover all of your medical needs before you retired. If you're on this page right now, it's probably because you've recently discovered that this isn't the case. Don't worry, though – there are affordable and easy solutions to the problem of Medicare coverage gaps. Most seniors choose between either Medicare Advantage or Medigap supplement; but the option that's right for you will largely depend on your own personal circumstances.
Facts and Figures
There are 4,040 senior citizens living in Derry right now

There are 6 hospitals in the Derry area where seniors can get emergency and/or in-patient care

10% of New Hampshire seniors have a Medicare Advantage plan

30% of seniors have a Medicare Supplement (Medigap) plan

Which leaves 60% of seniors potentially uninsured or underinsured against costly Medicare coverage gaps!
What are you most worried about, healthcare-wise? Is it cancer? Maybe you're worried about falling, and suffering a traumatic injury? Well, according to the statistical data for seniors in Derry, you might want to worry more about chronic disease. Just look at the percentages of seniors who are suffering from these diseases as outlined in the chart below. Things like cancer or traumatic injuries are serious and usually expensive, but still relatively rare. Chronic disease, on the other hand, is more of an eventuality for most people.
| | |
| --- | --- |
| Disease | Prevalence in Derry |
| Arthritis | 26% |
| High Blood Pressure | 29% |
| Coronary Heart Disease | 6% |
| Diabetes | 9% |
| Kidney Disease | 3% |
Healthcare Costs in Derry, NH
The medical expenses from chronic disease probably won't seem like much at first. With heart disease, for example, your doctor may put you on a relatively inexpensive, generic statin drug. And you might take that for years every day, thinking little more of it. But even with the help of one or multiple drugs, you could still end up finding yourself needing more frequent and more expensive diagnostic testing to make sure your arteries are clear, or even invasive bypass surgery to avoid a first or prevent a second heart attack. All of this can cost thousands (or even tens of thousands) of dollars easily. What adds insult to injury is that the longer you live, the more expensive it will all become.
| | | |
| --- | --- | --- |
| Disease | Prevalence in Derry | Annual Cost of Treatment |
| Arthritis | 26% | $291 |
| High Blood Pressure | 29% | $354 |
| Coronary Heart Disease | 6% | $9,860 |
| Diabetes | 9% | $2,163 |
| Kidney Disease | 3% | $8,687 |
Medicare Advantage Savings in Derry, NH
It's important to think about things like the medical costs of chronic illness management, especially when you're trying to choose between your Medicare supplement insurance options. One of those options is Medicare Advantage. The way it works is that you purchase a Medicare Advantage policy from a private company, and they take over your health care needs in place of the federal Medicare program. You'll no longer receive medicare benefits from the government; you'll get them from a private company instead. But that company must legally offer you the same benefits that Medicare Parts A & B offer (they legally cannot sell you anything less without breaking some serious laws).
Legally, your Medicare Advantage policy must offer you the same benefits you would get had you stayed with Medicare Parts A and B. But most seniors get more benefits than this, because Medicare Advantage companies like to sell extra coverage – usually for a small addition to your monthly premium. Some of those extra coverages provide for the gaps in Original Medicare coverage, and may even add things like dental, vision, and prescription drug assistance.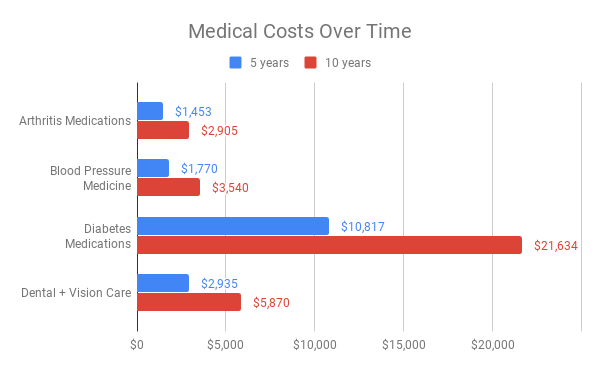 Lastly, the vast majority of Medicare Advantage policies come with dental and vision coverage tacked onto the same policy. If you're the type of person that likes to streamline your life, this added convenience can be worth its weight in gold. But it can also cost its weight in gold, too. The federal government is obligated to help pay your monthly premium for your Medicare Advantage program since you paid into the Medicare program via taxes for most of your adult life. Sometimes, this government assistance means you can get Medicare Advantage for as little as $0 per month – but sometimes, extra coverage options like vision, dental, and more can make your monthly premium more expensive. It all depends on your individual medical needs, and what sort of Medicare Advantage plans are available in your area.
Medicare Supplement (Medigap) Savings in Derry, NH
The majority of seniors who choose to purchase a Medigap policy instead of Medicare Advantage do so because of the inherent value it offers. These policies are designed to work with Medicare, not replace it; therefore they're smaller in nature and only focus on the gaps in Original Medicare coverage. You can choose from one of 10 different plans. They're each designated by a letter, such as Plan F or Plan A. They are standardized, meaning that each plan will offer you the same exact benefits no matter which state you live in. Medicare will still be your primary form of health insurance, and only when Medicare refuses to pay out on a medical claim will you have to deal with your Medicare Supplement Insurance policy.
Let's start by talking about Medigap plans A, D, K, and L. These are the plans that take care of the gaps in Medicare Part A coverage. Medicare Part A deals with hospital expenses and end-of-life care. There are a lot more expensive coverage gaps associated with Medicare Part A compared to Medicare Part B; for this reason, there are four specific Medigap plans designed to handle these specific concerns. If you aren't worried about the coverage gaps in Medicare Part B, you could save money by choosing among one of these four plans since they usually have less expensive monthly premiums than any of the other six plans. However, Medicare Part B coverage gaps can be expensive if you aren't careful, which makes the other plans cost effective for many seniors.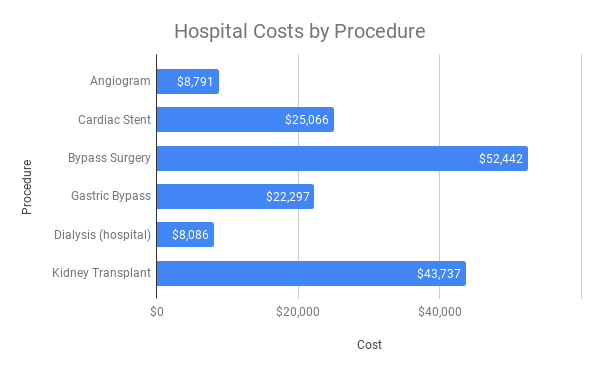 Medigap Plans B, C, F, G, M, and N are the plans that cover gaps in both Medicare Part A and Part B to varying degrees. If you're worried about excess charges, co-pays, coinsurance, and the like from Medicare Part B, then looking into one of these six plans is a good idea. Medigap Plan F is the most comprehensive, but it won't be around forever. It will be phased out at the end of 2020, so if you are eligible to enroll before 2021 and you want the most comprehensive Medigap Plan available, you need to act quickly in order to get grandfathered into these benefits.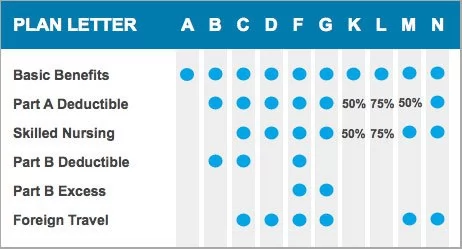 Unfortunately, unlike Medicare Advantage, you can't add dental, vision, or prescription drug coverage to your Medigap supplement. And none of the available Medigap supplements come with these types of coverage. For prescription drug coverage, the most popular choice is Medicare Part D – but we've already discussed how problematic that can sometimes be. You'll also have to get private dental and vision insurance from a local provider; but these providers sometimes offer age-related discounts to seniors like you, so it may be worth checking out.
Based on the information you've read so far, do you feel more confident that you can make a good decision about your future healthcare needs? Or are you even more confused than before? Either way, you're not alone. And you don't need to make such a big decision on your own, either. We will be more than happy to help you if you just reach out and contact us. The sooner you do so, the more money you will avoid wasting on costly Medicare coverage gaps!
| | | | |
| --- | --- | --- | --- |
| Medigap Plan | Minimum Monthly Premium | Maximum Monthly Premium | Average Estimated Monthly Premium (Part B Premium Included) |
| Plan A | $90 | $224 | $293 |
| Plan B | $142 | $266 | $340 |
| Plan C | $164 | $346 | $391 |
| Plan D | $173 | $288 | $366 |
| Plan F | $166 | $302 | $370 |
| Plan F (high deductible) | $45 | $92 | $204 |
| Plan G | $172 | $295 | $369 |
| Plan K | $69 | $134 | $237 |
| Plan L | $120 | $189 | $290 |
| Plan M | $142 | $239 | $326 |