Are you planning for your retirement in Billings, Montana? There's a lot more to retirement than most people think. This is especially true when it comes to your health care coverage. Medicare is very comprehensive, but it doesn't necessarily cover everything you will need during your golden years. For example, there are some very expensive coverage gaps inherent in Medicare Parts A and B that could cost you tens of thousands of dollars or more in out-of-pocket costs if you aren't careful. Thankfully, there are two ways you can protect yourself from these expenses: Medicare Advantage, or a Medicare Supplement Insurance (Medigap) policy. If you're not sure which one is right for you, then you've come to the right place. We've got plenty of information on both right here for you in this educational article.
Facts and Figures
There are 17,747 senior citizens living in Billings right now
There are 5 hospitals in the Billings area where seniors can get emergency and/or in-patient care
20% of Montana seniors have a Medicare Advantage plan
30% of seniors have a Medicare Supplement (Medigap) plan
Which leaves 50% of seniors potentially uninsured or underinsured against costly Medicare coverage gaps!
One of the reasons most seniors aren't familiar with these coverage gaps is because they don't usually apply to sudden or unexpected medical emergencies like a cancer diagnosis. They usually apply to costs which are associated with chronic disease. If you have a chronic disease – and especially if you have one of the diseases outlined in the chart below – you could eventually become financially vulnerable to medicare coverage gaps, too. This is why it's so important to decide on a supplemental insurance policy before your chronic disease becomes advanced.
| | |
| --- | --- |
| Disease | Prevalence in Billings |
| Arthritis | 26% |
| High Blood Pressure | 29% |
| Coronary Heart Disease | 6% |
| Diabetes | 9% |
| Kidney Disease | 3% |
Healthcare Costs in Billings, MT
The thing about chronic disease is that it is as ubiquitous as it is irreversible. Nearly everyone will get a chronic disease diagnosis in their lifetime – and once you have it, it will only get worse over time. There is no way to reverse a chronic disease. You need to stay on top of it, and you need to get proper treatment in order to manage your symptoms and slow down the progression. Otherwise, your quality of life will diminish quickly and severely. But managing chronic disease can get very expensive if you aren't careful. Just take a look at this next chart with data on annual medical costs and chronic disease.
| | | |
| --- | --- | --- |
| Disease | Prevalence in Billings | Annual Cost of Treatment |
| Arthritis | 26% | $294 |
| High Blood Pressure | 29% | $356 |
| Coronary Heart Disease | 6% | $9,395 |
| Diabetes | 9% | $2,173 |
| Kidney Disease | 3% | $8,717 |
Medicare Advantage Savings in Billings, MT
Many seniors are under the impression that Medicare Advantage is also a government-run medical program. But that couldn't be further from the truth. Medicare Advantage is actually a private health insurance policy that some seniors choose to purchase instead of accepting their federal Medicare benefits. Thankfully, the government does have some say in what types of coverage these policies must offer you, which is identical to what you would normally get with Original Medicare. The government also pays for a large portion of your monthly premium since you paid into the Medicare system via taxes for so many years of your working life. This means some seniors can get a fairly comprehensive Medicare Advantage plan for $0 each month.
In reality, most Medicare Advantage plans offer more coverage options than Medicare Part A and B. Why is this? Because these companies need a reason to entice you away from the government so that they can get more business. So they offer things like coverage for the Medicare coverage gaps, dental insurance, vision insurance, and even prescription drug coverage all under the same policy. Original Medicare doesn't offer any of these by itself.
To get that kind of comprehensiveness with Medicare Parts A and B, you also have to get supplemental coverage from other insurance providers. But with a Medicare Advantage company, you can get all of this coverage through one provider. This makes dealing with your health insurance needs much easier for some seniors. Just keep in mind that the more insurance coverage you purchase, the more expensive your policy will be – and you may end up actually having to pay a monthly premium. It might even be an expensive one. But for some seniors, paying a little bit more for their coverage is worth the convenience that Medicare Advantage provides them.
Medicare Supplement (Medigap) Savings in Billings, MT
If you want to keep your federal Medicare benefits and only worry about supplementing the coverage gaps, then you might prefer a Medicare Supplement Insurance policy instead. You wouldn't be alone in making this decision; 30% of Montana seniors feel the same way. With Medigap, you choose from one of the 10 available policies, each one offering varying degrees of coverage against the coverage gaps. Medicare pays for your medical costs first, Medigap pays second, and only on rare occasions (depending on the plan you choose) will you see a medical bill.
Some seniors might think that their Medicare Part B coverage gaps are under control, and therefore are only concerned about the gaps in Medicare Part A Hospital costs. These costs can include things like extended hospital stays or hospice care. Because you're only supplementing the gaps in Medicare Part A, these four Medigap policies (plans A, D, K, and L) tend to cost a little bit less compared to the other six plans. But then again, Medicare Part B coverage gaps can be pretty sneaky and before you know it, you could be looking at tons of out-of-pocket costs if you aren't careful.
That's why Medigap plans B, C, F, G, M, and N are so popular. They help protect you from things like coinsurance, deductibles, and excess charges while also protecting you from Medicare Part A coverage gaps at the same time. The most popular plan of all is Plan F. Unfortunately, Plan F is going to be phased out of rotation by the end of 2020; but there is some good news. If you want Medigap Plan F before it is no longer available for sale, all you have to do is enroll in the plan before 2021 and you can get grandfathered into those benefits. Then, as long as you pay your premiums on time and as long as your Medigap provider stays financially solvent, you can keep enjoying them for the rest of your life.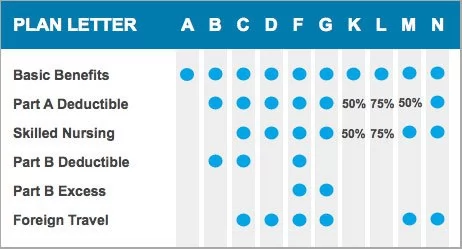 The main problem some seniors have with Medigap policies is the fact that they have to go both outside Original Medicare and their Medigap insurance provider in order to get coverage for things like prescription drugs, dental, and vision. But this isn't necessarily a deal-breaker for everybody. The Medicare Part D prescription drug program covers most prescription drug needs, only leaving you responsible for 25% of your prescription drug costs if you exceed your annual limit but fall short of catastrophic coverage. Dental and vision insurance providers are a dime a dozen in nearly every state, and tend to offer fairly low and affordable monthly premiums – especially for seniors like you. But you will have to deal with the hassle of managing all of these policies separately as opposed to under a single plan like Medicare Advantage.
We understand this is a lot of information to throw at you all at once. For some readers, there may now be more questions than answers regarding the differences between Medicare Advantage and Medigap. But don't worry – we're here to help. You can call or email us right now with any questions you have and one of our Medigap.com customer service experts will help set you on the path to finding the supplemental health insurance which best suits your needs.
| | | | |
| --- | --- | --- | --- |
| Medigap Plan | Minimum Monthly Premium | Maximum Monthly Premium | Average Estimated Monthly Premium (Part B Premium Included) |
| Plan A | $67 | $183 | $261 |
| Plan B | $90 | $227 | $294 |
| Plan C | $107 | $262 | $320 |
| Plan D | $103 | $221 | $298 |
| Plan F | $110 | $260 | $321 |
| Plan F (high deductible) | $27 | $89 | $194 |
| Plan G | $96 | $217 | $292 |
| Plan K | $42 | $107 | $210 |
| Plan L | $74 | $151 | $248 |
| Plan M | $97 | $194 | $281 |
| Plan N | $76 | $194 | $271 |