Are you a retiree living in Duluth looking for the best coverage you can get for your money? Purchasing comprehensive Medicare coverage can be a little confusing if you don't know what you're doing. But we are here to help. Your two best options for the most comprehensive coverage are either Medicare Advantage or a Medigap supplement. This article is going to explain the difference between the two, and it will also explain what you need to know in order to make the best financial decision for yourself.
Facts and Figures
There are 13,655 senior citizens living in Duluth right now
There are 7 hospitals in the Duluth area where seniors can get emergency and/or in-patient care
56% of Minnesota seniors have a Medicare Advantage plan
21% of seniors have a Medicare Supplement (Medigap) plan
Which leaves 23% of seniors potentially uninsured or underinsured against costly Medicare coverage gaps!
Let's start by answering one very important question: who is the most vulnerable when it comes to Medicare coverage gaps? The answer to that is: every senior citizen in America. This is especially true if you suffer for many chronic health conditions. Contrary to popular belief, it's not a sudden, traumatic injury or a cancer diagnosis that can wipe out your life savings with unexpected medical bills. It's the silent killers like heart disease, diabetes, or even arthritis which can cost you thousands in unanticipated medical care.
| | |
| --- | --- |
| Disease | Prevalence in Duluth |
| Arthritis | 25% |
| High Blood Pressure | 25% |
| Coronary Heart Disease | 6% |
| Diabetes | 8% |
| Kidney Disease | 3% |
Healthcare Costs in Duluth, MN
Why are chronic diseases so much more expensive then sudden, serious ones? And why are these particular diseases so closely intertwined with Medicare coverage gaps? It all has to do with the mounting expenses associated with chronic disease treatment. For any particular ailment, the number of prescriptions you require to manage them will likely go up over time. You may require more and more outpatient procedures to deal with them, or even major surgery such as a cardiac bypass. Diabetes and kidney disease will eventually lead to renal failure, and a single dialysis treatment can cost several thousand dollars just to keep you alive. Overtime, the little costs and the big costs all eventually add up. And even the estimated costs in the chart below are at the lower end of the spectrum for most seniors.
| | | |
| --- | --- | --- |
| Disease | Prevalence in Duluth | Annual Cost of Treatment |
| Arthritis | 25% | $291 |
| High Blood Pressure | 25% | $354 |
| Coronary Heart Disease | 6% | $9,393 |
| Diabetes | 8% | $2,163 |
| Kidney Disease | 3% | $8,509 |
Medicare Advantage Savings in Duluth, MN
At 56%, the popularity of Medicare Advantage in Minnesota is undeniable. But what is Medicare Advantage, really? It's actually a private health insurance plan. But the only reason it is allowed to attach Medicare to its name is because the companies who offer these policies allow thorough and stringent government oversight of their plans. By law, Medicare Advantage policies must include the same basic benefits you get from Medicare Parts A and B. But almost every single one will offer to sell you additional coverage – for a monthly premium increase, of course – to give you the most comprehensive care possible. And since you've been paying into the Medicare system for years via taxes, the federal government will subsidize your monthly premium – making these plans as affordable as $0 per month for some lucky seniors.
Unlike Medigap supplements, which we will discuss in a moment, Medicare Advantage allows you to add coverage to your policy in order to customize your plan. The most common additions are things like vision, dental, and comprehensive prescription drug coverage. This gives you the added convenience of managing all of your medical needs under one, single, solitary insurance policy. If there is ever a dispute about a claim, you don't have to juggle multiple entities – you only have to deal with the company who issued your policy. While adding all this extra coverage could make your plan more expensive due to increased monthly premiums, some seniors believe that the added expense is worth it. For other seniors, the premium increase is so negligible that the plan is still highly affordable.
But Medicare Advantage isn't always the best option for all seniors. As we have said, purchasing extra coverage and lumping all of your medical care onto the same insurance plan could make it prohibitively expensive. You could also end up with a company that promises more than it delivers, and may end up with nowhere to turn if they fail to pay out on claims or give you the run-around. For these reasons and more, some seniors prefer to supplement their Medicare needs with a Medicare Supplement Insurance policy instead.
Medicare Supplement (Medigap) Savings in Duluth, MN
Medigap insurance enrollees in Duluth are less than half of what Medicare Advantage has – but that doesn't mean Medigap supplements aren't an effective and highly affordable option for seniors in your area. These smaller, less expensive plans supplement the gaps in your Medicare coverage with surgical precision instead of trying to overtake all of your medical needs the way Medicare Advantage does. There are 10 plans to choose from in total, and the plan you choose will depend mostly on what your specific medical needs are.
There are basically two categories of Medigap plans: those that take care of Medicare Part A gaps, and those that take care of a combination of Medicare Parts A and B gaps. The plans that mostly focus on Medicare Part A are plans A, D, K, and L. These plans provide cost-saving coverage for things like extended hospital stays, 4 or more blood transfusions, and end-of-life hospice care. They are generally cheaper than the other six plans, and they can save you a good deal of money in monthly premiums if you don't anticipate Medicare Part B coverage gaps costing you a whole lot of money.
But not all seniors are so healthy and financially sound that they don't have to worry about Medicare Part B. That's where the other six plans come in. Plans B, C, G, F, M, and N are those Medigap plans which help you pay for things like coinsurance, co-pays, excess charges, and more so that you don't fall victim to Medicare Part B coverage gaps. But not all of these plans will be around forever. Plan F, which is the most comprehensive and the most popular Medigap plan, will no longer be available for new enrollees at the end of 2020. So if you can't enroll now and get yourself grandfathered into the program, you will have to look at one of the other, less comprehensive Medicare plans in 2021.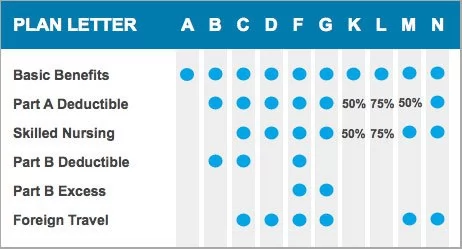 Some of the benefits of Medigap over Medicare Advantage is that they are smaller, simpler, and less expensive when it comes to your monthly premiums. But one of the drawbacks is that you cannot customize a Medigap plan the way you can with Medicare Advantage. Medigap plans are sold as is, and there is no wiggle room for negotiation. So if you want to add dental, vision, or prescription drug coverage, you won't be able to do so directly. If you have Original Medicare and a Medigap supplement, you will need to purchase separate vision and dental insurance; but that is usually fairly simple and inexpensive for seniors since there are age-appropriate discounts and no limited enrollment periods for these types of insurance. You can also sign up for Medicare Part D in order to get your prescription needs met.
As you can see, both Medicare Advantage and Medigap supplements have their respective pros and cons. So which plan is better? The simple answer is: the plan that best meets your needs. But determining which plan meets your needs the best is far from a simple process. If you're still unsure which one is better for you, we implore you to reach out and contact our experts. We have customer service representatives standing by to take your call, answer your email, and to help you figure out which supplement is best for you. And you'd better act fast – because you're next major medical expense could hit you before you know it!
| | | | |
| --- | --- | --- | --- |
| Medigap Plan | Minimum Monthly Premium | Maximum Monthly Premium | Average Estimated Monthly Premium (Part B Premium Included) |
| Medigap Basic Plan | $185 | $597 | $527 |
| Medigap Extended Basic Plan | $185 | $597 | $527 |
| Plan F (high deductible) | $53 | $121 | $223 |
| Plan K | $77 | $122 | $235 |
| Plan L | $133 | $171 | $288 |
| Plan M | $140 | $180 | $296 |
| Plan N | $111 | $245 | $314 |