What are you looking forward to most as a retiring senior in Bloomington? More ice fishing and hunting trips? Picking up a new hobby? Or just kicking up your feet and relaxing now that you don't have to go to a day job every morning? One thing you're probably not looking forward to are the costly coverage gaps in your federal Medicare benefits. But if you don't act now to protect yourself from these gaps, you'll be seeing them very soon – in the form of disastrously expensive medical bills.
Facts and Figures
There are 16,430 senior citizens living in Bloomington right now
There are 5 hospitals in the Bloomington area where seniors can get emergency and/or in-patient care
56% of Minnesota seniors have a Medicare Advantage plan
21% of seniors have a Medicare Supplement (Medigap) plan
Which leaves 23% of seniors potentially uninsured or underinsured against costly Medicare coverage gaps!
These Medicare coverage gaps are most likely to affect you in the form of medical costs from chronic disease management. Everyone thinks that the most expensive ailments for seniors are things like cancer or broken bones – and we don't mean to dismiss or belittle how devastating such conditions can be. But as far as your total medical costs go, age-related chronic diseases such as those listed in the chart below can take a huge bite out of your life savings if you aren't careful. And if you don't currently have some sort of Medicare supplement insurance to protect yourself from these coverage gaps, you are about as far from careful as a senior citizen can get.
| | |
| --- | --- |
| Disease | Prevalence in Bloomington |
| Arthritis | 22% |
| High Blood Pressure | 28% |
| Coronary Heart Disease | 6% |
| Diabetes | 8% |
| Kidney Disease | 3% |
Healthcare Costs in Bloomington, MN
What is so expensive about chronic disease? Well, the goal for most seniors is to live as long as you can post-retirement while also experiencing the highest possible quality of life. But most seniors will struggle to accomplish that in the face of chronic disease. In order to maintain that high quality of life for as long as possible, you're going to have more frequent doctor appointments, you're going to need more frequent treatment, and you will likely need one or several potentially expensive prescription drugs to manage age-related disease. But the more care you require in order to maintain your quality of life, the more likely you are to run into Medicare coverage gaps – and the more expensive those gaps will become over time.
| | | |
| --- | --- | --- |
| Disease | Prevalence in Bloomington | Annual Cost of Treatment |
| Arthritis | 22% | $291 |
| High Blood Pressure | 28% | $354 |
| Coronary Heart Disease | 6% | $8,073 |
| Diabetes | 8% | $2,163 |
| Kidney Disease | 3% | $7,372 |
Medicare Advantage Savings in Bloomington, MN
By far, the most popular option for Minnesotans is to supplement their Medicare by replacing their Original Medicare benefits with a Medicare Advantage policy. But just because you are replacing your federal Medicare with a private health insurance plan doesn't mean you won't be receiving the same standard of care. As a matter of fact, you will likely end up with more coverage and benefits than you would if you had stayed with original Medicare – and since your Medicare Advantage plan will be subsidized by the government in exchange for you paying taxes into the Medicare system all your working life, you could get a fully comprehensive plan for as little as $0 per month in premiums.
Federal law mandates that any company selling you a Medicare Advantage policy must offer you at least the same benefits as Medicare Parts A and B. But many Medicare Advantage companies go above and beyond that in order to earn your business. You can add things like dental, vision, and prescription drug coverage that pays for even more than Medicare Part D. And those are just a few of the options you may be eligible to purchase with Medicare Advantage. You'll have to talk to your Medicare Advantage insurance agent to find out exactly what coverages are available and how much they will cost you.
Part of the reason Medicare Advantage is so popular in Minnesota is because seniors can get all of their health care coverage needs incorporated into a single, solitary insurance plan and managed through a single company for an affordably low or no monthly premium. This doesn't just keep their healthcare costs down, but it also makes their healthcare much easier to manage. Still, 21% of seniors in Minnesota have chosen another option: Medicare Supplement Insurance (Medigap). And we will be discussing why in the next section.
Medicare Supplement (Medigap) Savings in Bloomington, MN
Medigap insurance is very different from Medicare Advantage in several ways. For one, these plans are designed to tackle your Medicare coverage gaps with surgical precision instead of replacing your coverage entirely the way Medicare Advantage does. These smaller, less expensive policies only provide coverage for the specific gaps in Medicare Parts A and B – nothing more, but certainly nothing less. There are 10 plans to choose from in total with varying levels of coverage depending on your needs. You cannot customize these plans, you can only take them or leave them; which is why Medigap companies offer so many choices for you to select from.
Medigap plans A, D, K, and L are largely concerned with addressing the gaps in Medicare Part A hospital costs. So if you are concerned with the costs of blood transfusions after the first 3 pints, hospice care coinsurance, or general Part A coinsurance costs which come after you exhaust all of your Medicare Part A benefits, one of these four plans is right up your alley. This is especially true if you're not concerned with Part B Medicare coverage gaps because the monthly premiums for these four plans are generally lower than a more comprehensive plan.
But the vast majority of seniors are concerned about Part B coverage gaps – and justifiably so. Expenses like your Part B deductible, excess charges, and more will be largely or completely your responsibility without coverage available from plans B, C, F, G, M, or N. If you have your heart set on a more comprehensive plan like Plan F, you'll need to act fast while it is still available. Plan F is scheduled to be phased out after 2020, and new enrollees will no longer be able to purchase it as of 2021. But you can get grandfathered into Plan F right now and enjoy those benefits for the rest of your golden years if you can get enrolled before the deadline.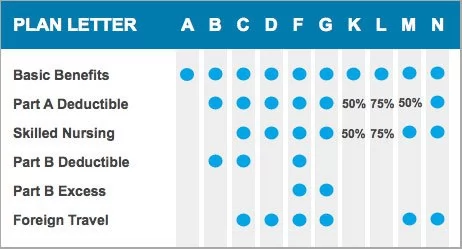 Medigap plans can save you money over some Medicare Advantage offers because they don't give you the option to add extra forms of coverage like vision, dental, or prescription drugs. So your monthly premium only pays for the medical coverage and benefits for your Medicare coverage gaps, and that's it. If you want prescription drug coverage, you will need to sign up for Medicare Part D – and as long as you aren't on too many prescriptions or very expensive ones, your costs will be almost completely covered. Acquiring vision and/or dental insurance is very simple and can be done at any time because there are no restrictive enrollment periods.
If you're in the market for Medicare supplement insurance coverage right now, which one looks best for you? Are you going to jump on the bandwagon with everyone else and purchase yourself a Medicare Advantage policy? Or are you going to take the road less traveled and purchase a Medigap supplement? If you're still undecided, we completely understand. But we'd also encourage you to reach out and contact us. Our experts are knowledgeable and eager to help clear up any confusion you may have. We're just a phone call away – don't hesitate! your life savings may be at stake.
| | | | |
| --- | --- | --- | --- |
| Medigap Plan | Minimum Monthly Premium | Maximum Monthly Premium | Average Estimated Monthly Premium (Part B Premium Included) |
| Medigap Basic Plan | $121 | $269 | $331 |
| Medigap Extended Plan | $185 | $597 | $527 |
| Plan F (high deductible) | $53 | $121 | $223 |
| Plan K | $77 | $122 | $235 |
| Plan L | $133 | $171 | $288 |
| Plan M | $140 | $180 | $296 |
| Plan N | $111 | $245 | $314 |