Columbia, Maryland, has it all! There are plenty of things to do, plenty of places to see, and – of course – there's always time to relax. What else could a senior like you need to enjoy their retirement? The most obvious answer to that question is: healthcare. Unfortunately, regardless of where you live, you can be subject to the high out-of-pocket costs of Medicare coverage gaps, which tend to run in the thousands of dollars each year. If you're reliant on Original Medicare to meet your healthcare needs, then you are probably quite familiar with these gaps. If you're not, then take the time to read the information within this article to further familiarize yourself with the harm that they can cause.
Facts and Figures
There are 7,471 seniors living in Columbia right now.
There are 10 hospitals and medical centers in the Columbia area where seniors can get emergency and/or in-patient care.
11% of Maryland seniors have a Medicare Advantage plan.
21% of Maryland seniors have a Medicare Supplement (Medigap) plan.
Which leaves 68% of seniors potentially uninsured or underinsured against costly Medicare coverage gaps!
An estimated 5,081 seniors in Columbia, Maryland, don't have reliable access to affordable healthcare. In other words, just about seven out of every ten seniors in your area struggle to obtain the healthcare that they both need and deserve. If you go to your local church, hospital, park, or theater, the odds are that the majority of the seniors there are not properly protected from high costs of healthcare in Columbia. If you're one of those many seniors, then your problems are only going to worsen with time. As you age, your risk of developing one or more age-related illnesses increases significantly. To make matters worse, even if you don't develop an additional age-related illness, any symptoms that you do currently have are likely to increase in both frequency and severity over time. The chart below shows the percentages of seniors in your area who currently struggle with at least one or more of the most common age-related illnesses.
| | |
| --- | --- |
| Disease | Prevalence in Columbia, MD |
| Arthritis | 27% |
| High Blood Pressure | 38% |
| Coronary Heart Disease | 6% |
| Diabetes | 13% |
| Kidney Disease | 3% |
Healthcare Costs in Columbia, MD
As you can see from the chart above, illness is quite common in the Columbia area. Unfortunately, access to affordable healthcare is not. As you develop new or worsening symptoms, you will most likely have to see the doctor more often in order to treat those symptoms. Every time you do so, your risk of falling into one of the Medicare coverage gaps increases. That means that you could quickly find yourself paying high out-of-pocket costs with all or most of your effective benefits being temporarily suspended. Moreover, medical costs are rising across the board for a variety of reasons, meaning that your healthcare is going to increase in cost regardless of whether or not you experience a change in symptoms. Since seniors are living longer lives than ever before, there will be more time in your life for these high out-of-pocket costs to really add up.
| | | |
| --- | --- | --- |
| Disease | Prevalence in Columbia, MD | Annual Cost of Treatment |
| Arthritis | 27% | $291 |
| High Blood Pressure | 38% | $354 |
| Coronary Heart Disease | 6% | $7,854 |
| Diabetes | 13% | $2,163 |
| Kidney Disease | 3% | $6,816 |
Medicare Advantage Savings in Columbia, MD
Nearly one out of every ten seniors in Columbia, Maryland, have already replaced their Original Medicare insurance plans with Medicare Advantage insurance plans provided by private companies. The law requires that these plans provide the same minimum level of coverage as Original Medicare, but many companies go above and beyond those requirements in order to convince potential beneficiaries to enroll. That being said, the additional coverage options that Medicare Advantage plans provide can often cost quite a bit of money. Of course, that doesn't mean that they'll cost you anything. The government tends to take care of all or most of your Medicare Advantage premiums, meaning that you could enjoy a significantly increased array of coverage options thanks to tax revenue you've paid into the Medicare system your whole life.
One of those additional coverage options is prescription drug coverage. Medicare Advantage prescription drug coverage covers a wide array of prescription medications and even includes many kinds of minor medical equipment, such as glucose monitors and testing strips. These plans also tend to be so comprehensive as to cover a nearly limitless supply of medications, making them one of the greatest options for seniors who rely on a large number of medications, which can often be the case for seniors suffering from arthritis, high blood pressure, and/or diabetes. That combined with the minor medical equipment coverage can enable you to save thousands or even tens of thousands of dollars over a period of 5 or even 10 years (or more).
Medicare Advantage plans enable you to save even more money in the long run by switching to Medicare Advantage vision and dental care coverage. Since these coverage options can be added directly to your Medicare Advantage plan, you don't have to worry about the hassle of enrolling in multiple insurance plans with multiple insurance companies. This is something that neither Original Medicare nor Medicare Supplement Insurance can provide. Since neither of those two plans provide much coverage of any kind related to vision or dental care, you would have to enroll in yet another insurance provider's plan in order to receive a comparable level of care to that of Medicare Advantage vision and dental care coverage.
Medicare Supplement (Medigap) Savings in Columbia, MD
Medicare Supplement Insurance, often referred to as Medigap, serves as a supplement to Original Medicare. That is to say that Medigap insurance does not replace your Original Medicare insurance the way that Medicare Advantage plans do. Instead, each of the ten available Medigap plans serve to make it possible for you to enjoy access to healthcare without worrying about paying the high prices of Medicare coverage gaps. Although each of the ten plan types comes with its own pros and cons, they all provide coverage related to some aspect of Medicare Part A coverage gaps, which can be quite burdensome for seniors suffering from age-related heart and/or kidney disease. That being said, it is important to divide each of the ten plans into two different categories so as to better understand what each plan does.
The first category contains Medigap plan types A, D, K, and L. Each of these plans provides the aforementioned benefits to Medicare Part A, but little else. That means that you could enjoy worry-free access to healthcare in regards to treatments such as hospitalizations, blood transfusions, and skilled nursing care. Unfortunately, it also means that you won't have any additional protection against Medicare Part B coverage gaps, which can be quite high for many seniors. If you only have Medicare Part A coverage gaps to worry about, however, than one of these plans could be perfect for you.
The second category contains Medigap plan types B, C, F, G, M, and N. Whereas the plan types in the first category only provide benefits related to Medicare Part A coverage gaps, these plans also provide benefits related to Medicare Part B coverage gaps, ensuring that just about every one of your medical needs will be covered from the time that you call the ambulance to the time you get out of the hospital. Of course, it is important to note that not all of these plans will be around forever. For example, Medigap Plan F, a favorite of many seniors, will no longer be around after the end of 2020. Those who are enrolled in Plan F before the deadline will be grandfathered into the program, and get to keep their benefits as long as they pay their premiums in full and on time (and as long as their insurance provider stays solvent). But if you can't enroll in Plan F before it's gone, you'll have to look into a different plan type or a different type of insurance altogether.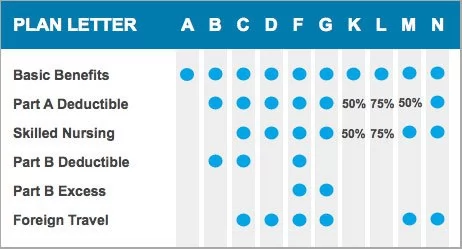 As mentioned earlier in this article, there is no way to add vision or dental coverage directly to your Medigap insurance plan. The same goes for prescription drug coverage. In order to obtain these coverage options, you'll have to add additional providers to your array of benefits. For prescription drug coverage, that means enrolling in Medicare Part D prescription drug coverage. Although this plan comes with the risk of landing in the "donut hole," another coverage gap, after using your benefits on too many prescriptions, it does tend to cover many seniors without that ever happening. The process of obtaining vision and dental care coverage is simple enough as well. All you have to do is contact a local provider of vision and dental plans, pick the one that you like the most, and enroll. Since neither vision nor dental insurance requires you to go through an Open Enrollment Period, you can do this at any time of the year for most providers.
As healthcare costs continue to rise alongside your risk of developing new or worsening symptoms, you need to be sure that your health insurance is up to the task. That means taking the proper steps to ensure that you are protected against both the foreseen and unforeseen health conditions of the future. To choose to stay on Original Medicare is to choose to continue to have to pay thousands of dollars every year in Medicare coverage gaps. Since the problems only worsen with time and age, you need to act quickly. Head over to Medigap.com today and get the ball rolling. Don't let your finances deteriorate by procrastinating.
| | | | |
| --- | --- | --- | --- |
| Medigap Plan | Minimum Monthly Premium | Maximum Monthly Premium | Average Estimated Monthly Premium (Part B Premium Included) |
| Plan A | $98 | $270 | $320 |
| Plan B | $126 | $292 | $345 |
| Plan C | $159 | $303 | $367 |
| Plan D | $156 | $207 | $317 |
| Plan F | $151 | $344 | $383 |
| Plan F (high deductible) | $31 | $94 | $198 |
| Plan G | $126 | $310 | $354 |
| Plan K | $58 | $151 | $240 |
| Plan L | $92 | $241 | $302 |
| Plan M | $129 | $284 | $342 |
| Plan N | $100 | $240 | $306 |