Retirement is a wonderful time in the most seniors' lives. You get to legally excuse yourself from the workforce, kick back, and enjoy the fruits of your many years or decades of hard labor. But all of that could be wiped away in an instant if you aren't protecting yourself from Medicare coverage gaps. If you're unaware of the coverage gaps inherent in Original Medicare, then we strongly suggest you keep reading. The more you learn about them – and the different ways you can protect yourself from them – the easier it will be to enjoy your golden years without worrying about tens of thousands of dollars in out-of-pocket medical costs.
Facts and Figures
There are 12,834 senior citizens living in South Bend right now
There are 10 hospitals in the South Bend area where seniors can get emergency and/or in-patient care
26% of Indiana seniors have a Medicare Advantage plan
29% of seniors have a Medicare Supplement (Medigap) plan
Which leaves 45% of seniors potentially uninsured or underinsured against costly Medicare coverage gaps!
Why is it so important to protect yourself against Medicare coverage gaps? Because of something all of us will eventually succumb to with time: chronic disease. Your Medicare benefits cover almost all of your medical needs – except for many medical needs related to chronic disease, that is. But as you can already see, more than one-third of residents in South Bend are suffering from high blood pressure. Nearly as many are suffering from arthritis. And these are just some of the long-term, chronic diseases that retirees will have to worry about in upcoming years.
| | |
| --- | --- |
| Disease | Prevalence in South Bend |
| Arthritis | 29% |
| High Blood Pressure | 37% |
| Coronary Heart Disease | 8% |
| Diabetes | 14% |
| Kidney Disease | 4% |
Healthcare Costs in South Bend, IN
The longer you live, the more expensive your healthcare will be over all. That's just the nature of healthcare in America. And if you neglect to protect yourself from the Medicare coverage gaps, the more vulnerable your savings will be to medical costs related to chronic disease. Extended hospital stays, excess charges, co-pays, and more will start to go up the more chronic diseases you are diagnosed with and the longer you have them. Even the chart below doesn't fully encompass the amount of medical debt you could find yourself in if you aren't careful. Consider the numbers below to be more of a conservative estimate.
| | | |
| --- | --- | --- |
| Disease | Prevalence in South Bend | Annual Cost of Treatment |
| Arthritis | 29% | $280 |
| High Blood Pressure | 37% | $288 |
| Coronary Heart Disease | 8% | $7,330 |
| Diabetes | 14% | $2,158 |
| Kidney Disease | 4% | $6,557 |
Medicare Advantage Savings in South Bend, IN
Some seniors in South Bend have chosen to supplement their Medicare coverage gaps by switching to a Medicare Advantage plan. These are special, private health insurance plans which have received permission from the federal government to sell to you. They do this because they offer you no less than the identical benefits you would get from Original Medicare – and, in fact, they usually sell you more coverage than that. You also get the federal government chipping in on your monthly premium which could get you a fairly comprehensive policy for as little as $0 per month.
Each Medicare Advantage policy starts out with the basic Medicare benefits, and then offers additional coverage options based on where you live and what is available in your zip code. For many seniors, this means they can add things like dental insurance, vision coverage, uniquely comprehensive prescription drug coverage, and more. But just remember that the more coverage you add, the more your monthly premiums could go up. But you might still be able to find an affordable and comprehensive plan even if you end up paying a monthly premium.
Purchasing a Medicare Advantage plan means that you are technically opting out of letting the federal government manage your Medicare benefits. In exchange, you get a private health insurance plan that the government will help you pay for, you can customize your coverage options with, and you get to manage all of your medical care under a single policy with a single company. And you may be able to get all of this for a $0 or a deeply discounted monthly premium. For many seniors, this convenience comes at an affordable low cost and effectively protect them from Medicare coverage gaps. But this isn't true for all seniors. That's where Medicare Supplement Insurance (Medigap) comes in.
Medicare Supplement (Medigap) Savings in South Bend, IN
A slightly larger percentage of South Bend residents (29% vs 27% for Medicare Advantage) are finding more value in a Medigap supplement for their coverage needs. Unlike Medicare Advantage, Medigap supplement policies only cover the gaps in Medicare Parts A and B coverage. They don't provide any extras like vision, dental, or prescription drugs. But they come in very handy when Medicare won't pay for gap coverage medical benefits. Purchasing one of these 10 plans ensures that before you see a bill for any medical care that falls into a coverage gap, your Medigap provider pays first, after Medicare. That puts you third in line for any medical expenses.
First, let's talk about the Medicare Part A coverage gaps and the Medigap policies which are designed to protect you from them. The most common and expensive coverage gaps for Medicare Part A have to do with things like extended hospital stays, extra blood transfusions, and hospice care services. If these are your main concerns, then you might save money by choosing a plan such as A, D, K, or L. These plans deal exclusively with Medicare Part A coverage gap expenses so that you don't have to.
But you might also be worried about coverage gaps like your Part B deductible, excess charges, coinsurance, co-payments, and more. If you suffer from any chronic disease at all, or if it runs in your family, then you should definitely be concerned about these coverage gaps. For these gaps, you can choose from Medigap plans B, C, G, F, M, or N. They protect you from some or all of these gaps depending on the plan you choose, while also protecting you from Medicare Part A coverage gaps at the same time. Plan F is the most comprehensive, but also the most expensive depending on where you live. But if you want the most comprehensive coverage, you need to hurry and enroll in Plan F now before it's too late. It is in the process of getting phased out and will no longer be available for sale as of January 2021.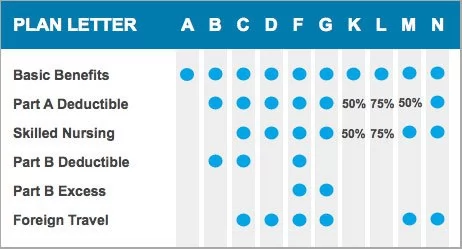 If you're not worried about dental or vision coverage, then you can definitely save money just by relying on Medigap and Original Medicare. But your ears and eyes won't be in perfect health forever, so it's a good idea to get coverage for those medical needs. Luckily, with Medigap, you can go out and get your own third-party dental and vision coverage from a private provider at any time – no open enrollment period necessary. And these plans are usually quite affordable, too. When it comes to prescription drugs, you can sign up for the Medicare Part D prescription drug program which will pay for nearly all of your prescription drug costs up to an annual limit; after that, you will be responsible for 25% of your costs until you spend enough money to qualify for catastrophic coverage.
We understand that this might be a lot of information to take in at once. That's why we have a team of customer service representatives standing by to help you out. You can contact us via email or phone at any time that's most convenient for you. Our knowledgeable staff can help answer any questions you have and even assist you in shopping for quotes. It couldn't be easier!
| | | | |
| --- | --- | --- | --- |
| Medigap Plan | Minimum Monthly Premium | Maximum Monthly Premium | Average Estimated Monthly Premium (Part B Premium Included) |
| Plan A | $63 | $900 | $617 |
| Plan B | $63 | $900 | $617 |
| Plan C | $63 | $900 | $617 |
| Plan D | $63 | $1,059 | $697 |
| Plan F | $63 | $1,217 | $776 |
| Plan F (high deductible) | $24 | $900 | $598 |
| Plan G | $63 | $1,079 | $707 |
| Plan K | $48 | $900 | $610 |
| Plan L | $63 | $900 | $617 |
| Plan M | $63 | $900 | $617 |
| Plan N | $63 | $900 | $617 |